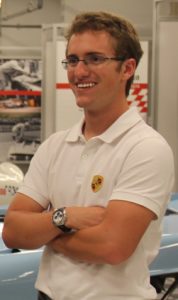 Name:
 Elliott Skeer
Occupation:
 Race Car Driver / Driver Coach
Nationality:
 American
Residence:
Carlsbad, CA
Hobbies:
 Swimming, Rock Climbing, Karting, Photography, Playing the Ukulele
Twitter:
@SkeerRacing
Instagram:
@SkeerRacing
---
Major Accomplishments:
IMSA GT3 Cup Champion (2015)
Porsche International Shootout Contestant (2015)
Porsche Young Driver Academy Contestant (2014)
Continental Tire ST class lap record: Laguna Seca (2014)
Team USA Scholarship Contestant (2013)
6 Wins, 14 Podiums, in 23 MX5 Cup races (2012, 2013)
Mazda Factory Driver (2012, 2013)
Mazda MX5 Cup Shootout Winner (2012)
Career Timeline
2016: In 2016, Elliott will be competing in the Continental Tire Series with Rebel Rock Racing, and continuing to explore opportunities to become a driver in IMSA's WeatherTech Sportscar Championship.
2015: In 2015, Elliott was awarded the Porsche Young Driver Scholarship to compete in the 2015 IMSA Porsche GT3 Cup. He would contest for victories from the opening round and would go on to achieve 10 pole positions, 13 podium finishes, and five victories in the 16 race season. Elliott would clinch the Championship and become the 2015 IMSA GT3 Cup Champion and Rookie of the Year. Shortly after, he was selected to represent America in Porsche's International Junior Shootout. His name is a part of the first class on Porsche's Wall of Champions in Weissach Germany.
2014: In 2014, Elliott contested in select rounds of the IMSA Continental Tire Sportscar Challenge for CJ Wilson Racing. He took pole with a new track record at Laguna Seca, as well as finishing second alongside Tyler McQuarrie. Elliott took 2014 to diversify his range of vehicles driven, and gained substantial experience in GT racecars. He was invited as a wild card contestant to compete in the Porsche Young Driver Academy.
2013: In 2013, Elliott again raced for CJ Wilson Racing in the Playboy Mazda MX5 Cup. With his eyes set on the championship, Elliott won five of the eleven races and stood on the podium in nine of those races. The consistency of running up front every event as well as zero DNF finishes landed Elliott second in the points with 640, just four off the champion. Along with MX5 Cup, he ran multiple races with the POC and PCA in a GT4 class Porsche Boxster, taking podiums in every race.
2012: In 2012, Elliott drove for CJ Wilson racing in his debut season in the Playboy Mazda MX5 Cup for CJ Wilson Racing. Elliott would prove to be up front quickly with a double podium at the first weekend of the series. Mazda Raceway would bring him his first victory at a professional level. but the next races brought him mechanical issues, and would end the year 5th in points with one win and five podiums. Along with MX5 Cup, Elliott continued to run selected races in his Spec Miata, breaking a track record at Buttonwillow and winning the lion's share of the races he started.
2011: In 2011, Elliott would transition into sports cars, racing a Spec Miata in the Teen Mazda Challenge. Elliott would prove to be a quick learner as he would win his debut Spec Miata race, and would keep the momentum rolling through the season, winning the championship and being invited to Mazda's MX5 Cup Shootout. Elliott would contest and win the Shootout, promoting him to a Factory Mazda seat in the MX5 Cup for 2012.
His Start: Elliott started racing Karts at the age of six in a regional championship. He progressed through the ranks of karting, and by 2010 was racing TAG Senior at a national level. The 10 years of karting brought seven regional championships, one national championship, and over sixty wins. Feeling ready for cars, Elliott would purchase a Mazda Miata and run time attack events preparing for his first season of cars in 2011.
Outside the Cockpit: Skeer is single and currently resides in Carlsbad California. Elliott enjoys maintaining a physical fitness routine. To do so, he focuses on swimming, weightlifting, rock climbing, and karting. His hobbies outside of driving include motorsport/automotive photography, playing the ukulele, and enjoying other sporting events. Skeer speaks English and is learning German. He is also currently pursuing a Business degree at California State University, San Marcos.