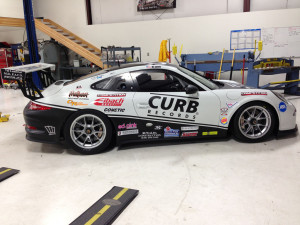 Sebring, Fla. — After months of preparation, Competition Motorsports is ready to open the 2014 IMSA GT3 Cup Challenge USA by Yokohama this week at Sebring International Raceway. The double-header race weekend will be staged as part of the first-ever IMSA TUDOR United SportsCar Championship race weekend as Sebring plays host to the 62nd running of the historic 12 Hour.
Headed by experienced Porsche campaigner Bob Faieta, Competition Motorsports has signed drivers with speed, youth, and experience across a four-car line up for the 2014 IMSA GT3 Cup Challenge season.
Michael Lewis (Laguna Beach, CA) and David Calvert-Jones (Los Angeles, CA) will contest the Platinum Class championship with the all-new Porsche GT3 Cup machine, with Fred Poordad (San Antonio, TX) and Blair Chang (Santa Monica, CA) ready to take on the Gold Class championship. A total of 36 GT3 Cup machines are entered for the Sebring event, with Race 1 slated to take the green flag at 5:30 PM on Thursday, with Race 2 coming at 8:55 AM on Friday.
Based in Tujunga, California, Competition Motorsports has a singular focus on Porsche Cup machinery, with multiple IMSA championships to show for it. The team will look to continue that legacy of success starting with the Sebring opener this week.
The weekend marks a significant departure for young Lewis, who brings to the team his recent experience in the Formula 3 ranks fighting in the open wheel ladder in Europe. After a strong showing in the Porsche Young Driver Academy last year, Lewis has now committed to the GT3 Cup Championship as he looks to establish himself Stateside. Not only will the event be his first in Porsche GT3 machinery, it will also be his first-ever visit to Sebring International Raceway.
"I've been watching video and just trying to be as ready as I can be for that first practice session," said Lewis, who will race with the fabled No. 98 as he carries the Curb/Agajanian colors in 2014. "I want to do as well as I can for the team, but I know that I am going to have to build up to it. I just need to be thinking about where I need to be at the end of these races. The new Cup car is great with the paddle-shifting and some very solid components, so all you have to do is focus on driving. Bob (Faieta) has put a really good group of guys together, and I'm just looking forward to getting out there."
While Lewis is a new addition to the Competition Motorsports stable, the roster includes some familiar faces as Calvert-Jones, Chang, and Poordad have all raced with the team in the past. Having made his GT3 debut at the track in 2012, the return to Sebring is one that Calvert-Jones has been counting down to.
"With the new car and with four guys all committed to the full season, I think we've got a very serious effort in place and everything has been about being successful as a team," said the Australian native Calvert-Jones, who opened the year with a run to second place in the fabled 12 Hours of Bathurst. "Having Michael (Lewis) be a part of the team is a real bonus. He's new to these cars, but he's got a lot of talent and hopefully he can help us all get better. I'm also excited to have partners like Wheels Up, who have signed on to support me this year. We are all just really looking forward to getting down to Sebring and having a good start to the year."
With 12 cars entered for the Gold Class, the previous-generation category is loaded with some experienced racers.
"I'm looking forward to being back full time with Competition Motorsports," said Chang, who first started racing in Porsche and has stayed true to the marque. "Sebring is a great event. The track is incredibly challenging, but I really enjoy racing there. Turn 17 is really tough and it is just an exciting place to race. But I think more what makes it such a great event is the incredible fans, it is just a great event. I've been away from the sport for a couple of years, so I just want to go out and have some fun and see what unfolds in the race and get a solid start to the season."
Having relocated from LA to Texas to continue his research at the Texas Liver Institute, Poordad is targeting a secure start to the year to get some momentum going into the season.
"This is my third time racing at Sebring, and that first lap to start the season is always very exciting!" said Poordad. "Bob (Faieta) has put together a great crew, and the Competition Motorsports guys provide great support. The main goal for Sebring is to just get a solid start to the season. This is a very competitive series and there are a lot of twists and turns with how each season plays out. I'm looking forward to seeing where we are and to use this as a launching pad to a good year."
The week will open with a promotor test day on Tuesday, with the first official practice session of the year set for Wednesday morning. Updates and timing to be available at http://www.imsa.com/series/gt3-challenge-usa.
2014 Porsche GT3 Challenge presented by Yokohama
Sebring International Raceway Schedule:
Wednesday, March 12
9:50 AM
Practice #1
3:30 PM
Practice #2
Thursday, March 13
8:45 AM
Qualifying
3:05 PM
Race #1
Friday, March 14
8:55 AM
Race #2