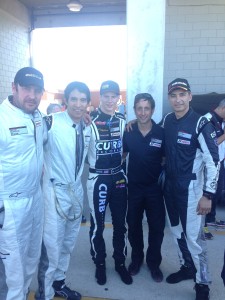 Sebring, Fla. — Fred Poordad (San Antonio, TX) took second place for Competition Motorsports in the IMSA GT3 Cup Challenge USA by Yokohama Masters Class at Sebring International Raceway to open the season with a strong podium run.  Poordad scored fifth in class on the 38-car combined class starting grid in the morning qualifying session, and then made the most of the multiple race restarts to come home second in the Gold Class after 45 minutes of racing.
"It was a solid start, the performance early in the race wasn't really what I wanted it to be, but this is a good way to start the year," said Poordad. "I expected there might be a melee at the start, and just wanted to be there for the finish. There are a lot of things I think we learned to apply to the car for tomorrow, but I'm really satisfied to start the season out like this.  Hopefully we can get stronger and stronger. This field is very competitive, and you absolutely have to be on your "A" game."
Carrying the banner for Competition Motorsports in the Platinum Class was Michael Lewis (Laguna Beach, CA), who recovered from a first lap setback to move up to score eighth in his first-ever GT3 Cup USA outing with the No. 98 Competition Motorsports/Curb-Agajanian Porsche.
"On paper I started and finished eighth, but there is definitely a little more behind that story!" said Lewis. "I got tangled up in the start, some guys spun across my nose. So I had to avoid that and then everybody got by me. So at that point I was basically last and then just kind of picked my way up through the field and said to myself 'hey, just practice overtaking' and ended up right back where I started. So that is really positive and the car was super fast. So I am excited to get back and start where I should be and take it from there."
Returning to racing competition after some time away, Blair Chang (Santa Monica, CA) acclimated himself quickly on return as he piloted the No. 09 The Agency Porsche to a ninth place Gold Class finish.
"To be back in the car for the first time in three years, it took me a little bit to get in the groove but it was a lot of fun," said Chang. "I was a little stressed at the start, but I think it will keep coming back to me. I just have to shake the rust off. I'm looking forward to tomorrow's race already."
Fellow Platinum Class runner David Calvert-Jones (Los Angeles, CA) also had to make a recovery drive after an early setback in the race as he brought the No. 12 Wheels Up Porsche home 19th in class.
"I got a little bit hung up in traffic and we were side to side but soon after, I was dead sideways on the track!" said Calvert-Jones, who made his Porsche GT3 debut at Sebring in 2012. "So we lost time when I came back in for new tires and I was behind after that. It wasn't what we were hoping for but we've got another chance tomorrow morning to go for it. A big congratulations to Fred on his podium, this is a great group of guys."
Race two will follow quickly, as the team will be back to the track early in anticipation of the 8:55 AM green flag on Friday.
Updates and timing to be available at www.imsa.com/series/gt3-challenge-usa.
2014 Porsche GT3 Challenge presented by Yokohama
Sebring International Raceway Schedule:
Wednesday, March 12
9:50 AM
Practice #1
3:30 PM
Practice #2
Thursday, March 13
8:45 AM
Qualifying
3:05 PM
Race #1
Friday, March 14
8:55 AM
Race #2