Elkhart Lake, Wis.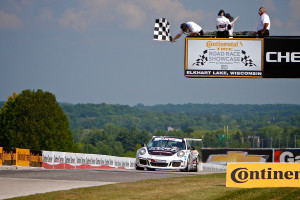 – With six drivers earning two poles and seven podiums, the odds were definitely in favor of Competition Motorsports this weekend as they continued their strong performance in IMSA Porsche GT3 Cup Challenge presented by Yokohama competition.
Sunday saw one 45-minute sprint race in the morning, with an encore race on Sunday afternoon to make up for a rained-out session at Lime Rock Park earlier this season. Both races had a similar outcome as Competition Motorsports made multiple podium visits on the day.
Michael Lewis got another chance to spray the champagne after Race 2 at Road America, and it was the best kind of champagne on offer—the kind that comes from the top step of the podium after he led the race from the green flag to the checkers in the No. 98 Competition Motorsports/Curb-Agajanian Porsche 911. He then capped of a successful weekend by making a third trip to the podium in as many races having never raced outside of the top-five all weekend.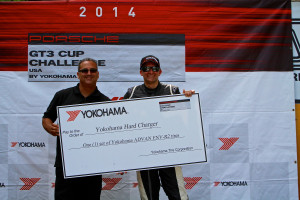 David Calvert-Jones experienced the same sweet relief in Race 2 as he tied his best overall finish to date and took the top step of the Platinum Masters Class podium in his No. 12 Wheels Up Porsche for Race 2. He then joined Lewis in his triple trip to the podium with another second place Platinum Masters Class podium in the third race at Road America.
Entering the weekend never having enjoyed a race finish at the incredible Wisconsin track, Fred Poordad added two more positive finishes in his No. 02 Affinity Motorsports/TLI/Competition Motorsports Porsche 911 around the circuit to the team's haul. He delivered strong performances in both races, fought hard to score two fourth place finishes, and capped off the weekend with a Masters Class podium in the third
In just his second GT3 Cup Challenge race, Michael Zuieback made a strong impression in his No. 2 Discount Tire/Competition Motorsports Porsche 911, earning the hard-charger award for Race 2 after running from 13th to a seventh place finish.
After sustaining significant damage to his No. 9 The Agency/Competition Motorsports Porsche 911 in the first round at Road America, Blair Chang was forced to sit out the rest of the event weekend but stayed on hand to take in the action and support his Competition Motorsports teammates.
Steve Goldman scored another solid result in Race 2 as he showed strong pace in his No. 3 Revita Rugs Porsche and eventually drove home to a finish equal with his 12th place starting position.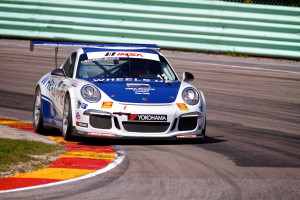 "We're collecting points and we're back in it," said an elated Bob Faieta at the end of the busy race weekend. "Mike (Lewis) did a good job, CJ did an incredible job and Fred did a great job as well. So we're all good here. We're going to go into the next race very well in it. It's anybody's championship now, and it's going to be ours."
Competition Motorsports Podium Quoteboard:
Michael Lewis – "This weekend was really good for the points. Starting on pole position was really good; we smoked that quite easily. Race 1, I missed the start a little bit and got into second and finished there. Won race 2. And then this make-up race from Lime Rock, I ended up third. I wanted to capitalize on our strong car. We started second; I had a lot of pace and was trying to get around the leader. I had a couple of good looks, a couple of good dives. But in the end it was really clean racing. I was just trying to manage the situation the best I could and maybe try to close the door but as soon as I saw whoever I was racing try to dive inside, I had to lift and think about the points. I had a really good car; but it's kind of a points weekend and we had a points mindset. I'm really happy about the team effort and now we'll just go on to the next weekend and try to get the pole positions like we did here and keep chugging along, get some more wins."
David Calvert-Jones – "I had to start from the back of the grid today because of issues with being a fill-in race from Lime Rock. So I started at the back and worked my way through the field to eighth. It was awesome and makes for good video!"
Fred Poordad – "So I finally finished a couple of races at this race track after a couple of years of major disappointments and major pains, literally and figuratively! I'm very happy with the outcome. Competition Motorsports did a great job and I think we put together a weekend we can build on. We're in the stretch of the season now so if we can put together some good performances, we'll be in the hunt. The points were very important. My team did a great job. And the Platinum series teams did a great job as well. All in all I think we can be pleased. I'm hoping that Kristin Treager is okay; she went off in a really bad way and we're all praying that she's okay."