Ward (Diamond Masters), Shahi (Platinum), Kearl (Silver), and Goldman (Silver Masters) also take victories in Pirelli GT3 Cup USA Trophy Race 4
Sonoma, Calif. (22 May 2017) – Race four of the Pirelli GT3 Cup Trophy USA season saw another close and exciting event on Sunday, as a field nearly 30 strong raced hard for 20 green flag laps on a hot and dry afternoon at Sonoma Raceway. Mark Nelson, driving for Southern California-based Competition Motorsports, came away with the victory after a race-long battle with pole sitter and race 1 winner Dino Crescentini.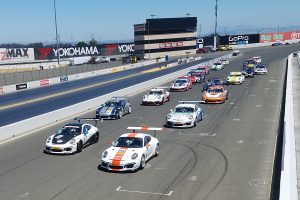 Crescentini, driving the No. 34 Crescentini Racing Porsche GT3 Cup Car, battled with Nelson throughout the 33-minute event. Nelson put his Porsche 991 GT3 Cup Car into the lead late in the race in Turn 7 and led at the white flag.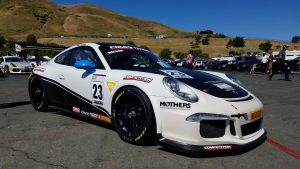 But as the duo came to the final hairpin, Crescentini made a move to the inside and the cars made contact, with Crescentini coming  away with the lead as Nelson also scrapped the wall before regrouping and crossing the finish line behind Crescentini. After reviewing video footage, series officials ruled the move "avoidable contact" and placed Crescentini in third position, with GT Technik's 18-year-old Max Root second behind Nelson.
"Our expectation is clean racing," said Nelson. "We're out here to have a good time and have some fun, not to have contact. The officials did a good job and responded right away. Dino and I battled the entire race. I got a good run on him out of Turn 6 and got a good line into Turn 7 and made the pass. He was behind me coming into Turn 11 on the last lap and I felt the bump on my right side and then I was in the wall. But it was a great battle right up until Turn 11. It was a blast."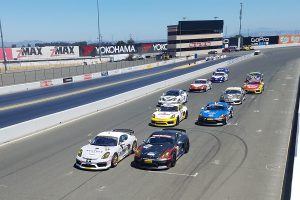 In the Diamond Masters class, No. 18 Competition Motorsports pole sitter Mike McAlister held an early lead as Win Ward Racing's Bryce Ward battled a Platinum class competitor for much of the early going. But McAlister, coming up on a slower car, spun in Turn 7 which gave Ward the lead. TruSpeed Autosports' Win Lin finished second, with McAlister third.
"I drove conservatively and to the best of my ability today," said Ward. "I was behind Ray Shahi for much of the race, nose-to-tail. The guys behind were pressing and I was pressing Ray, but he drove a fantastic race, he didn't put a foot wrong. I managed to get around in Turn 10 and started trying to get to Mike. I came up on him in Turn 7 and knew I had the position, so it was clear sailing from there. It was a super race, I enjoyed every moment of it."
In the Platinum Class (for Porsche 911 997.2 versions), it was the familiar combatants – and teammates – on the podium, as TruSpeed Autosports' Ray Shahi took the win over Schnur, driving the No. 32 Fuel Safe entry, and Jim Slavik, in the No. 89 Grainger-sponsored Porsche GT3 Cup Car.
"I started on the class pole, sixth overall and I knew I had my job cut out for me with Larry and John right behind me," said Shahi. "But I hooked up with a 991 ahead of me and managed to get away a bit. My Sterling Collision/Newport Porsche car was great and the team gave me a great setup, the car was hooked up. It got really slippery towards the end of the race but I managed to take the win again. We're four for four so far this year!"
The Silver Class for Porsche Cayman GT4 Cup machines featured a hard but clean race as Jeff Kearl brought his No. 26 Rearden Racing Porsche home from pole position ahead of Competition Motorsports' Sean McAlister and teammate Ace Robey.
"I got a good launch out of Turn 2 at the start," said Kreal. "There was a lot of traffic in positions two, three and four so while they were all battling amongst themselves, I was able to pull away a little bit. It gave me enough of a cushion that I could run in clear air for the whole race. But the gap was never that big. We had to work through the GT3 guys coming through and some of the GT4 cars that we were going through, so managing traffic was the biggest wildcard. You have to have enough of a gap so that when you do hit traffic, you don't get passed."
Steve Goldman took home his second victory of the weekend in the Silver Masters class, keeping his No. 1 Competition Motorsports Porsche in the middle of the Silver Class battle ahead of Flying Lizard's Martin Brauns and teammate Carl Tofflemire.
"It was a really clean race for me," said Goldman. "The car was set up great, even when it got slick toward the end of the race. I got third overall in the Silver Class and won Silver Masters so it was a good day. I was dicing with some of the Silver guys and that's always a lot of fun. We had to back the lap times down during the last 15 minutes because the track got extremely slippery. I just kept the car clean and it worked out."
Competent Motorsports President Greg Franz was pleased with the weekend's outcome, especially following the afternoon's drivers meeting, when series officials spoke with drivers and team coaches and outlined expectations for the afternoon's racing.
"I think there was really an opportunity today in the pre-race drivers' meeting," said Franz. "Our race director (Randy Buck) and our director of coaching (Craig Stanton) laid out a baseline of what the expectations were for the second race of the weekend and everyone mostly played it that way. It was a very successful race and capped a very successful weekend, so we'll look forward to our next event in two weeks in Utah!"
The Pirelli GT3 Cup Trophy USA heads to Utah Motorsports Campus in two weeks for Round 3 of the season June 2 -4, 2017.