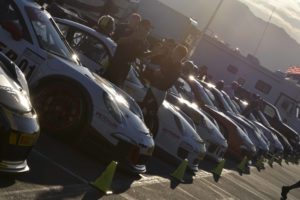 Tooele, Utah – McKay Snow emerged from a close battle with Pirelli GT3 Cup Trophy USA championship leader Loren Beggs (No. 08 911 Design/Porsche GT3 Cup) to claim his second win of the weekend at Utah Motorsports Campus on Sunday for TruSpeed Autosport.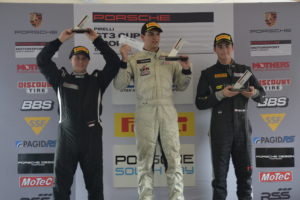 The second round of the double-header race weekend opened with an early yellow flag for a start line tangle, with the race then running the final 35 minutes at a flat out pace under green flag conditions.
A late race spin for Beggs as he navigated lapped traffic saw Snow joined on the podium by a hard charging Max Root (No. 07 GT Technik/Porsche 911 GT3 Cup)  and Russell Ward (No. 35 WinWard Racing/Porsche GT3 Cup) as a trio of young upcoming racers swept the podium.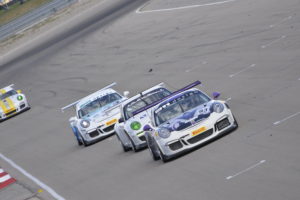 "He was really pushing me," said McKay of his battle with Beggs. "I was turning fast laps every lap – really consistent within two tenths and he was still just riding my bumper. He tried to pass me and ended up locking up a tire. With that tire gone, I knew I just had to keep it consistent and he'd fall off. He had a good run and almost got me. This series is a lot of fun. The first day I thought I could just run away, but everyone was right on me! It would have been tough to keep up with some of these guys if it wasn't my home track."
After suffering the disappointment of a first-lap incident that ended his day early on Saturday, Bryce Ward made an emphatic rebound on Sunday to score a Diamond Masters class victory in the No. 57 WinWard Racing Porsche GT3 Cup. Ward was joined on the podium by Preston Calvert (No. 71 Calvert Dynamics/Porsche GT3 Cup)  in second and Saturday's race winner Michael Zuieback (No. 2 Competition Motorsports/Discount Tire Porsche 911 GT3) scoring third.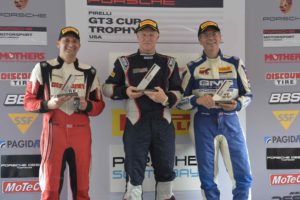 "This is fantastic," said Bryce Ward. "First I want to thank my WinWard Racing crew. They worked so hard last night. I also want to thank the crew from Air Power Racing — they came over and lent a hand. I want to thank the other drivers and my coach Damien (Faulkner) – he was even under the car working! Grant and Josh and Nick from the team, man they worked magic on the car and the car was just fantastic today. It was wonderful. I want to thank Racing Radios and Sonic Tools – without those Sonic Tools we wouldn't have put the car together again. It was a fantastic race and I really, really enjoyed it."
The season-long Silver class battle that has seen Jeff Kearl (No. 26 Rearden Racing/Porsche Cayman GT4) and Sean McAlister (No. 00 Competition Motorsports/Porsche Cayman GT4) trading turns at the top saw Kearl use his home track advantage to sweep the weekend with two victories. McAlister finished second, with series newcomer Tim James coming all the way from New Zealand to score his first-ever series podium.
"I lived in Utah for 12 years and I was here when the track was built," said Kearl. "I was one of the first cars on the track. So I know the track and I'm comfortable. I might not be the fastest guy but I'm pretty consistent because I have a lot of laps here. Sean McAlister is a great driver. When he gets in front of you, he positions his car very well. He is hard to pass so you have to do the same thing right back to him – you can't let him get in front of you."
The Platinum battle closed with Ray Shahi (No. 65 Newport Beach Sterling Porsche/TruSpeed Autosport) taking the checkered flag ahead of his TruSpeed Autosport teammate Larry Schnur, with Air Power Racing's David Lockwood coming in third to replicate the podium celebrants from the Saturday outing.
"The streak resumes," said Shahi. "My Porsche Newport Beach Sterling car was phenomenal today. I just wanted to make sure I was going clean in Turn 1 and I did it and put the hammer down and made sure that I put a gap between me and Larry (Schnur, TruSpeed Autosport teammate). I managed to do that. So I brought the car home with the win – I'm very excited. My Newport Beach Sterling car was amazing and the TruSpeed Autosport team did an awesome job on the car. I'm very happy – the streak goes on now!"
Similarly, it was deja vu for the Silver Masters podium as Steve Goldman (No. 1 Competition Motorsports/Porsche Cayman GT4) bested Carl Tofflemire (No. 62 Competition Motorsports/Porsche Cayman GT4) for the victory, while the No. 59 Flying Lizard Porsche Cayman GT4 of Martin Brauns took an encore third place finish.
Pirelli GT3 Cup Trophy USA would like to acknowledge and thank Rafael Navarro, who has long steered the motorsports operations for Pirelli. Navarro will retire from his duties at the end of the month after building and supporting a range of motorsports properties in North America.
Pirelli GT3 Cup Trophy USA will next head to the Circuit of the Americas as part of the Pirelli World Challenge race visit to the Austin facility on Labor Day weekend.