Preston Calvert (Diamond Masters), Larry Schnur (Platinum), Jeff Kearl (Silver), Steve Goldman (Silver Masters) also victorious at COTA
Austin, Texas (2 September 2017) – The Pirelli GT3 Cup Trophy USA staged Race 11 at Circuit of the Americas on Saturday and the race went clean from green to checkered as 24 cars took to the 3.4-mile F1 grade road course.
The scorching temperatures that are typical of the Texas summertime were in full effect, but the conditions didn't affect the drivers as the robust field of Porsche machines put on quite a show.
In the Diamond category, it was GT Technik's Max Root (No. 07 Porsche) who dominated the day as he led flag-to-flag and took the victory with over a 13-second advantage. Rounding out the Diamond podium was Aasco Motorsports' Alex Kirby in second and current Diamond championship leader Loren Beggs of 911 Designs who started on the pole. He and Alex Kirby swapped positions but it was ultimately Kirby who took the runner-up position in the No. 01 Porsche 911 GT3 Cup machine.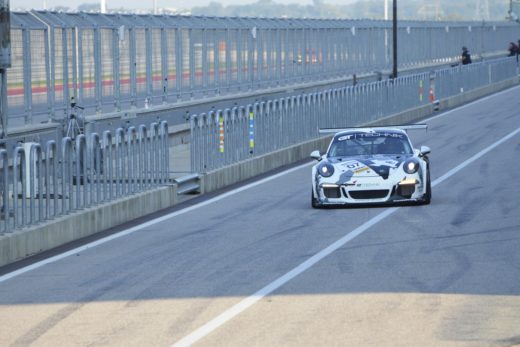 The result was all the more impressive for young Root, as Saturday marked his first-ever race start at the iconic Texas venue.
"I had a great start and once I got into a groove, I put my head down and tried to keep as clean and consistent as I could throughout the whole race," said Root who claimed his second victory of the year after winning in the season-opener at Thunderhill Raceway. "Aside from two test sessions, this is the first time that I have raced here and the track just really agrees with me. The car was set up perfect and the GT Technik team worked amazingly. I like to use the lap traffic to my advantage and to try and increase the gap even more."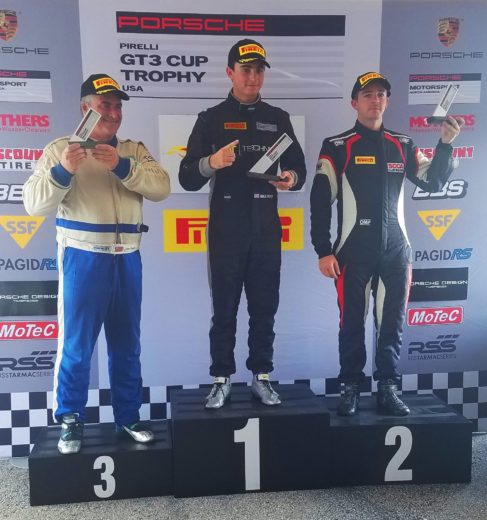 Preston Calvert, who campaigned the No. 77 Porsche for Competition Motorsports, came out on top in the Diamond Masters race with a 3.8-second winning margin over 911 Design's Dave Elsner. Calvert didn't have much time to celebrate as he immediately hopped into his Pirelli World Challenge Porsche following the checkered flag. He is competing in five races during the COTA event with three PWC events in addition to his two Pirelli GT3 Cup Trophy USA events.
"I had a pretty good start and moved from fourth to second," said Calvert. "I managed to hold P4 overall for a while and then Loren (Beggs) spun which put me in third overall. I had pressure from behind from the other Diamond Masters guys but I kept a consistent pace and to keep a little bit of a gap. Coming up on lapped traffic always makes you a little bit nervous because it's a great opportunity to screw up. I was very aware as I came up on the traffic and tried to get by them as smoothly as I could.
"We had worked on balance and tire pressures, and all of the basic things," continued Calvert. "I am new to both the series and driving with Bob Faieta and Competition Motorsports, so I am very grateful to them for all of the great support and preparation. The series is very well organized and I really enjoy driving in it. I also have to thank Pirelli and Porsche for the support they give to the series."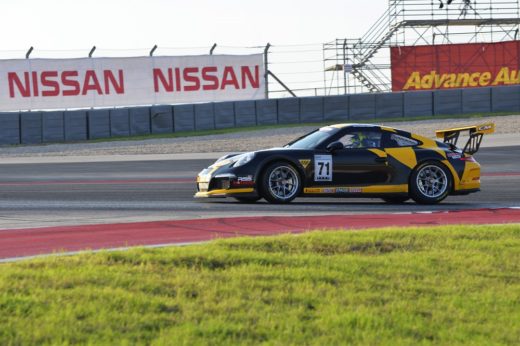 TruSpeed Autosport teammates Larry Schnur (No. 32 FuelSafe Porsche) and Ray Shahi (No. 65 Sterling Collision Porsche) swapped positions through the race. John Krieg led most of the event in the No. 88 Aasco Motorsports Porsche but a late race spin saw Schnur and Shahi move up to take first and second place, respectively.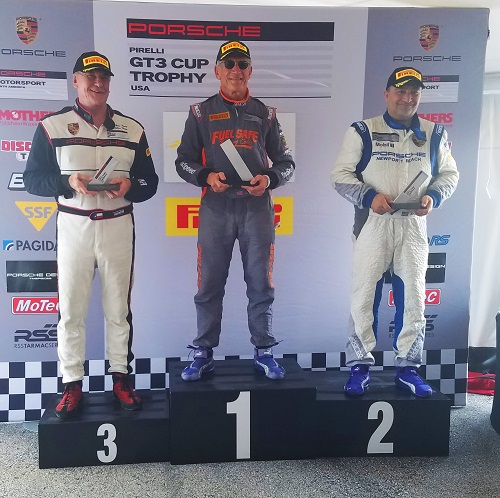 "It was a great race," said Schnur. "It was just one of those days where everything goes your way. It's the guy who makes the last mistake that wins sometimes and I was fortunate to be that guy today. John (Kreig) ran a great race but then in one of the last corners he spun and there I was! The key was that I didn't make mistakes and I stayed on him as much as I could and I was in a position to take advantage of it."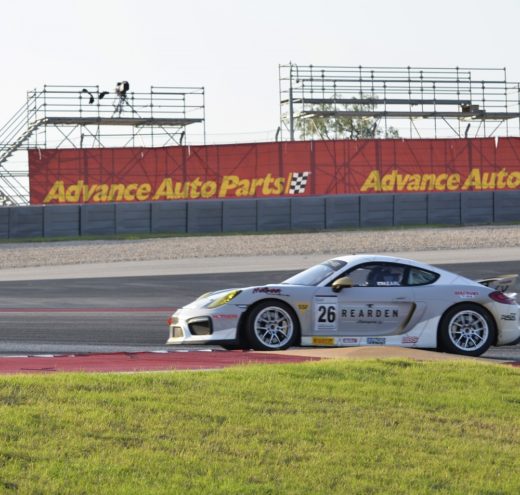 For the eighth time this year, Jeff Kearl (No. 26 Rearden Racing Porsche) took top honors in the Silver Category with a 6.1-second victory over Sean McAlister (No. 00 Competition Motorsports Porsche). Completing the podium was Competition Motorsports driver Michael Kim in the No. 21 Porsche machine.
Kearl credited his previous experience at the track for his victory.
"We tested here a lot in the spring," said Kearl prior to the podium celebrations. "Luckily it was hot when we tested which helped us with getting a good set up for this weekend. I'm hoping to have the same result tomorrow and go for another win. Sean McAlister has been some tough competition all year long so I'm sure he's hoping for a swap tomorrow!"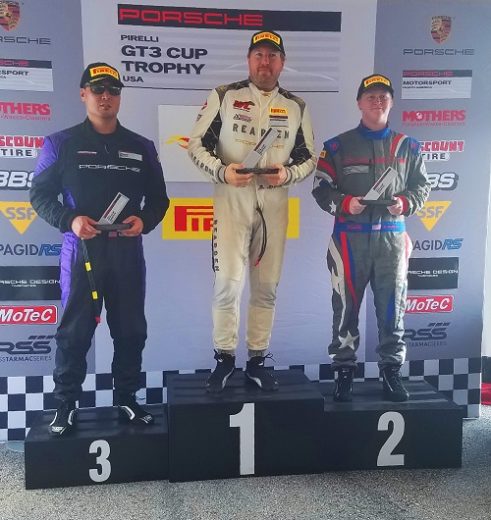 While several of the categories saw cars a bit more spread out, all eyes were on the Silver Masters class as series-newcomer Laura Ely (No. 09 Competition Motorsports) put the pressure on Championship Leader and teammate Steve Goldman (No. 1 Competition Motorsports) for the win all race long. Ultimately Goldman took the victory by just three tenths over Ely. It was an all Competition Motorsports podium with Carl Tofflemire third in the No. 62 Porsche.
The race was only the first Pirelli GT3 Cup Trophy USA event for Ely who previously competed in PCA and PCO competition.
"The race was really exciting although I lost a position on the start to Craig (Lyons)," said Ely. "As soon as I got by Craig I could start chasing Steve (Goldman). Steve has so much more experience than I do. This is only my first race and I have only had my license for about six months. I love this series, it's why I chose it. I went down to Laguna Seca earlier this year and watched the racing and met Bob (Faieta, Team Owner) which helped me make the move to the series."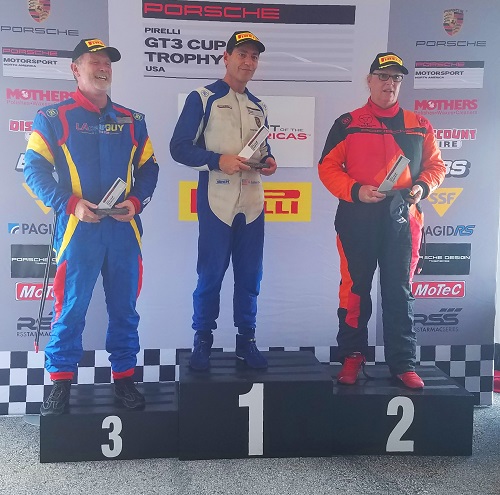 Competent Motorsport President Greg Franz was thrilled with the race action on Saturday and looking forward to much of the same on Sunday.
"It's great to see the evolution in the season especially with the drivers," said Franz. "It's one of the things we have really stressed when it comes to race craft and development. It's also being safe and taking care of yourself and other drivers. It was clear today that that was a focal point with clean starts for both the GT3 and GT4 fields. You can tell by the results and by the way the drivers are interacting that they were really happy with the way it went also."
Race 12 will feature a 24-car line up and will go green at 1:45 PM Central Time. Live timing can be viewed at www.tsl-timing.com.