Calvert (Diamond Masters), McAlister (Platinum), and Bellomo (Silver) also take victories in Pirelli Trophy West USA Race Six
Photos: Porsche Design Huawei Mate 10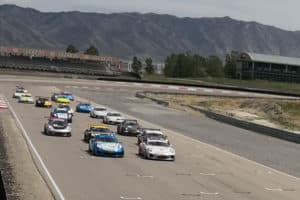 Salt Lake City, Utah – On a picture-perfect warm and sunny day at Utah Motorsports Campus, Kevin Woods and Laura Ely each took overall victories in the hotly-contested Race 6 of the Pirelli Trophy West USA.
It was a well-populated and competitive paddock as 27 Porsche GT3 and GT4 Cup Cars in five different classes contested the second of two races this weekend on the 3.048-mile, 15-turn outer road course located near Tooele, Utah: Diamond and Diamond Masters (2017-2018 991.2 GT3 Cup), Platinum (2015-16 991.1 GT3 Cup), Silver (Cayman Clubsport GT4 MR) and Bronze (2016 Cayman Clubsport GT4 Trophy) classes.
The classes were split into two races, with Diamond, Diamond Masters and Platinum (GT3 Cup) in the first race and Silver and Bronze classes (GT4) in the second.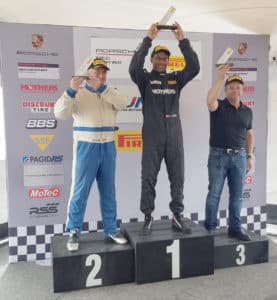 The GT3 field brought the heat from the drop of the green flag, bunching up four-wide toward Turn 1 before sorting themselves out nicely through the tight left-hander. Woods held a slim lead in his No. 94 Mothers Polish/TruSpeed Autosport Porsche over Loren Beggs but could not shake the 911 Design driver until Lap 17, when Beggs spun in Turn 5. Woods maintained his composure to take his fourth victory of the season, with Beggs second.
Behind the race front-runners, Diamond Masters class leaders (and Competition Motorsports teammates) Preston Calvert and Michael Zuieback battled throughout the 19-lap, 40-minute flag-to-flag race with the class win and the final overall podium position on the line.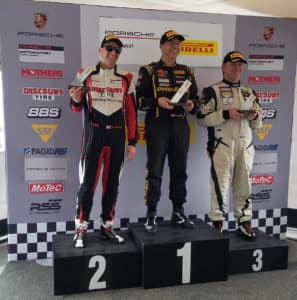 Zuieback gave Calvert several hard looks, but Calvert held him off for his first class victory of the season. Sean McAlister, driving the No. 00 Competition Motorsports, took his sixth straight Platinum class victory after a race-long clash among the Diamond class competitors.
"This was a very similar race to yesterday, athough my car was a bit looser than yesterday," said Woods. "It was a tough race, I just had to keep my head down, focus, and not make any mistakes. I had mixed emotions when Loren spun, because it's always good to have a full, competitive race, but at the same time, there was a sigh of relief. He was pushing hard!"
"The whole storyline of this series for me has been competing with all the other drivers in both the Diamond and Diamond Masters class, but especially with Michael (Zuieback)," said Calvert. "He is such a good driver and I had to measure myself against his abilities. We went back and forth all race long, never hitting each other. He's won every race this season so finally I get to replace him on the top spot of the podium!"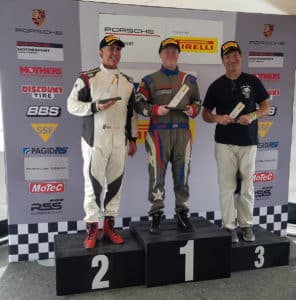 "I was able to keep up with the Diamond class guys early in the race, making up time in the corners," said McAlister. "Later in the race, they were making up so much time on the straights that I couldn't catch up in the corners any longer. But that's what I was expecting, so given the fact that I did better in qualifying, I was happy. I held my position against those guys, checking to see how I was doing against the drivers in front and behind me on each lap."
While not having the sheer numbers of the GT3 classes, the GT4 race made up for it with added excitement and close competition.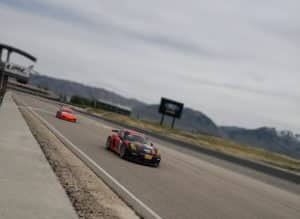 Black Sheep Racing's Laura Ely started alongside Chris Bellomo (The Racer's Group) and the pair held that side-by-side battle through a heart-stopping five corners, with Ely taking the position in Turn 5 as Bellomo fell back into the clutches of Alessandro Chiocchetti. The pair tangled, bringing out the full course caution. When the race returned to green, Bellomo raced up from fourth to second behind Ely, chipping away at her lead for a photo finish at the line. Ely took the Bronze victory, with Bellomo taking the Silver class.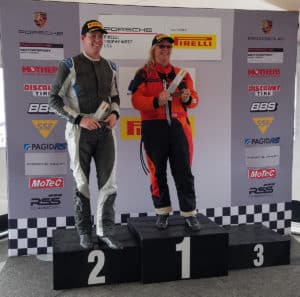 "I was hoping to get a good run on Chris at the start – and I did, but then I was on the outside in the marbles," said Ely. "I thought he was still next to me in Turn 5, but he wasn't. I made a bobble that let Chris (Bellomo) back in to it toward the end, but I always had a good run on the front stretch and held my advantage. It was fun!"
"That was a really fun start," said Bellomo. "Laura's really talented and seasoned, and it's a pleasure to race against her. I'm sorry we couldn't keep that up through the whole race, but it was a good battle right there at the end. I'm not sure what happened with Alessandro: I was next to Laura and saw him coming in, but I was already making my turn when we made contact."
Competent Motorsport President Greg Franz credits the entire paddock – series staff, teams and drivers – for the success of the four-race weekend in Utah.
"I really have to attribute the success of this weekend to two factors," said Franz. "It comes down to our staff, and their preparation prior to the event, and to the teams and drivers, who really wanted to put on a quality show not only for their friends and the spectators, but for themselves as well. We've enjoyed races that had limited contact, and that gives our drivers more track time and less time having to work on their cars. We've carried that momentum from the first races of the season and we'll carry that through next month, when we'll be at Thunderhill Raceway Park in Willows, California."
The Pirelli Trophy West USA will be back in action next month, with two races June 8-10 at Thunderhill Raceway Park in Northern California.