Exciting Battles Throughout the Field Highlight Race 2 at Thunderhill as Woods (Diamond), Tait (Diamond Masters), McAlister (Platinum), Shahi (Gold), Bellomo (Silver), and Brauns (Bronze) take repeat victories in the Pirelli Trophy West USA Series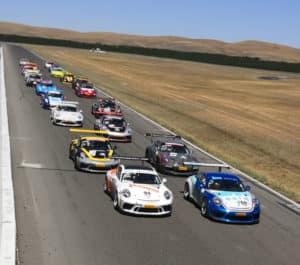 WILLOWS, Calif. – The results might have looked familiar, but it was an entirely new script on Sunday as multiple lead changes and passes throughout each field characterized a wild Race 2 of the Pirelli Trophy West USA that nonetheless saw a repeat of Saturday's race victors.
Over 30 Porsche GT3 and GT4 Cup cars in five different classes contested two races on the classic three-mile, 15-turn course at Thunderhill Raceway Park: Diamond and Diamond Masters (2017-2018 991.2 GT3 Cup), Platinum (2015-16 991.1 GT3 Cup), Gold (2010-2013 997.2 GT3 Cup), Silver (Cayman Clubsport GT4 MR) and Bronze (2016 Cayman Clubsport GT4 Trophy) classes.
The classes were split into two races, with the GT3 classes in the first race and GT4 in the second.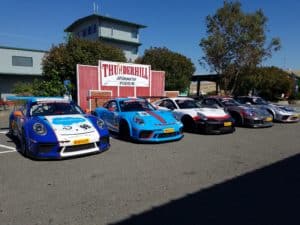 In the 20-lap, 40-minute flag-to-flag GT3 race, 911 Design's Loren Beggs started on pole with points leader Kevin Woods alongside. Woods, in the No. 94 Mothers Polish/TruSpeed Autosport Porsche, held his ground at the green flag and made the outside pass in Turn 1 for the lead. Woods went on to take his sixth overall and Diamond class victory of the season, with Tom Haacker second and Beggs third in the Diamond class.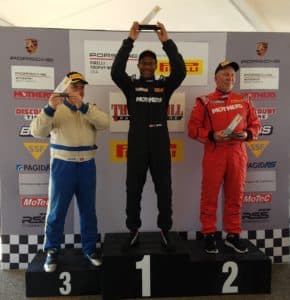 "I saw an opportunity going into Turn 1 and I went for it," said Woods. "Once I had the pass done, the point was to be consistent, unlike yesterday, and try to pull out a gap. This is a lot of fun – there's so much driving on the race weekend, which is great. But I just focused on not making mistakes and I'm happy with that part of things this weekend."
In an action-packed Diamond Masters division, Competition Motorsports' Michael Zuieback passed Race Technik's Will Tait for the lead early in the race, only to lose the position in a lap-15 spin in Turn 3. Competition Motorsports teammates Mike McAlister and Jim Walsh battled for the final podium spot through much of the early going, with McAlister making the pass in Turn 1 on lap 9 to take the position. Tait maintained the top spot with Zuieback second and McAlister third.
In the Platinum class, Competition Motorsports' Sean McAlister made it look all but effortless, tucking into second position overall by mid-race and taking his eighth-straight victory of the season ahead of Tom Tait and David Elsner.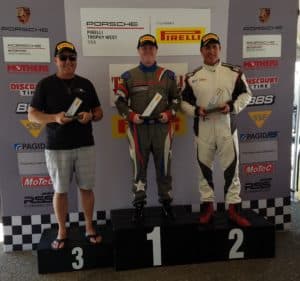 "I got a much better start than I did yesterday," said McAlister. "I was able to keep my position and got a good gap on the guys behind me. I was able to stick to what I know, running solid, consistent laps. I'm really enjoying racing this car, I think I've adapted well in the switch from the Cayman this season."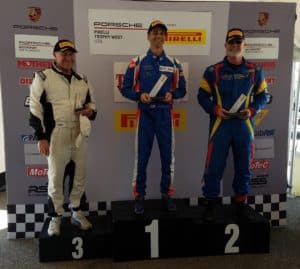 In the GT4 race, Flying Lizard's Martin Braun took the Bronze class pole position but was never able to shake Black Sheep Racing's Laura Ely. Ely filled Brauns' mirrors for the entire 19-lap, 40-minute flag-to-flag race but was not able to make a move on the veteran racer.
In the Silver Class, Saturday's winner Chris Bellomo (The Racer's Group) started on pole but veteran Carl Tofflemire (Competition Motorsports) came from fifth at the start of the race to the back of Bellomo's rear wing by lap 7. Tofflemire made his move coming out of Turn 6 on but Bellomo refused to back down, with the pair at one point going side-by-side through Turn 1. Bellomo set up Tofflemire going into Turn 1 on lap 15 and made the inside pass stick, holding off Tofflemire for the win.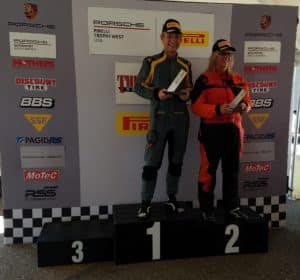 "It was great out there," said Brauns. "Laura (Ely) ran a great race, I don't think she made a mistake. It was tight the entire time, it was great fun!"
"I've never raced side by side with Carl (Tofflemire) like that," said Bellomo. "Being in that close proximity it was good, clean racing and we had some good passes on each other. I didn't qualify as well as I would have liked, starting in the second row, but this is racing experience that I want. I knew it would be a hard-fought battle but this experience is so valuable for the future."
Competent Motorsport President Greg Franz was thrilled not only with the race action – especially two entirely green-flag events – but with the weather at the typically hot Northern California track.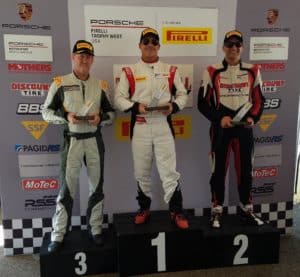 "It was an exciting weekend, and a very clean weekend," said Franz. "It was green flag racing all the way. And there was so much concern about the weather going in, if it was going to be extremely hot, but it turned out to be absolutely beautiful! This is great momentum for us heading into our next event at COTA."
Next up for the Pirelli Trophy West USA will be two races at the U.S. home of Formula One, Circuit of the Americas in Austin, Texas July 6-8. Live timing and scoring can be followed at http://www.competentmotorsport.com/index.php/live-timing/.