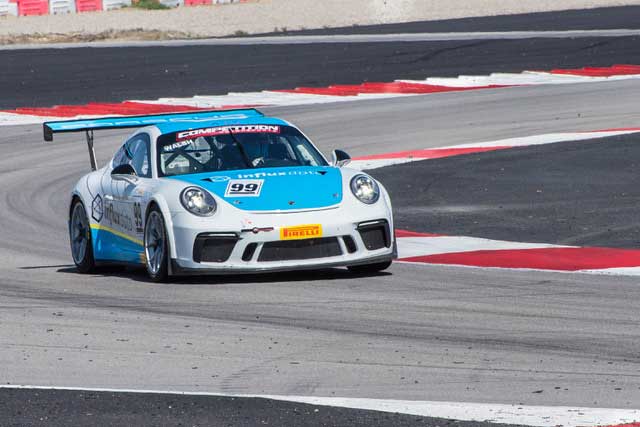 Thermal, California — Porsche Trophy West USA returned to The Thermal Club for their second day of racing under the desert sun.
Twenty-six Porsche Cup cars in six classes competed at The Thermal Club: Bronze (Porsche Cayman Clubsport GT4 MR and Cayman Clubsport GT4 Trophy), Gold (Porsche 991.1 GT3 Cup), Platinum and Platinum Masters (Porsche 991.2 GT3 Cup), Emerald (Porsche 991.2 GT3 Cup MR), Silver (Porsche GT4 Clubsport SRO, Clubsport Comp Cars, Model Years 2019).
Hutton McKenna proved the importance of having home track advantage again today as he navigated the desert racetrack after an incident in turn one left some debris. "There was a little bit of oil on the track at turn one, but I was able to get around the track very clean," said McKenna. Hutton's team, Competition Motorsport, ecstatically greeted their driver as he crossed the finish line for his second win of the weekend. "This is my third team. I didn't have the same experience with the first two, but Competition Motorsport has been awesome. The coaching and the support that I receive is really top notch"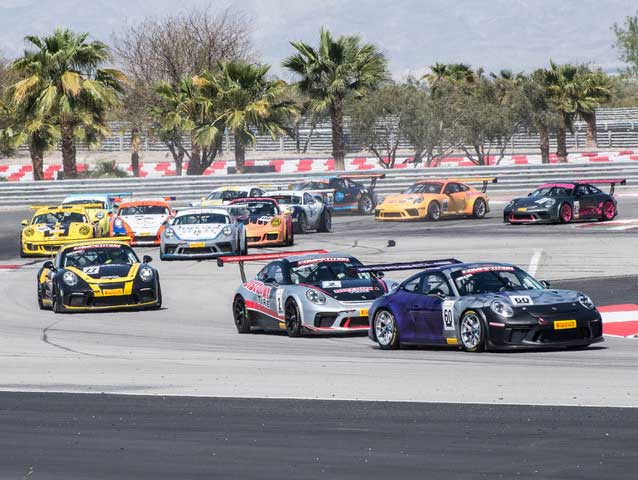 Gold Class driver Ray Shahi was involved in an incident in turn two and recovered after falling back to last place in his class. Shahi recovered his lost positions and eventually passed Laura Ely to take first place. "My Porsche Irvine car was hooked up," said Shahi. "I had a little misfortune in the first lap and spun out after I got clipped, but I was determined to get back up there and I passed about eight cars to get on P1 in class and seventh over all. I can't thank my guys enough for putting such a great car together for me."
Jim Walsh attests his second win of the weekend to driving with precision and staying out of trouble. "I played it safe going into turn one and avoided any contact which allowed me to keep up with the pack in front and stay close to them. My crew gave me a really great car which not only allowed me to take first in class, but to also finish P3 overall."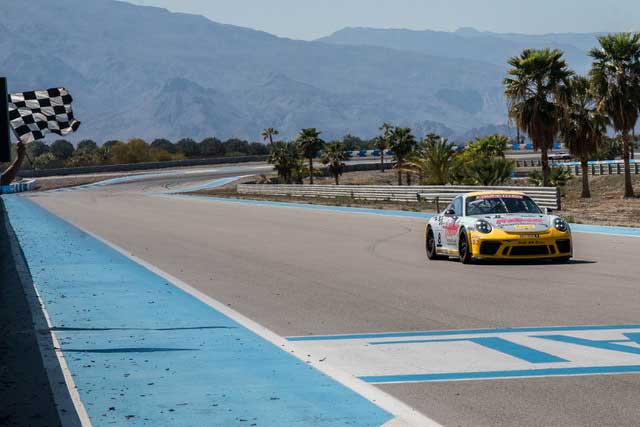 Group 2 took to the track immediately after Group 1 and had a performance that was identical to the day before. Emerald Class winner Martin Brauns had the fastest lap time of the group, driving in his 991.2 GT3 Cup MR. Dmitri Novikov and Ranson Webster also managed to reproduce their results from yesterday and took first in their respective classes.
Erin Vogel showed continued improvements in her lap times today as she raced towards her second victory of 2019. "These victories mean a lot to me personally because it shows that I've already improved a lot this season from where I started," said Vogel. "I've probably taken ten seconds or more off my lap times since the beginning of the season. Going forward I want to keep whittling away at that and make sure I can maintain the demeanor that I found here this weekend."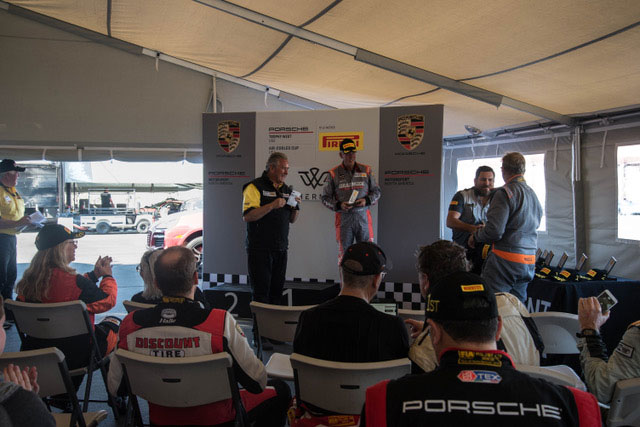 With the 2019 Season opener in the books, Competent Motorsport's President, Greg Franz shared his excitement for the rest of the season. "I am really looking forward to the 2019 season. We're returning to an old favorite, Road America, and we will also be visiting a couple of new venues in Portland International Raceway and Virginia International Raceway," said Franz. "2019 will certainly be a year of expansion for us. We have a new group of drivers, the new GT4 platform, the new GT3 Cup MR platform, the 997 GT3 R, and the 991.1 GT3 R. There aren't many series with that kind of diversity of cars and we are really proud about that. I'm looking forward to a number of very hard fought championships over the course of the season."
Porsche Trophy West USA will head to Portland International Raceway, April 12-14 for round 2 of the 2019 season.