Monterey, California — With an impressive five-car lineup for the second event weekend of the 2014 IMSA GT3 Cup Challenge USA presented by Yokohama season, Competition Motorsports got off to a strong start in qualifications at Mazda Raceway Laguna Seca on Saturday.
Young Michael Lewis led the charge, taking his first pole in GT3 Cup Challenge USA competition in just his third start in the category, with his fellow Competition Motorsports teammates also posting strong results during the half-hour session.
Michael Lewis and David Calvert-Jones will again contest the Platinum Class championship with the all-new Porsche GT3 Cup machine in tomorrow's race, with Fred Poordad, Blair Chang and Michael McAlister ready to take on the Gold Class championship.
The California-based team came to the 2.238-mile, 11-turn circuit, including the famous "corkscrew" in scenic Monterey, California fully prepared to perform at the highest level. Ahead of qualifications, the team had two quick practice sessions on Friday afternoon to dial the cars in, and made consistent progress through the weekend. All of the cars consistently running in the top-10 throughout both sessions with Lewis consistently setting the pace ahead of the combined-class field.
Saving his best for last, Lewis will start tomorrow's race first place on the grid after throwing down the fastest lap time of qualifying on his very last lap. His time of 1:27.786-seconds found an extra tenth of a second ahead of second place. Calvert-Jones ran consistently throughout the session and will start on the fifth row of the grid for Race 1 on Sunday.
In the Gold Class, Poordad led the Competition Motorsports effort with a solid fifth place starting position after an unscheduled tire change left him just outside of the pace he wanted. The Gold Class championship leader had been hoping for a front row start, but knows he will have the chance at some upward mobility on Sunday.
Chang filed in just behind him in sixth position after strategically choosing to back off a bit, save some laps and some critical Yokohama Tire for his race on Sunday. McAlister will start the first race tomorrow in 11th position.
The first of the two 45-minute races Sunday will go green at 9:00AM (PST) with the second set for later in the day at 5:15PM (PST) following the TUDOR United SportsCar Championship races. Timing and scoring can be followed live at imsa.com.
Competition Motorsports Driver Quote Board: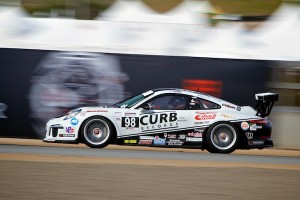 Michael Lewis, No. 98 Competition Motorsports/Curb-Agajanian– "That was pretty cool! I stayed relaxed and I knew the car was really solid and I could stay up front. Beforehand I figured if we could get first that would just be icing on the cake, I just wanted to stay in the first two rows. I ended up doing that and even got a little bit more so that was awesome and I couldn't be any happier. Thanks to the team for putting in such great work on the car and we will see what happens tomorrow. In my mind, the hardest part was today because it so hard to pass here. I'm just going to try and keep it clean for tomorrow and bring home some points. But first place is always good!"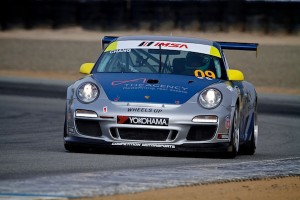 Blair Chang, No. 9 The Agency/Competition Motorsports – "Qualifying went pretty well today. I was in P2 for about the first 15-minutes and I decided it was going to be so close anyway that I could afford to back off a bit. I have a super drivable car and I wanted to conserve my tires in case the race goes green the whole way tomorrow because I have a feeling that some of the cars that stayed out the full 20 minutes today are going to find themselves struggling for grip at the end of the race. So I think with my car I can definitely catch them in the race tomorrow."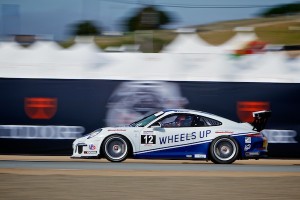 David Calvert-Jones, No. 12 Wheels Up/Competition Motorsports- "It was a bit of a difficult qualifying session for me and I will have some work to do in the race tomorrow, but that is okay. I was definitely trying to save my tires for the race tomorrow, and I did end up using a bit more than I wanted so tomorrow could be a bit of a challenge but I think I'm still in pretty good shape. I have to say I'm really proud of my teammate, Michael Lewis. Congratulations to him on getting the pole."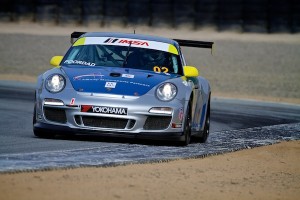 Fred Poordad, No. 02 Affinity Motorsports/ TLI/Competition Motorsports– "The first couple laps felt really good and I had a great outlap. Really we set the tire pressure so I could only do two real laps. Unfortunately on my second lap out I turned into Turn-6 and hit the red curb with the left front wheel and that broke the rim and popped the tire. So then I had to come in and change tires and it wasn't exactly ideal after that because we lost that window where the tire pressures were optimal. So unfortunately it wasn't an absolutely great qualifying for me. I had one decent lap but I needed just a little bit more."
Photos via Blake Blakely