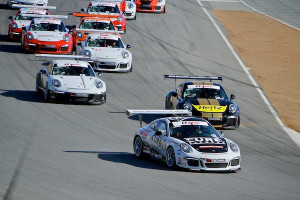 Monterey, California — Leading from flag to flag and holding off the pressure after a late race caution set up a sprint to the finish, young Mike Lewis brought Competition Motorsports its first victory of the 2014 IMSA GT3 Cup Challenge USA by Yokohama season with an impressive victory in Round 3 at Mazda Raceway Laguna Seca (MRLS).
Lewis wasn't the only Competition Motorsports driver with something to celebrate after the race, as he was joined on the podium by Fred Poordad, who took third in the Gold Class Masters Class. David Calvert-Jones netted a 2nd place finish in the Platinum Masters Class, but wasn't able to spray the champagne as he was already busy strapping in to start the IMSA TUDOR United SportsCar Championship race in a GTD Porsche.
Blair Chang came home a frustrated ninth in the Gold Class, just behind Competition Motorsports teammate Mike McAlister.
The team will look to back that outing up with another strong result in the second race of the day, set for a 5:15 PM start (timing and scoring will be available here: http://scoring.imsa.com/gt3-challenge-usa/)
Competition Motorsports, Mazda Raceway Laguna Seca Driver Comments Race 1:
Michael Lewis, No. 98 Competition Motorsports/Curb-Agajanian/Eibach/Cometic Gaskets/ASE/McKenna – "I was just trying to get a gap and run a clean race but about mid-race the car behind me was decently close so I just wanted to keep my pace up and pull away. Then I saw he got a penalty so I decided to race down a little bit and save more tires in case of a late-race restart, which ended up being exactly what happened. Once that moment came I was ready and held my line into Turn-1 and after that I knew I could sail home to the finish. Big thanks to the team, they put a great effort into the car and thanks to Curb Records and everybody to get this thing going. It was a fun race!"
David Calvert-Jones, No. 12 Wheels Up/Competition Motorsports-  "It was competitive. I got hit going to Turn 4 on the first lap from behind. I could see the guys scrapping in front of me and I just wanted to be clean the whole way and get the car home on pace."
Fred Poordad, No. 02 Affinity Motorsports/TLI/Competition Motorsports – "I didn't have a great start. I lost several positions before Turn-2. But then I battled back and I was happy with that. I actually gained several positions back and was about to overtake car No. 89 coming out of Turn-6 when he got a little squirrely and I tapped the breaks and spot and ended up losing a position there. At the end I tried to get car No. 52 on the restart and we had a nice little battle but couldn't quite execute it because there was only one lap left. I'm hoping for a better race two."
Michael McAilster, No. 32 Competition Motorsports – "It was a great race this morning. I didn't move up quite as far as I wanted to, but it was my first IMSA race and I enjoyed it quite a bit. I'm really looking forward to the race tonight and future races."
Blair Chang, No. 9 The Agency/Competition Motorsports  – "I got hosed on the restart and then hit then inside of the turn in Turn-6 and that was it. As soon as you come in to the pits you are basically out. So I'm definitely looking to do better later on today."
| Driver | Position | Class Position |
| --- | --- | --- |
| Michael McAlister (Beverly Hills, CA) | 24 | 8 |
| Michael Lewis (Laguna Beach, CA) | 1 | 1 |
| David Calvert-Jones (Los Angeles, CA) | 7 | 7 |
| Fred Poordad (San Antonio, TX) | 20 | 5 |
| Blair Chang (Santa Monica, CA) | 25 | 9 |