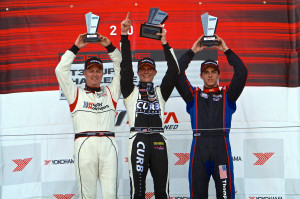 Monterey, California – After leading from the green flag to the checkers in race one of the IMSA Porsche GT3 Cup USA by Yokohama at Mazda Raceway Laguna Seca, Michael Lewis added a repeat encore performance in race two for Competition Motorsports on Sunday with another textbook drive to secure his second win in the category only a few hours after taking his first.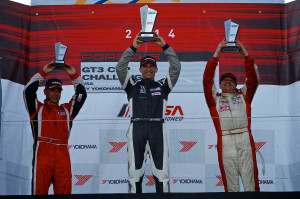 Adding to the team driver suit dry cleaning bill was the champagne spray of fellow Competition Motorsports driver Fred Poordad, who won the Gold Class in race two as he backed up his run to fifth in class in the first race of the day as well as netting the "Hard Charger" honors for his in-race upward mobility.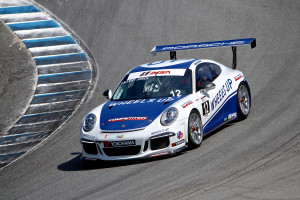 Joining the podium ceremonies after the race was David Calvert-Jones, who netted a Masters Podium result with his fourth place overall finish. Not to be outdone, the rest of the Competition Motorsports team brought home solid results as Blair Chang scored his second best result of the year so far with a run to sixth place in the Gold Class, while Mike McAlister impressed in his IMSA debut with his eighth place Gold Class result.
With new Yokohama tires providing increased grip, the second race gave all five Competition Motorsports entries the ability to drive their Porsche 911 machines to the limit all the way to the checkered flag and improve their starting positions. The second race also featured fewer cautions and a lot of side-by-side green racing action. Notably in just his second IMSA race, Michael McAlister gained three positions from the start to bring the car home in eighth place.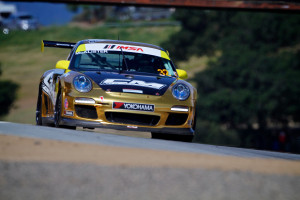 "We popped the lid to the podium pretty solidly," said a pleased Team Manager, Bob Faieta following the race. "We had a solid performance in the second race by all of the drivers. Everybody did a really great job and we had a lot of spots on the podium, so I am extremely happy."
Competition Motorsports will be back in action at Lime Rock Park on May 23-24.
Competition Motorsports, Mazda Raceway Laguna Seca Driver Comments Race 2:
Michael Lewis, No. 98 Competition Motorsports/Curb-Agajanian – "The first race there were a lot of yellows and mad dashes and it was a lot about staying clean on the track. This race we had new tires so we could maintain our pace throughout the race so they lasted a long time so I was just driving as hard as I could. Basically I was driving to the limit the whole time without sliding. Benitez was pretty solid but I was able to gap him pretty well. I made one mistake the whole race in Turn-9 but that was the only little mistake I made. Otherwise I was able to put everything together and creeped away from him on that last restart because I knew that was going to be his only chance. When that last restart came I decided to just stay on the inside on the white line no matter what and it worked out really well. I'm so happy with the results today."
Blair Chang, No. 9 The Agency/Competition Motorsports – "I had a better start and basically a better everything for this race. It is all coming back to me. I've never really had a lot of luck at this track and never been that great at it. But today's race was good and I had a lot of fun. It was a good finish, I brought the car home in one piece and posted some consistent times and wasn't too far back from the podium. Overall it was a good day."
David Calvert-Jones, No. 12 Wheels Up/Competition Motorsports- "The race was pretty crazy at the start. Then I just drove a clean race and actually ended up being out by myself, there really wasn't anyone around me. Then we got a yellow that bunched the pack back up and gave me the chance to gain a few more positions and end the race. All in all it was a good race and I am happy to bring the car home in one piece. I just wanted to drive clean and I accomplished that goal."
Fred Poordad, No. 02 Affinity Motorsports/TLI/Competition Motorsports– "The race had a lot of lead changes so that was exciting. There were also a few yellows and just a lot of side-by-side racing going on so it was just a tremendous race overall. I can't thank Competition Motorsports enough. They put a great car under me that performed perfectly, I even had tires left at the end of the race! So the crew and Bob Faieta and company did an absolutely fantastic job and I couldn't be happier to do this for Competition Motorsports."
Mark McAlister, No. 32 Competition Motorsports –"This was a great race. I am so glad I did it. It was just a great experience and I can't wait to do it again."
Driver
Position
Class Position
Michael Lewis, No. 98
Competition Motorsports/Curb-Agajanian
1
1
Blair Chang, No. 9
The Agency/Competition Motorsports
15
6
David Calvert-Jones, No. 12
Wheels Up/Competition Motorsports
4
4
Fred Poordad, No. 02
Affinity Motorsports/TLI/Competition Motorsports
10
1
Mark McAlister, No. 32
Competition Motorsports
20
8