Watkins Glen, N.Y. – The firs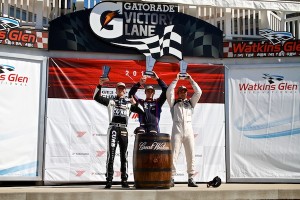 t 45-minute IMSA Porsche GT3 Cup USA Presented by Yokohama race at Watkins Glen proved to be a mixed bag of results for Competition Motorsports in Round 7 of the championship.
An uncharacteristically caution-free race created an exciting sprint to the finish with the hard racing that has come to be expected from the competitive Porsche series, but left absolutely no room for error on the part of the drivers.
Michael Lewis highlighted Competition Motorsports' efforts in Race 1 and brought home his third podium of the season with a third place result. A gear issue forced David Calvert-Jones to settle for a disappointing 19thplace finish, while Fred Poordad brought home a hard-fought finish of ninth in class.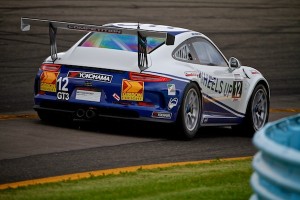 Lewis drove a fast and clean race while maintaining the third position in his No. 98 Competition Motorsports/Curb Agajanian Porsche. He managed to gain a position on the start, but ultimately lost it back again due to traffic battles despite consistently laying down lap times on par with the leader. He finished the race fighting for a higher position as the top-three finishers took the checkered flag within a razor-slim margin of .3 seconds of each other.
Calvert-Jones had a similarly strong run during the first 30 minutes of the race. Focused on laying down clean laps and hitting all of his marks, he managed to make up a position early on and make progress in the top ten, only to have to head to the pits early when a gear issue ended his race prematurely.
In Gold Class competition, Poordad suffered some misfortune after getting knocked into a quick spin at the start of the race which cost him valuable positions and put him outside of the top-10 after his promising second place grid position. He quickly set to work making up positions in his No. 02 Affinity Motorsports/TLI/Competition Motorsports Porsche. Ultimately, Poordad fought back to a well-deserved eighth place finish, despite also fighting the heat due to failed cooling systems during the long fast hot all green flag run to the checkered flag.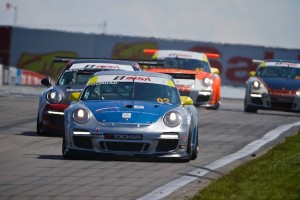 The team heads into Race 2 tomorrow with optimism, still in good position in the championship.
"We're not yet at the halfway point of the season and we're in good shape," said Team Manager Bob Faieta. "We're within five points of the leaders and we'll stay close and look to be the opportunist. When it gets towards the end of the season, something is always about to happen; not many guys get through the season without trouble and we want to be the ones that don't have trouble."
Ahead of the race, the three drivers took part in a short 20-minute qualifying session that was cut even shorter due to a red flag. In spite of the shortened time allotted, the Competition Motorsports team was still able to showcase both the speed of their Porsche machines and capability of their drivers as Lewis placed his No. 98 Competition Motorsports/Curb Agajanian Porsche in third position for the Platinum Class while Calvert-Jones put his No. 12 Wheels Up-Competition Motorsports Porsche in 10th place. Poordad also capitalized on the short qualifying session in Gold Class competition and started Race 1 from the second position in his No. 02 Affinity Motorsports/TLI/Competition Motorsports Porsche.
The team now looks forward to Race 2 which is set to go green on Saturday evening at 6:35 PM (ET).
Competition Motorsports Race 1 Driver Quotes:
Michael Lewis, No. 98 Competition Motorsports/Curb Agajanian Porsche – "The guys in the pit, Bob (Team Manager) and Damien (Engineer), were telling me the pace to run and how many laps were left so I could manage my energy. Unfortunately we couldn't get the win but I'm really stoked because the Competition Motorsports guys put together a great car. The car lasted the whole race and was super fast and it came down to the last corner! Some guys had a strategy to go out hard and then try to hold their position when the tires started to go off. We decided to pace ourselves and save our tires to push hard at the end. As it worked out, both strategies worked because 1-2-3 crossed the line within a tenth or two of each other. I'm really happy to be on the podium and we'll be looking to improve again tomorrow. It was a good start to the weekend."
David Calvert-Jones, No. 12 Wheels Up-Competition Motorsports Porsche – "I started P10 and it was definitely an interesting start. I felt like I got around the outside of a few guys going into Turn 1, but obviously they had the shorter radius and caught up. So then as it turned out going down the back straight I was still in P10. I was pushing Santiago (Creel) quite well and I just kept trying to hit my lines and I tried to push a little bit too hard going into Turn 1 and had a little lock up. So I felt a flat spot in the front left so I decided to back up my braking points a bit and be conservative and try and drive out the flat spot which then let him get away from me. Then when I started pushing again and catching up with about 15 minutes to go I decided it was the time to start pushing and the track just kept getting more and more slippery. Then going into Turn 7, my car just wouldn't downshift. I got stuck in fifth gear and that was it for the day. So tomorrow will be a better day."
Fred Poordad, No. 02 Affinity Motorsports/TLI/Competition Motorsports Porsche – "This was not the outing I wanted. I had a really good starting position of P2 in class. I got through Turns 1, 2, and 3 clean and those were the ones I was worried about. But then in the busstop, me and a Platinum Cup car went through two-wide and unfortunately it was a bad move on both of our parts because there wasn't enough room and we both spun and I lost a bunch of positions. I got right back in it but there were no yellows this whole race to help me out. Then every cooling system in the car failed on me, the cool-suit failed, the helmet blower failed, the water system for my drink bottle failed, so it got very hot in there. By the end I was struggling a little bit. But I made up a few positions, but I am really disappointed. The team put a great car under me. Competition Motorsports and the crew did a fantastic job as always. So no excuses, this one is on me. We hope to come back and have a better showing and get some points in Race 2."