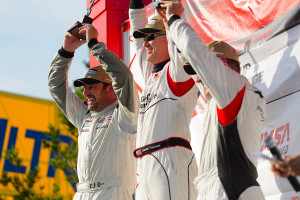 Bowmanville, Ontario – After two days of hard racing North of the border, Rounds 7 and 8 of the IMSA GT3 Cup Challenge USA Presented by Yokohama set at Canadian Tire Motorsport Park are now in the books for Competition Motorsports, with a pack of positive finishes and a double podium weekend for Calvert-Jones added to their list of accomplishments so far this season.
With just one full-course caution following an entirely caution-free first round, Race 2 provided the opportunity for all three Competition Motorsports drivers to really put their Porsches to the test and battle through the busy 27-car field.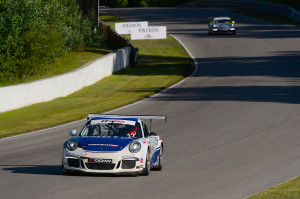 With IMSA GT3 Cup Challenge USA Presented by Yokohama setting the grid for the second race of the weekend based on a driver's second-best qualifying lap, Michael Lewis began Race 2 from fifth position in his No.98 Competition Motorsports/Curb-Agajanian Porsche 911, Calvert-Jones began from 11th place in his No. 12 Wheels Up-Competition Motorsports Porsche 911 and Fred Poordad began from sixth place in his No. 02 Affinity Motorsports/TLI/Competition Motorsports Porsche 911.
All three drivers managed to keep a good race pace on the high speed track that requires big commitment, maintaining position throughout the second 45-minute sprint race. Despite their varying positions on track, the race played out similarly for the three Competition drivers as they carefully battled through traffic to gain valuable positions.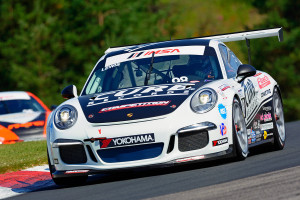 Both Lewis and Poordad improved on their grid positions to bring home hard-fought finishes, with Lewis crossing the start/finish line in fourth in Platinum Class competition and Poordad in fifth in the Gold Class. The race was slightly more eventful for Calvert-Jones, who got caught up in the incident that brought out the only full-course caution of the race, costing him multiple positions. But he managed to fight back to finish even with his starting position in Gold Class competition.
The team started the weekend early on Friday with a healthy qualifying effort, putting all three cars within the top-10 of their class for the starting grid after all three Competition Motorsports drivers laid down laps seconds faster than their best times from their first practice on Thursday. Lewis led the qualifying effort and started from third place in Platinum Class competition with Calvert-Jones also within the top-10 in ninth place. Similarly, Poordad proved himself competitive in Gold Class competition after he slotted his Porsche into fourth place.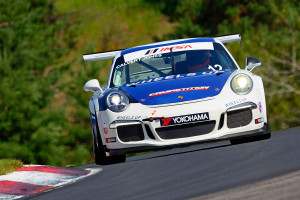 The checkered flag on their official debut in Race 1 saw a triple top-10 finish for the team as Lewis brought home a seventh-place finish in Platinum Class competition with Calvert-Jones right behind in eighth while Poordad raced home to a hard-earned seventh place result in Gold Class Competition.
"We had a pretty good weekend overall," said a pleased Team Manager, Bob Faieta, after Race 2. "CJ did really well. Fred managed to pick up a lot of positions in the race and Michael ran up near the front the whole race. So all in all a good weekend! We just need to keep our heads down and focus on the championship. We have three races at Road America so we'll have a good opportunity to get some points."
The team now looks forward to a brief break in racing action before they are back it again for a busy triple-race weekend at Road America on August 9-10.
Competition Motorsports Race 2 Driver Quotes:
Michael Lewis – "In the end it was a positive result. We improved one position from the starting place of fifth. In the end I wanted to see if I could get some more positions and a trophy for my team but I just came up a little bit short. Racewise, I felt like I learned a lot, even though I finished fourth on the track. We tried some different things for this race 2 and I feel like I really am growing. I'm learning a lot and I feel like the work we're putting in is really good. I just need to see if I can bring home some trophies. We are growing as a team and I feel good. We've got three races at Road America so we've got a lot of time to dial the car in and try to get the maximum points possible for the championship."
Fred Poordad – "It was a better day than yesterday, though I didn't need the yellow today! I think I started P6, ended up P5 so I gained a position but there was more to it than that. We had a pretty good start and then I gave a position up after the restart – we had a long yellow which hurt me on the restart. And then I had some quick cars in front of me and we all just stayed on the same pace. On the second to last lap, two cars collided and spun and I went airborne. I think I actually passed two cars in the air. Something I don't want to repeat but I "stuck the landing" and we finished the race. Competition Motorsports and the crew put a great car under me; it handled great all weekend. So we're looking forward to Road America and better results there."
David Calvert-Jones – "The car was great. On the second lap I got hit going into Turn 2 – I guess the guy was trying to avoid someone else's wreck and hit me. Which then put me behind cars I had out-qualified so I had to chase them down. I got there and passed a number of them. I was running really strong and caught up to the next group. I had a good run on, side by side going into Turn 3 and I should have had racing room and he just chopped down and hit me, spun me. So I had to start all over and catch everyone up again. As it turned out, I got on the podium which is great. Thanks to Bob and all the guys at Competition for giving me such a great car and for all the work they did repairing it after my shunt on Thursday."