Tujunga, Calif. – Just before a dramatic finish to his debut season in the IMSA Porsche GT3 Cup Challenge USA presented by Yokohama, Michael Lewis put his Porsche prowess on display around the Circuit Ricardo Tomo in Valencia, Spain as one of only nine drivers around the world to be invited to participate in the 2014 Porsche International Cup Scholarship Shootout.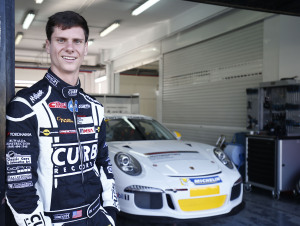 The only American invited to the two-day event, Lewis credits his experience gained through Bob Faieta and Competition Motorsports in the IMSA series for the opportunity.
"It was Bob's (Faieta) Competition Motorsports team that put me in the position to get great results to be invited to this shootout for a potential Supercup 2015 scholarship," said Lewis. "It was an honor to represent the IMSA Porsche GT3 Cup Challenge USA presented by Yokohama and the Los Angeles-based Competition Motorsports team overseas."
The trip marked a culmination of experiences for the young Californian, who had extensive European experience including several seasons of Formula 3 competition under his belt.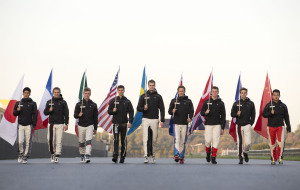 Lewis transitioned to the Porsche machinery in the 2013 Porsche Young Driver Academy which also prepared him for the prestigious scholarship event in Spain.
"Being in the company of the factory Porsche Motorsport engineers and personnel was a result of all the people back in the United States who have supported my driving career," said Lewis. "I hope that I can bring them the gratitude and recognition that they deserve, and it was great to represent the USA among the international countries! I put in my best effort and did all that I could on and off the track. We will see the result in the approaching weeks."
Immediately following his time in the Porsche Young Driver Academy, Lewis proved his Porsche capabilities as he made a splash in the IMSA GT3 series with five podiums and four wins in his very first season with top-team Competition Motorsports, which saw him fighting for the championship until the very last race of the season.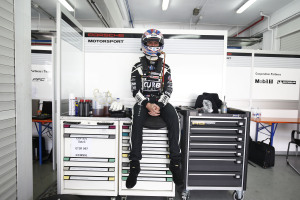 "I would really like to thank IMSA, Porsche Motorsport North America, and Yokohama Tire for inviting me to participate in the 2013 Porsche Young Driver Academy," added Lewis. "This academy definitely helped me prepare for the 2014 International Cup Scholarship as many of the same tests were carried out."
The winner of the 2015 Scholarship and subsequent Porsche Supercup drive will be announced by Porsche in the weeks to come, but for Lewis, the invitation and opportunity is already the highest honor and he is quick to point out the support of those that helped him make it this far.
"I would also like to thank my sponsors Curb Records, Eibach, Cometic Gasket, ASE, C&R Racing, McKenna Porsche of Southern California, Camisasca Automotive Mfg., The Smile Generation, Ed Pink Racing Engines, Buwalda Construction, Laguna Classic Cars and Automotive Art, Mönik, Performance Racing Tech-Talk, Realatrends, RFMS Racing, Mr. Paint Inc., Burger King, Val Lambros M.D., F.A.C.S., Surterre, Klotz Synthetics, Coast Fabrication, GoPro, Racing Electronics, Bell Helmets, Racing Goes Safer Foundation, SAC Design, and JDR Graphics."
For more information on the event, check out this video: http://vimeo.com/m/107939244