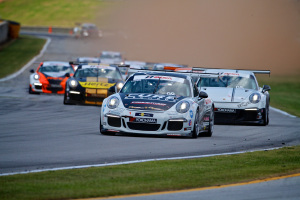 Braselton, GA – After a long and competitive season that saw the team score a podium result in every event weekend, Competiton Motorsports capped off the final race of the IMSA Porsche GT3 Cup Challenge USA presented by Yokohama in exciting fashion on the slick 2.54-mile circuit of Road Atlanta.
Alas, the final race brought heartbreak for Michael Lewis (No. 98 Competition Motorsports/Curb-Agajanian Porsche 911), who took the green flag leading the Platinum Class Championship by just one point.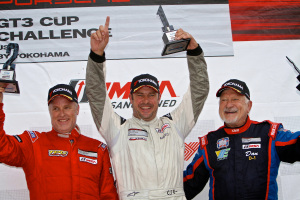 As the skies cleared of rain from the morning downpour, the track remained deceivingly slick and as the field raced to the green flag, Lewis got caught out on a slick line and made contact with the wall on the front straight, ultimately putting him out of the final race of the season and out of the fight for the championship. In spite of the disappointing season finale, Lewis' exemplary first season still earned him third place in the overall championship.
The remaining three Competition Motorsports drivers persevered through the wet conditions to drive home to the checkers. David Calvert-Jones (No. 12 Wheels Up Competition Motorsports Porsche 911) highlighted the effort with a spirited drive that landed him his second Platinum Masters Class win of the finale weekend, despite contact from behind that robbed him completely of his rear bumper.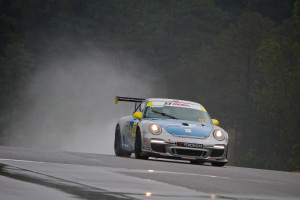 Fred Poordad (No. 02 Affinity Motorsports/TLI /Competition Motorsports Porsche 911) wrapped up the season with just his second-ever race in the rain by scoring an impressive fourth place finish, while Blair Chang (No. 09 The Agency/Competition Motorsports Porsche 911) also fought through his second rain race to bring home a sixth place finish.
"We had a bit of a rough weekend," said Team Manager Bob Faieta. "It started off well, but didn't end well. That's how it is in racing! When you're racing in the rain and racing in this tight of a competition, it happens. It was a tough start for Michael (Lewis); the car got away from him at the start and he had a hard time controlling it and ended up on the wall. It's just one of those things that's a part of racing. It's unfortunate but it is what it is. He had an incredible season. The other guys had better luck; CJ did an awesome job of pounding his way through the field. Blair and Fred, for some of their first times in the rain, did an incredible job of keeping it on the track and keeping their head down and gaining position so I'm happy for the team. The team overall had a good weekend and I'm pleased with how we ended the season."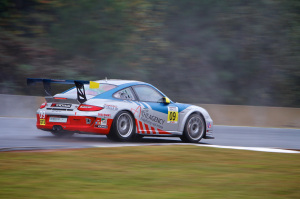 >
Competition Motorsports Road Atlanta Race 2 Driver Quotes:
Michael Lewis – "I'm gutted for the team who worked extremely hard on the car all season long. We were really hoping for a better result this race, but sometimes things like this happen. The spin was completely my mistake, and I accept what happened. It was still a really great first season with the Competition Motorsports/Curb-Agajanian team and I'm thankful to Bob Faieta for giving me the opportunity to drive for his LA based team. We scored many pole positions and race wins because of Bob's dedication to make the car fast; I was just lucky enough to be the driver. Thank you to him, my mechanic "D", May, all the mechanics, engineers, and sponsors for providing such a competitive car all season long. Also congratulations to my teammates, especially David Calvert-Jones on his double win in class this weekend."
David Calvert-Jones – "It was really tough conditions out there today and the start was crazy. I think it was me being spun which put me into Kasey Kuhlman which put him out. I feel so bad about that. Kasey is such a great champion and he deserves to be champion. It would have been great to race toe-to-toe with him today. And Michael, unfortunately going for the championship he was out at the start as well; it was a mess. Coming up from back of the pack to drive through into seventh overall and first in class, I had a lot of fun and the car was awesome, even though it was half missing by the time I finished! Competition Motorsports and Bob Faieta do a great job. I'm so appreciative to the whole Competition team, the crew and my engineer are great. It's been a great season and I really want to say thanks to everyone involved: Wheels Up, Porsche, IMSA, Yokohama Tires, thank you!"
Fred Poordad – "This was just my second race in the rain, so I am pleased with how I did. Toward the latter part of the race I really started to understand just how to race in the rain and was feeling good. When I first went out there I was still learning and couldn't see anything, so I lost a few spots at the beginning. I wanted to bring the car home in one piece and that is what I did, so overall it was good. I had a great start to the season, I kind of petered out toward the end, but we have a lot to work on for next season. Overall, the team did a great job. Competition Motorsports really made their mark this year so I am really happy for the team. Joe, my crew chief, Brad, our engineer, and Bob Faieta all did absolutely astounding so I am so pleased to have been a part of this team."
Blair Chang – "This was only my second race ever in the rain. It was pretty good, I am glad I brought the car home in one piece. The objective for today was just to go out and learn as much as I could and kind of treat the race like a practice, and I definitely did that. I learned a lot and I kept the car clean. This season was bittersweet, the whole team did an absolutely amazing job. I'm looking forward to next season, we can just build on what we have learned and do better in the future!"