Krieg and Woods score Texas-sized Platinum and Silver Class Victories
Austin, Texas – The 2016 Pirelli GT3 Cup Trophy USA launched its 2016 season with a 45-minute thriller that came down to the final laps at the famous Formula-1 grade Circuit of the Americas on Saturday. The race featured three classes (Platinum, Diamond, Silver) of competition as series organizers Competent Motorsport opened the 10th Anniversary season for the all-Porsche championship.
BR Racing's Robert Todd emerged from a race-long battle with teammate Jesse Menczer to score the first Diamond Class and overall victory of the year, with pole-sitter Allessandro Chiocchetti coming home in third after a race that ran under green flag conditions from start to finish.
The 29 car combined-class field got through the trademark elevated Turn 1 nearly unscathed, as a pair of cars were forced off track in the concertina effect at the start. The race continued unabated, with the Diamond class leaders setting the pace.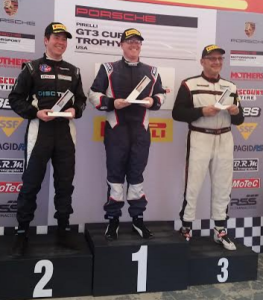 Robert Todd took the lead early on, with teammate Menczer moving to the point on Lap 4 and enjoying a strong run at the front. But managing his time, tires, and traffic, Todd was able to return to the lead on Lap 16 and hold the advantage all the way to the checkered flag for a season-opening victory.
"Conservation and tires were the key to this race," said Robert Todd. "During the middle of the race it definitely became a four way battle. I hung back in fourth and just saved tires. The two cars that were in between Jesse (Menczer, teammate and race leader) and I, ended up making mistakes. I just held behind Jesse and pushed him a little bit to see that he used his car and then when the time came I saw the opportunity to take over the lead and I took it."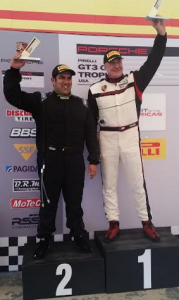 The Platinum Class saw Texan John Krieg take what he considered to be his biggest career victory as he came home ahead of Annand Sharma. Larry Schnur completed the Platinum class podium and also took top honors in the Masters Platinum Championship.
"It was a great race – I felt relaxed, it was consistent, I didn't have any moments and was able to stay with some Diamond cars so it was fun!" enthused Krieg. "I have more experience at some of the other tracks on our 2016 schedule so doing well here at Circuit of the Americas was particularly important because I've only been here a couple of times."
The season-opening Circuit of the Americas race marked the debut of the Silver class, which featured 14 of the highly sought after Porsche Cayman GT4 ClubSport machines. After coping well with relentless pressure for the lead, Kevin Woods delivered an inch-perfect performance in his BR Racing No. 94 Santa Cruz-liveried machine to mark his name as the first-ever winner in the Silver class.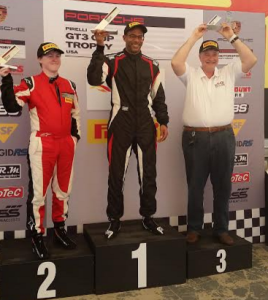 "I got a really good start and I got through traffic really well," said Woods of his flag-to-flag victory. "I thought 'I'll look back and he'd (second place car of Keith Jensen) be way back there,' but he was right behind me! And then we caught traffic again and he lost a lot of time. I had a nice gap and I think that kind of messed with my head a little bit. I was driving a little bit below of where I should have been driving. When he started closing up, I overdrove a little bit, and then once he closed up really close, I just hit my marks and we just kind of followed each other for the rest of the race. I don't know what happened there toward the end but he fell back a little bit and I just cruised to the finish."
Making an audacious start to his racing career, Sean McAllister earned the runner-up position in his first-ever car race for Competition Motorsports. Frank Sellidorf remained among the top-three throughout the entire 18-lap race and took the final place on the Silver class podium with his run to third place.
All three classes will be back in action at Circuit of the Americas tomorrow for Race 2 which is set to go green at 2:20 PM Central Time.
COTA – RACE 1 – RACE RESULTS
2016 Pirelli Porsche GT3 Cup Trophy USA Circuit of the Americas Schedule:
Sunday, March 13, 2016
8:00 AM – 8:35 AM Pirelli GT3 Cup Trophy USA Practice #1
10:15 AM -10:50 AM Pirelli GT3 Cup Trophy USA Practice #2
1:05 PM – 1:30 PM Pirelli GT3 Cup Trophy USA Qualifying
2:20 PM – 3:05 PM Pirelli GT3 Cup Trophy USA Race #2
3:30 PM – 4:00 PM Pirelli GT3 Cup Trophy Awards Presentations
The 2016 Pirelli GT3 Cup Trophy USA championship is staged with support from series partners Porsche Motorsport North America, Pirelli Tires, BRM Chronographs, Discount Tire, Mothers, BBS, MoTec, Pagid, RSS, and Stand 21.
Timing and scoring information will be available here: https://racehero.io
Get additional information and real-time updates here:
https://twitter.com/pirellicupusa
https://www.facebook.com/CompetentMotorsport
http://www.competentmotorsport.com
About the Porsche Cayman GT4 ClubSport:
Cayman GT4 Clubsport is powered by a 3.8-liter flat-six engine, positioned directly behind the driver's seat. The racing version features a modified six-speed Porsche double clutch PDK transmission with shift paddles on the steering wheel and a mechanical rear-axle locking differential specifically for racing.
The lightweight strut front axle is taken from its big 911 GT3 Cup brother, which is campaigned in 20 one-make Porsche championships around the world. An enhanced lightweight strut suspension with transverse arms adopted from the 911 GT3 Cup, is at the rear. The racing brake system features large 15-inch (380-millimeter) steel brake discs all round. One-piece, six-piston aluminum fixed calipers are located at the front, with a four-piston equivalent at the rear. The anti-lock brake system features twelve settings. The Electronic Stability Program has been recalibrated for slick racing tires. The power steering is operated electro-mechanically.
Additional technical information can be found here:
http://www.porsche.com/usa/eventsandracing/motorsport/customerracing/racingcars/cayman-gt4-clubsport/featuresandspecs/