Haacker rebounds from tough Saturday to win Platinum on Sunday, Jensen takes Silver Class win
Austin, Texas – Opening the series' 10th anniversary season, the 2016 Pirelli GT3 Cup Trophy USA staged Round 2 of its 16-race season on Sunday at Circuit of the Americas with a race that once again ran under green flag conditions from start to checkers.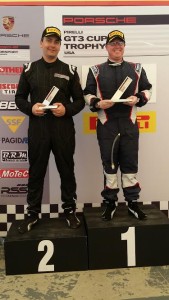 And for the second time in as many races, it was BR Racing's Robert Todd atop the overall podium as he took an assured victory over TruSpeed Autosport's Jason Godfrey, who shrugged off a disappointing Race 1 to take his first podium finish of the season.
BR Racing's Jesse Menczer backed up his Saturday run to second place with another podium result as he drove to a third place finish on Sunday.
"It was a lot of fun," enthused Todd following the race. "We took the sweep which wasn't something I expected coming in, given the high competition level of drivers we have. Jason Godfrey gave me a run for my money in this race. The race was about patience and just waiting for other drivers to make a mistake or finding the opportunity to make a pass. Once I did that, I settled into a rhythm and was able to put a gap between myself and second place. The team did awesome this weekend. All in all I think we did a fabulous job. I'm definitely pleased with the team, hats off to the BR Racing crew for getting the cars to where they are."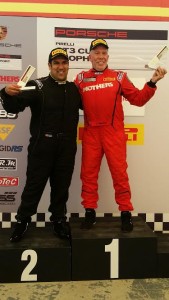 The Platinum Class saw TruSpeed's Tom Haacker bring home a convincing victory over Annand Sharma, who scored his second runner-up finish on the weekend for Cameron Racing. Haacker had also seen an early end to his race on Saturday so was elated to emerge atop the board at the finish on Sunday.
"Yesterday getting hit in Turn 1 and knocked out was not fun," offered Haacker. "We had a good car all weekend. We had great pace in the first race, we just got nailed by a rookie driver. Today everything stayed together and it was a fun, good race. I'm happy. It's an old beater car and we got her dialed in and it ran well."
The Platinum Masters honors went to Larry Schnur, who added to the trophy collection for TruSpeed Autosport with his second big run of the weekend.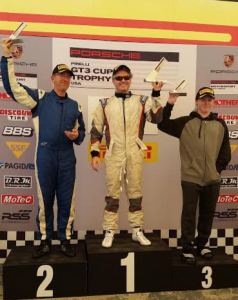 With the race weekend also marking the launch of the Silver Class, which utilizes the Porsche Cayman GT4 ClubSport, it was a new name winning the new class as Keith Jensen scored his first Silver class victory on Sunday, despite battling some ongoing issues with his car.
"Yesterday I had car problems and I had the same problems today," said Jensen. "At about Lap 5 at Turn 12, my Motec went to no data, I had no shift lights for the remainder of the race and just raced!"
Jensen was followed by TRG's Patrice Gautier of TRG, who made the most of his first-ever weekend of racing a Porsche machine with the runner-up result.
In just his second-ever car race, Sean McAllister was again a podium visitor, having taken second on Saturday and returning to the rostrum again on Sunday with his third place finish.
Greg Franz, President of Competent Motorsport, was pleased with the event and looks forward to the rest of the season as the series celebrates its 10th year.
"It's very exciting to kick off this 10th season of ours," said Franz. "The feedback I've received is that everyone had a fabulous time. This Circuit of the Americas facility is wonderful, it's a great track, and the drivers are saying they're excited about getting to the next event. We're going to keep going and keep building this momentum."
The Pirelli Porsche GT3 Cup Trophy USA will next be in race action April 8-10 at The Thermal Club.
2016 Pirelli Porsche GT3 Cup Trophy USA Schedule:
The Thermal Club – April 8-10
Mazda Raceway Laguna Seca – May 13-15
Mazda Raceway Laguna Seca – June 3-5
Sonoma Raceway – July 1-3
Utah Motorsports Park – Aug 12-14
Sonoma Raceway – September 9-11
Circuit of the Americas – September 23-25
The 2016 Pirelli GT3 Cup Trophy USA championship is staged with support from series partners Porsche Motorsport North America, Pirelli Tires, BRM Chronographs, Discount Tire, Mothers, BBS, MoTec, Pagid, RSS, and Stand 21.
Timing and scoring information will be available here: https://racehero.io
Get additional information and real-time updates here:
https://twitter.com/pirellicupusa
https://www.facebook.com/CompetentMotorsport
http://www.competentmotorsport.com
About the Porsche Cayman GT4 ClubSport:
Cayman GT4 Clubsport is powered by a 3.8-liter flat-six engine, positioned directly behind the driver's seat. The racing version features a modified six-speed Porsche double clutch PDK transmission with shift paddles on the steering wheel and a mechanical rear-axle locking differential specifically for racing.
The lightweight strut front axle is taken from its big 911 GT3 Cup brother, which is campaigned in 20 one-make Porsche championships around the world. An enhanced lightweight strut suspension with transverse arms adopted from the 911 GT3 Cup, is at the rear. The racing brake system features large 15-inch (380-millimeter) steel brake discs all round. One-piece, six-piston aluminum fixed calipers are located at the front, with a four-piston equivalent at the rear. The anti-lock brake system features twelve settings. The Electronic Stability Program has been recalibrated for slick racing tires. The power steering is operated electro-mechanically.
Additional technical information can be found here:
http://www.porsche.com/usa/eventsandracing/motorsport/customerracing/racingcars/cayman-gt4-clubsport/featuresandspecs/