Haacker (Platinum), Rodriguez (Platinum Masters), Woods (Silver), and Goldman (Silver Masters) also take victories in Pirelli GT3 Cup USA Trophy Race 10 at Sonoma Raceway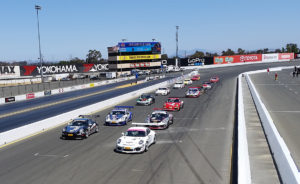 Sonoma, Calif. (3 July 2016) – Dino Crescentini took his second victory of the weekend from the pole position on Sunday, staying in front of incidents over the first two laps that scrambled the front of the Diamond, Platinum and Platinum Masters Classes in Race 10 of the Pirelli GT3 Cup Trophy USA at Sonoma Raceway.
The incidents involved several cars, including Saturday's third-place finisher Russell Ward, Annand Sharma, Ray Shahi and Mike McAlister. McAlister retired due to the damage incurred.
Driving the No. 34 Crescentini Racing Porsche GT3 Cup Car, Crescentini took the Diamond Class pole position and race win in dominant fashion in the 35-minute event. Competition Motorsports Michael Zuiebeck and Kelly-Moss Road and Race's Patrick Laughlin, battled throughout the race for second and third position. The father and son duo of Bryce and Russell Ward finished fourth and fifth, with the younger Ward recovering from a lap-one incident that put him in last position.
Crescentini was quick to attribute the win to the hard work by his son and the son of a friend, who work on the car. In racing, as in every area of life, communication is key.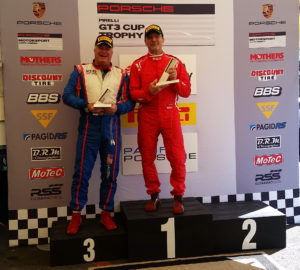 "When everything works and everything fits, it just really goes well," said Crescentini. "The guys put the car together so well. We communicate well and that's important. They know exactly what to do with anything I tell them about the car. It came together so well today; I was just cruising. It's all about the here and now and just enjoying what we're doing – and this was about as perfect as it gets."
Tom Haacker, driving the No. 45 Mother's/TruSpeed Porsche and starting fifth overall, took advantage of the lap one incidents to take second position overall and first in the Platinum Class. But Haacker was more concerned with Alex Kirby in his mirrors than trying to cross the gap to Crescentini, while Sharma recovered to take third.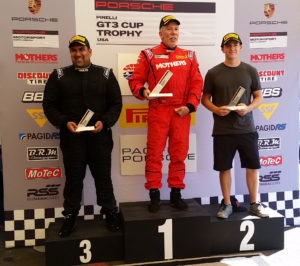 "The car was great today," said Haacker. "It gave every time I asked. The start was a blast; Annand and I went side-by-side through two and three and I got away in Turn 4. The guys did a great job putting the car together and I hit my marks just about perfectly all day. It just felt good! I knew I couldn't get Dino (Crescentini, overall race leader) but I kept focused and was able to keep Alex (Kirby) back there."
Ray Shahi was looking to earn his second Platinum Masters victory of the weekend, but an off-track excursion in Turn 6 and an alternator issue ended his day early. That opened the door for Robert Rodriguez, driving the No. 69 Werks2/P7 Racing Porsche. Rodriguez, who went out of Saturday's race on lap one due to a blown shock on the right rear, held off Jim Slavik and Larry Schnur for the victory.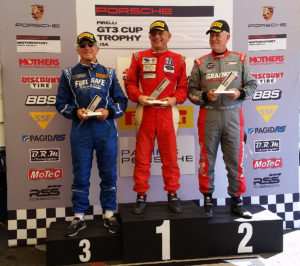 "It was carnage at the start!" said Rodriguez. "But I managed to avoid it. Larry (Schnur) was coming up midway through the race but I made my car a double-wide! It was all clean between us, but he had to take the outside lines which makes it pretty tough. I wasn't even sure I was going to start the race – we had to go out on the track to find our parts after the race yesterday and the one part we couldn't find, the TruSpeed guys gave to us. Everyone at Performance Shock at the track was great as well. The team got the car fixed with about five minutes to spare!"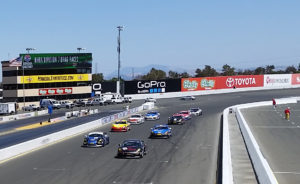 Kevin Woods, in the No. 94 Porsche Cayman GT4 Cup Car for Los Gatos-based BR Racing, earned his second victory in the Silver Class, over Keith Jensen and Sean McAlister. Woods, a Bay Area resident, was thrilled to complete the double at the two tracks he considers his "home" tracks: Mazda Raceway Laguna Seca and this weekend at Sonoma Raceway.
"Keith Jensen was really close in qualifying and Sean (McAlister) was really close in practice," said Woods. "So I thought the race would be tighter. I got a good jump on the restart and I was able to hold that. The BR Racing team did such a great job with the car all weekend, they made it easy for me."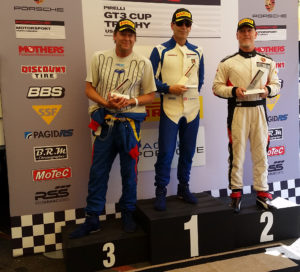 In the Silver Masters class, it was once again Competition Motorsports' Steve Goldman at the top of the charts, earning his eighth victory of the season ahead of Thomas Mayerhoffer and Mike Sullivan.
"There's not much more I can add to what I said yesterday!" said Goldman. "It was a good race, both in the Masters class and in the Silver Class. A lot happened in the front of the field but we were able to avoid that and enjoy a good race in the class."
Pirelli GT3 Trophy USA President Greg Franz was thrilled with the outcome of the weekend's races at Sonoma Raceway.
"We had a little bit of everything for everybody this weekend," said Franz. "It was a good learning opportunity and the races were great, in all five classes. That's what makes it really interesting; it's not just the two or three guys up in front – there's racing throughout the entire field and that's exciting to see. The drivers are learning and having a great time and we can't wait for the event next month in Utah."
The Pirelli GT3 Cup Trophy USA will be back in action August 12 – 14 when the series heads east for the Utah Supercar Grand Prix at Utah Motorsports Campus (formerly Miller Motorsports Park) in Grantsville, Utah.
Live timing and scoring can be followed at: http://www.competentmotorsport.com/live-timing/.