Sonoma, Calif. – The 2016 Pirelli GT3 Cup Trophy USA championship will stage a double-header race event this weekend at Sonoma Raceway as the all-Porsche championship continues its California swing of events. The 2.52-mile circuit that is carved into the hills of wine country just north of the San Francisco Bay has been a long-favored visit for the drivers in Pirelli GT3 Cup competition.
This is the 10th anniversary season for Pirelli GT3 Cup Trophy USA, which is operated by Competent Motorsport, and has grown to feature record fields as well as integrating the Porsche Cayman ClubSport GT4 into the Silver Class for 2016. The Diamond Class utilizes the latest Porsche 911 Cup specification, with the Platinum Class racers doing battle with the "997.2-spec" Porsche 911 GT3 Cup machine. The race weekend marks the start of the second half of the 2016 season, which features eight race weekends and 16 rounds of racing.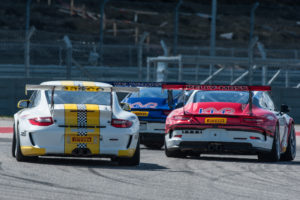 Sonoma Raceway, which played host to a thrilling last-lap battle in NASCAR Sprint Cup competition last Sunday, is an ideal setting for Pirelli Cup competition with multiple passing zones as well as some challenging technical sections on the natural road course.
With four wins to his credit, BR Racing's Robert Todd holds the Diamond Class championship lead heading into Sonoma. The Diamond Class has seen four drivers score victory, as David Calvert-Jones, Jason Godfrey, and Dino Crescentini have each taken overall wins thus far in 2016.
Leading the Platinum championship with 160 points to his credit is Tom Haacker in his TruSpeed Autosport machine as he looks to make the most of his return to Sonoma Raceway.
"I think that being the championship leader puts a bit of a target on you, and there are a lot of quick guys in this class," said Haacker. "John Kreig and I have been having some great battles on track. I still call this track Sears Point—there is so much history there. I love coming through the esses and blindly going into turn nine, setting up for turn 10 and hanging on as you go through—that is my favorite segment of this track. I seem to press the hard pedal more in nine and 10 than any track that I race on, and at my age I'm a little sore for the two or three days afterwards!"
For Platinum Masters championship leader Larry Schnur, the Sonoma Raceway Pirelli GT3 Cup event marks a return to where it all started for him.
"I began my auto racing career here at Sonoma in 2001 with the Jim Russell School, and have raced here ever since," said Schnur. "Two Sonoma highlights for me would be winning the Russell Grand Master Championship in 2005, and a last lap pass in turn 11 to win a Lotus Cup race a couple of years ago. I love this track. But as my coach John Olsen often says, little mistakes here can have big consequences, so I treat it with a lot of respect. My favorite parts are probably the esses and the two big braking zones."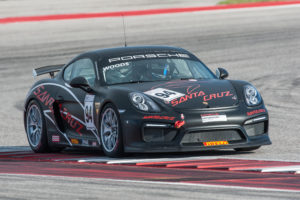 BR Racing's Kevin Woods has moved to the top of the Silver Class standings ahead of  young Sean McAlister, and also has some fairly fond memories from his racing at Sonoma as he looks to add to those this weekend.
"Since I live an hour away from the track I have a good amount of experience racing at Sonoma," said Woods, who calls clinching his 2013 Pirelli Cup Platinum class championship at Sonoma one of his highlights at the track. "I really enjoy all of Sonoma because it's such a challenging track, but one of the more enjoyable sections is the full esses with the run through turn 10. Leading the points doesn't change my approach to the race weekends—I will have to continue working on improving myself, improving the car, and executing to the best of my abilities every weekend to continue being successful against the level of competition in our class."
BR Racing drivers hold the lead in two classes as the championship starts its second half, but Woods doesn't think that will change his approach or how he deals with the pressure.
"First I have to thank my chief mechanic Brad Roberts and our engineer Jim Bell, along with the rest of the BR Racing team, for working very hard to get our side of the garage into the points lead," said Woods. "Now that we are here we need to stay focused, but I will not feel any more pressure from the team than what I don't already put on myself."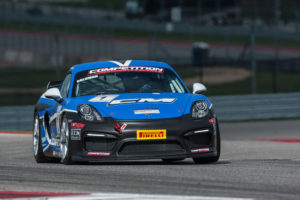 Steve Goldman has not relinquished his lead in the Silver Masters class as the Porsche Cayman ClubSport GT4 continues to generate enthusiasm as the new platform has proven to be well-suited for Pirelli Cup competition.
The Sonoma Raceway weekend kicks off on Friday with two practice sessions. Saturday and Sunday will each open with practice, followed by qualifying and the race.