Fogg Jr. (Platinum), Shahi (Platinum Masters), Woods (Silver), and Goldman (Silver Masters) also take victories in Pirelli GT3 Cup USA Trophy Race 8
Salinas, Calif. – Dino Crescentini looked to be set for the repeat in today's 45-minute, 30-lap event at Mazda Raceway Laguna Seca, as the overall and Diamond class pole sitter led from the green flag. But a tangle with a lapped car coming to the white flag allowed Competition Motorsports' David Calvert-Jones to take the position and his second win of the season in Race 8 of the Pirelli GT3 Cup Trophy USA Championship.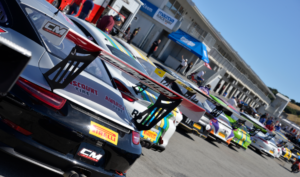 In contrast to the event at Mazda Raceway Laguna Seca three weeks ago, both Race 7 & Race 8 were run entirely under green flag conditions. The 25 drivers in all five classes battled throughout the event with exciting racing from start to finish.
Crescentini, running his own team with his son and two friends working on the car, put his No. 34 Porsche GT3 Cup Car on the pole position in morning qualifying and once again showed no signs of relenting the position. Meanwhile, Calvert-Jones enjoyed a spirited fight with hometown team BR Racing's Robert Todd, with Todd spending much of the race filling Calvert-Jones' mirrors. But as the field headed to the white flag lap, Crescentini ran afoul of a lapped car in Turn 3, getting the worst of it with extensive damage to the left side of the car. Calvert-Jones passed Crescentini, who was able to nurse the car home in second position, with Todd third.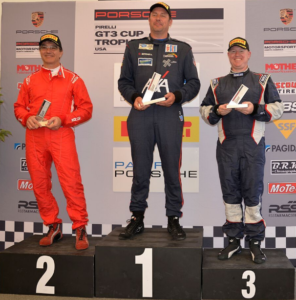 "Dino had a good gap on me," said Calvert-Jones. "Robert Todd in third was putting pressure on me and I was looking too much in my mirrors instead of looking ahead. It was good fun with Robert, he was pushing me hard. But then Dino (Crescentini) had the contact and I was able to get through for the win. A win's a win, but you have to feel bad for someone crashing out of the lead that way. My car was great, the guys at Competition Motorsports did a great job. It's great coming to Mazda Raceway, everyone at Competent Motorsports and Pirelli put on a great event."
Phil Fogg, Jr. earned his second Platinum Class race victory in only his second event since October, albeit with more adventures than he experienced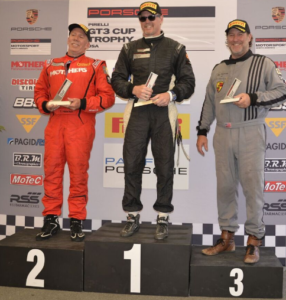 on Saturday. Two separate incidents caused damage to his No. 5 TruSpeed AutoSport Porsche GT3 Cup Car but he was able to nurse the car home in front, with teammate Tom Haacker second in the Mother's Polish Porsche and GAS Motorsports' Rob Tachovsky coming home in third.
"I was running with the top five guys in the race, but hit a curb coming out of Turn 4 while getting around a lapped car," said Fogg, Jr. "It bent the rim so we finished the race 10 pounds under on the right front. Later, I had some debris hit my splitter so the last 10 minutes of this race were pretty challenging! I was just hoping for the best. I backed off but had enough of a lead that I was able to nurse it in. I'm really glad to be back in the series, everyone here is so nice – it's like old home week!"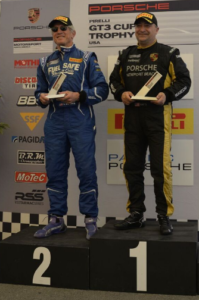 Ray Shahi once again earned the Platinum Masters Class victory over TruSpeed AutoSport teammate Larry Schnur. Shahi enjoyed battling with the other Platinum class cars, keeping his No. 65 Porsche Newport Beach entry in the thick of the class fray.
"P1 again today!" enthused Shahi. "I had some voltage issues, so I had no cool suit and no air conditioning in the car but I overcame those problems. The car was hooked up, I enjoyed the battles on track. It was a little slippery toward the end of the race again, but the TruSpeed guys gave me a very good car. It was a great weekend."
The Silver Class was competitive from top to bottom, with multiple position and lead changes. Kevin Woods started his No. 94 BR Racing Porsche Cayman GT4 ClubSport at the back of the field after recurring brake issues sent him into the tires during qualifying. He picked off the competition one by one as the class spent much of the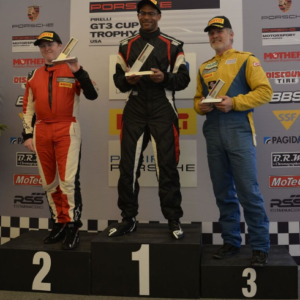 early going running nose to tail. Sean McAlister of Competition Motorsports, who entered the Mazda Raceway weekend as the championship leader, came from fifth to finish second, with Pacific Porsche/Competition Motorsports pilot Carl Tofflemire third.
"I really have to thank the BR Racing team," said Woods. "They did a great job for me today. We had brake issues again in qualifying so I hit the wall. The team got the car back and straight in time for the race. I had a good start and passed a few guys early and from there, we really ran as a chain for the early part of the race. I didn't think I would be able to pass anybody, but Sean (McAlister) made a mistake at Turn 4 and I got by. I picked off guys from there as quickly as I could. Sean was coming like a freight train at the end but luckily I was able to hold him off. I also want to thank the Kelly-Moss guys, who let me borrow a catalytic converter on Friday, when mine was cracked. Without them, I couldn't have raced at all."
After mechanical issues kept him off the podium in yesterday's race, Competition Motorsports' Steve Goldman came into Sunday's event with something to prove. He started his No. 1 Porsche Cayman GT4 on the Silver Masters class pole and didn't look back, taking the wire-to-wire victory to mark his sixth of the season. Teammate Chris Vivolo took his second podium of the weekend in second, with Mike Sullivan third to round out the all Competition Motorsports Silver Masters podium.
"The car worked well today," said Goldman. "No issues at all! I started on pole and battled the other Silver Class cars for much of the race. It was great racing and a very good day."
Pirelli GT3 Cup Trophy USA President Greg Franz was pleased with the weekend action and proud of all the progress made by the teams and drivers since the previous event at Mazda Raceway Laguna Seca three weeks ago.
"What's really exciting about this weekend was that we were here only three weeks ago, but the coaching from that weekend was really taken to heart," said Franz. "We had clean, aggressive racing and it was a great show for the spectators. We have great teams, great drivers and great staff putting on the series. We're midway through the season, with events in Sonoma, Utah and Circuit of the Americas in Austin, Texas yet to come. It will be an exciting championship!"
The Pirelli GT3 Cup Trophy USA will be back in action July 1 – 3 when the series heads north for two races at Sonoma Raceway in Sonoma, California. Live timing and scoring can be followed at: http://www.competentmotorsport.com/live-timing/