Fogg Jr. (Platinum), Shahi (Platinum Masters), Woods (Silver), and Sullivan (Silver Masters) also take victories in Pirelli GT3 Cup USA Trophy Race 7
Monterey, Calif. – Dino Crescentini took the overall victory in Race 7 of the Pirelli GT3 Cup USA Trophy in a race that saw several championship contenders exit early as changing conditions at Mazda Raceway Laguna Seca presented a challenge for the racers.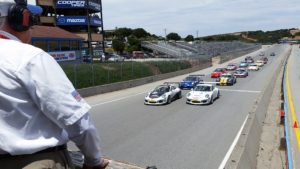 On a day that began cloudy and cool, the drivers dealt with rapidly changing conditions through the 50-minute race as the sun came out and the track warmed considerably. Crescentini took the green flag from pole position and kept his No. 34 Porsche 991 GT3 Cup Car in front the entire race, but was pushed throughout the run by Competition Motorsports' David Calvert-Jones, who could never quite reach Crescentini. Finishing third was championship leader Robert Todd, driving the No. 52 for hometown team BR Racing.
Crescentini earns the victory driving a car wrenched by his son and his son's two friends. The fledgling team earned a third and a fifth-place finish in the race weekend at Mazda Raceway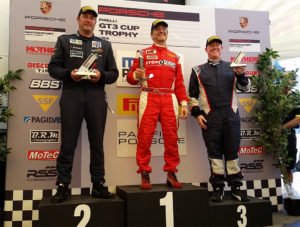 Laguna Seca three weeks ago and appreciates the concept of multi-class racing.
"I'm really happy for my team," said Crescentini. "It's my son and his friends and they have poured their heart into the setup, and that's what it's all about. The whole race was very challenging, and that's what happens with different classes on the track. I enjoy it because it keeps you on your toes. Right when you think you've got the win, you get stuck behind cars and the guys behind you are right on your tail. It's a very exciting format! I don't like to be out in front because I don't have anything to chase. But I put my head down and tried to tick off laps. My spotters were telling me what was going on behind me so I didn't even look in my mirrors. I tried to keep my cool and it was a strategy that worked."
The Platinum Class saw the return of Phil Fogg, Jr., who has not raced since last October. Fogg Jr. started on the class pole and kept his No. 05 TruSpeed Autosport Porsche in front, with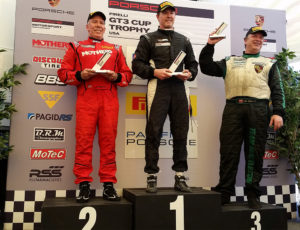 Platinum championship leader Tom Haacker taking his Mother's-sponsored TruSpeed Porsche into second position from a fifth-place starting spot. Jim Walsh brought his BR Racing Porsche home in third.
"I haven't been in the car since October," said Fogg Jr. "So that's pretty unique to me. It was actually an uneventful race, even for a hot day. I was racing with the Diamond Class guys so I just focused on driving a clean, smooth race. The car evolves pretty quickly in these conditions so you really have to change your driving style as the race goes on. The car did what I thought it would so I don't think we'll make any changes for tomorrow!"
The two-car Platinum Masters class split from each other early in the race, but that didn't mean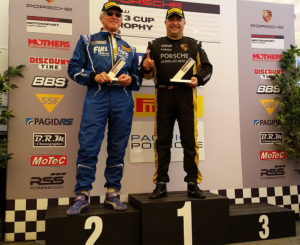 Ray Shahi missed his own set of adventures, keeping his No. 65 Porsche Newport Beach/TruSpeed Autosport Porsche ahead of familiar rival, teammate Larry Schnur.
"We had a great start with all the commotion up front," said Shahi. "I kept my nose clean and went for the win! I gapped Larry (Schnur) pretty well because I wanted to keep him at bay. I knew that in those conditions, taking care of the car was the most important thing and I brought it home. The TruSpeed guys did an awesome job!"
The Silver class for the 2016 Porsche Cayman GT4 ClubSport cars race was a rough-and-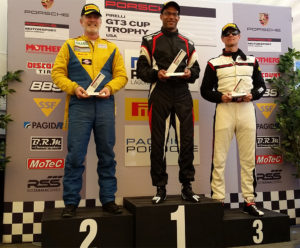 tumble affair that saw several challengers – including championship contender Sean McAlister – exit early due to incidents. Pole sitter Kevin Woods, driving the No. 94 BR Racing Porsche, battled with Competition Motorsports teammates Carl Tofflemire and John Horejsi throughout the race and earned his third victory of the season despite brake concerns early on.
"We had a brake issue at the beginning of the run," said Woods. "I was able to keep those guys behind me until the car settled down a bit. The track was good in practice and qualifying but got very difficult during the race! It was very greasy because of the heat. I've had mixed results this season but I'm enjoying being around the other competitors. The classes are getting along well on the track and I'm hoping for more of the same tomorrow!"
Mike Sullivan took the Silver Masters class victory in dramatic style, as an off-and-on excursion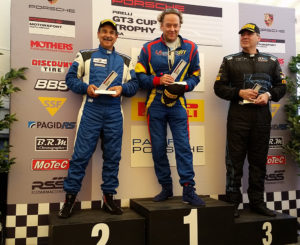 while exiting Turn 5 nearly ended his day. He maintained control, taking his No. 83 Pacific Porsche/LAcarGuy Porsche to the lead when championship leader and Competition Motorsports teammate Steve Goldman suffered a mechanical issue that ended his day. Teammate Chris Vivolo came home second with TRG's Greg Mitzcik in third.
"It was an exciting afternoon!" said Sullivan. "When someone gets a wheel off, you've got to be really careful. That dirt really blocks off everything so you have to slow down. I caused quite a dust storm when I went off! I went off, checked my mirrors to make sure it was okay, and got going again. I'm not sure what happened, I have to look at the video. It was fun early on when all the GT4 cars were together – we stayed together as a group for at least seven laps. But everyone lived together very well today. It was fun!"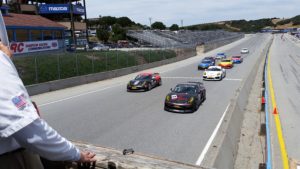 Race 8 of the Pirelli GT3 Cup Trophy USA at Mazda Raceway Laguna Seca is set for Sunday afternoon with the green flag set to fly at 1:50 PM PST.
Live timing and scoring can be followed at: http://www.competentmotorsport.com/live-timing/