Teams rally to help competitor get back in the race
Monterey, Calif. – For the drivers and teams in the Pirelli GT3 Cup Trophy USA paddock, competition drives everything. But as three teams showed recently, that same competitive spirit also drives the camaraderie among them.
Featuring a competitive field comprised entirely of Porsche racing machinery, Pirelli Porsche GT3 Cup Trophy USA  is celebrating its 10th anniversary season and recently staged its largest field with nearly 40 cars at Mazda Raceway Laguna Seca.
Unfortunately, the double-header race weekend was a tough one for series newcomer Pat Laughlin, whose Kelly-Moss Road and Race prepared Porsche 911 GT3 machine suffered damage in both rounds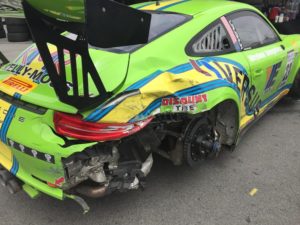 of competition, including a very significant contact in the closing moments of Race 6 on Sunday.
But thanks to the efforts of the same teams that he's doing battle with in the championship, Laughlin's Porsche should be ready to race when the championship meets again after his Kelly-Moss Road and Race squad was boosted by the efforts of two competing teams in Competition Motorsports and TruSpeed Autosport, who stepped in to help make sure he'd be back for the next race weekend.
"Laguna was certainly a test of will for all this past week with Pat Laughlin's (Porsche 911) 991 suffering crash damage both Saturday and Sunday," said Kelly-Moss Road and Race's Jeff Stone (Jr.). "Sunday's damage was so extensive it was questionable if it would be possible in any way to have the car ready to compete in less than three weeks. Certainly no one we could find on the West Coast was up for the challenge with so little time. Even more daunting was the possibility of this damage being season ending for Pat (Laughlin), who has made such huge progress with the KMR team and his new (Porsche 911) 991 this season."
After much consideration of all the possible options, it quickly became clear to the Kelly-Moss team, which manages concurrent campaigns in Pirelli GT3 Cup USA as well as East Coast PCA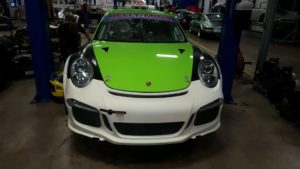 competition as well as the international IMSA Porsche GT3 Cup by Yokohama, that the only real option was to get the machine back to its body shop at the team's headquarters in Madison, Wisconsin.
But the logistics were far from straightforward. With the help of a lot of great friends on the West Coast, the plan was underway.
"I can't say thank you enough to Bob Faieta of Competition Motorsports for helping get the car flat bedded all the way from Laguna to his place in Tujunga, California," said Stone. "Bob went so far as to help track down parts, unload the car in the middle of the night and make sure it was all ready to head East the next day. This is all after supporting 10 cars for the Laguna event and being wiped out tired himself!"
The Competition Motorsports squad was not the only one to step up and help the Kelly-Moss group get the car headed home for repairs.
"Tyler (Tadevic) and Gerry Edwards from TruSpeed performed some pretty extreme measures, loaning us a truck and trailer to haul the car and parts on the 4,000 plus mile round trip and his truck driver Gerry is simply an amazing guy," said Stone. "He left Monday and was in our shop Thursday – now that's a super trucker – hats off Gerry!!!"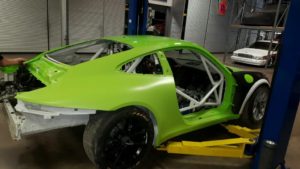 With the transportation and logistics plans coming together to get the car back to the shop, it was another new challenge to make some magic happen to get the Porsche properly repaired and turned back around in time to make the return trip West for the next round of the championship.
"One call to the boys back in the Kelly-Moss body shop and it was game on," said Stone. "All the guys in the shop – Michael, Jason, Nick and Brandon are simply without equal – they are machines with hearts as big as Texas. They called home, put their lives on hold and have been working around the clock. And with Brad, Pete, DJ and Andy looking after the mechanicals, Pat (Laughlin) will be back on track for the next round at Laguna thanks to all these special people. Thank you all!"
While the goal for the drivers and teams is always victory, the Pirelli Cup USA environment is also one that features a lot of camaraderie among competitors, with an all-amateur format ensuring that everyone is as focused on being fast as they are on having fun. That competitive camaraderie has seen the West Coast oriented series grow every year.
"You hate to see the drivers in our series have the kind of setback that Pat (Laughlin) did at Laguna, but to have this paddock rally like this between teams to make this happen, I think it shows a lot about Pirelli GT3 Cup Trophy USA and the kind of competitors we've got," said series founder Greg Franz. "Pat (Laughlin) has made a lot of progress this year, moving up from PCA, and it is great that this setback won't keep him from continuing to race with us this year. It's a real testament to the teams involved and I think is a great demonstration that our drivers are serious about competition, but there is also a great spirit in this paddock."
Pirelli GT3 Cup Trophy USA will be back in race action at Mazda Raceway Laguna Seca June 3-5.