Haacker (Platinum), Sposato (Platinum Masters), Woods (Silver), Goldman (Silver Masters) also take victories in Pirelli GT3 Cup USA Trophy Race 6
Monterey, Calif. – It was once again the hometown BR Racing team that delivered a dominant performance at Mazda Raceway Laguna Seca on Sunday in Race 6 of the 2016 Pirelli GT3 Cup Trophy USA championship.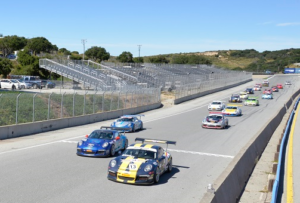 Robert Todd took a commanding victory in the Diamond class, with Kevin Woods scoring a win in the Silver division with his No. 94 Santa Cruz Porsche Cayman ClubSport GT4 for BR Racing. The team was also represented on the Platinum class podium as Jim Walsh scored third after starting from pole.
Todd opened Race 6 from the pole position and pulled out a gap over TruSpeed Autosport's Jason Godfrey, who had started on the pole on Saturday in Race 5. The race ran caution-free for the first 28 minutes with Todd developing a healthy advantage over the entire field.
Despite a late-race caution that set up a green-white-checkered scenario with just minutes remaining in the race, Todd held on to the lead with Godfrey taking the runner-up position and Desire Wilson scoring third for her second podium finish of the Mazda Raceway Laguna Seca weekend.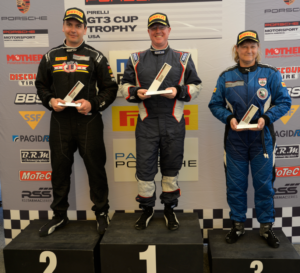 "We had a really big lead, and when the yellow came out, I was fine with it," said Todd. "It tightened the field right back up and the only thing I was worried about was Jason (Godfrey) taking advantage. But we got a good restart and I was able to stay out front and everything turned out great. The BR Racing guys did an awesome job to prepare the car for the weather. I just want to thank EvoGen, Santa Cruz Bikes, and BR Racing. It was a great race and a lot of fun out there!"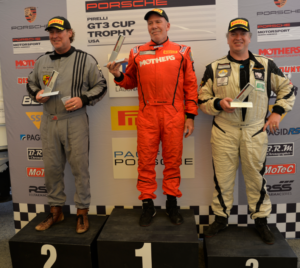 There was a familiar face atop the Platinum class podium as TruSpeed Autosport's Tom Haacker took his fifth victory of the year in a convincing win at the Northern California circuit. Rounding out the Platinum podium was Rob Tachovsky driving for GAS Motorsports and BR Racing's Jim Walsh.
"It is good to be out running with these guys, and it was a good race," said Haacker, who carries PMGawareness.org branding on his Mother's Car Care TruSpeed entry. "I got by (pole sitter) Jim Walsh pretty early on but then after the yellow, things were tight again. There was someone on my bumper through the last four or five turns and really made a race of it. But the Mother's car was great and I held on to get him!"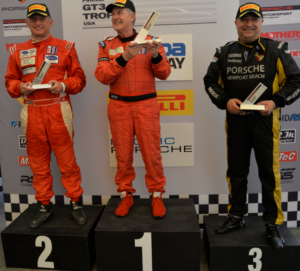 It was Joe Sposato who came out on top in the Platinum Masters division which was another solid run after he drove his No. 28 Allstar Fire Equipment/Scott Air Pak Porsche to a third place podium finish on Saturday. Robert Rodriguez of P7 Racing followed up his victory on Saturday with a runner-up result on Sunday, while TruSpeed Autosport's Ray Shahi finished third, also taking a double-podium result which marked a tremendous comeback after a disappointing previous round at The Thermal Club when mechanical issues plagued his No. 65 Sterling Collision Porsche.
"We had a good qualifying today, and that was kind of key," said Sposato. "Yesterday we didn't qualify well and it made for a tough race. So all night long I was thinking 'qualifying is it, I've got to get to the front that way'. So I was really focused on qualifying this morning, and it made a really big difference. I wanted to get to the front of the Masters class and then just make no mistakes, and fortunately that was the kind of day it was. The track was great and it was a nice cool day. Everyone around me drove well and raced well and cleanly around each other so it was a very good race. It was a good group to play with."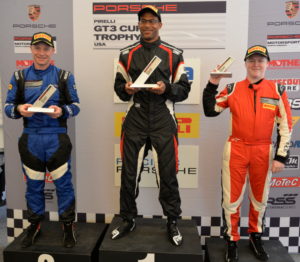 The Silver Class podium reflected a wide range of experience with a previous Pirelli GT3 Cup Champion in Kevin Woods winning the race ahead of Rolex 24 overall champion David Donohue, and with Sean McAlister taking the third step of the podium, having scored third in just his sixth-ever race.
"Yesterday went pretty well, but today was just awesome," said Woods of the victory. "The team (BR Racing) did a great job getting the car ready today. I also want to thank Porsche (Motorsport) for being here, because there were some gremlins with the car yesterday and they were here to be able to help us with that. It was an awesome day. It was a little nerve-racking (to have Donohue chasing him for the lead), but I just kept doing my thing and was able to hold him off."
"This is a great car and a great championship – there are guys that are quick and we can go out there and go at it tooth and nail and have fun and still have all the bodywork intact," said Donohue. "I was behind Kevin (Woods), and he would make a small mistake, but nothing that I was able to take advantage of —the cars are so equal, what are you going to do?! It was a fun weekend all around."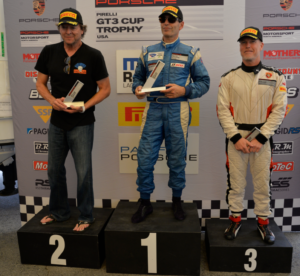 Steve Goldman once again ran away with the Silver Masters victory, taking his fourth consecutive winning result in the No. 1 Seek Thermal Porsche entry. Pacific Porsche driver Mike Sullivan delivered his second podium result of the weekend with a runner-up finish and rounding out the Silver Masters podium was Thomas Mayerhoffer who delivered a remarkable run in just his first-ever race weekend.
Competent Motorsport President Greg Franz, was pleased with the Mazda Raceway Laguna Seca event which saw nearly 40 cars competing.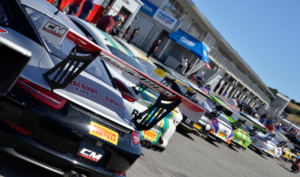 "This is absolutely incredible – we are so excited about having a field of 38 cars," enthused Franz. "It is our biggest field ever. Here we are in our 10th season of Pirelli GT3 Cup Trophy USA, and we are so excited to have had a great weekend with our biggest field ever in series history. I'm excited for the teams and the drivers and the fans that enjoyed watching these two races and we will be back here in just a few weeks so we are already looking forward to that. I want to invite the fans to come out and enjoy some real Porsche racing!"
The Pirelli GT3 Cup Trophy USA competitors will be able to take what they learned this weekend and apply it again in three weeks when the series returns to the Monterey road course June 3-5.