Monterey, Calif. – Hailing from Los Gatos, California, Pirelli GT3 Cup Trophy USA Championship leader Robert Todd was feeling right at home on Saturday as he took a convincing victory at Mazda Raceway Laguna Seca in Race 5 of the 2016 championship.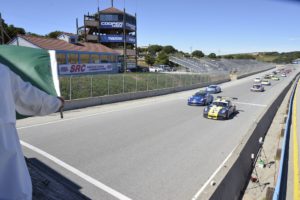 The BR Racing driver grew his championship points lead with his fifth podium appearance of the season and his third victory of the year following his double-win weekend at Circuit of the Americas in the Pirelli GT3 Cup Trophy USA season-opener.
The win didn't come easily for Todd as TruSpeed Autosport's Jason Godfrey, who qualified on the pole in his No. 13 Justice Brothers-liveried Porsche, led through the opening laps of the race as the birthday boy played host to a large group of family and friends to celebrate the Laguna weekend.
But Todd never let Godfrey pull away, and when the Diamond class encountered lapped traffic just five laps into the race, the GT4 machines battled for position ahead of the Diamond class race leaders and Todd was able to capitalize on the traffic and sneak by the No. 13 of Godfrey to take over the race lead.
"Jason (Godfrey) and I had a strategy going into the race that we wanted to play nice at the start because we both had good cars and we didn't want to have anything happen early in the race," said Todd. "I was patient behind him at the start, but when we got into traffic, that was when I knew I had an opportunity. Jason got held up by a GT4 coming out of Turn 9 and we split the car. Jason went to the left and I went to the right going down into Turn 11. It worked out for me that I was able to get around both Jason and the GT4, and I was just trying to preserve the tires from there."
Todd never looked back and it looked like a sure podium finish for Godfrey until the final lap when fluid on the track from a car off in Turn 2 saw the No. 13 Porsche spin with Godfrey ultimately bringing it home seventh at the finish.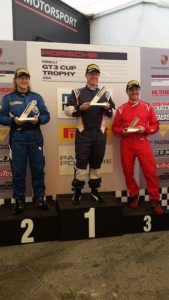 "We got a bit lucky with the yellow flags because we didn't have to conserve the tires as much," added Todd. "It was a great day and I want to thank BR Racing and EvoGen, DirtFish and Snap-On and all of our sponsors that are helping us. Hopefully we have something for them again tomorrow."
Air Power Racing's Desiré Wilson and GMG's Dino Crescentini rounded out the overall class podium.
It was once again TruSpeed Autosport's Tom Haacker that took top honors in the Platinum class for his fourth Pirelli GT3 Cup Trophy USA victory of the year in a newly revitalized Mother's Porsche machine.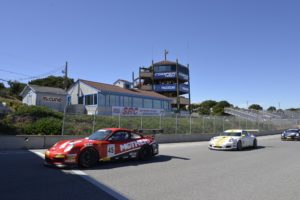 "This is a car that we just put back together," said Haacker. "The TruSpeed guys have been working on it for about a month, and it was really, really solid. It's a 2012 Cup car, that had gone into the wall at Road America and we just pieced this thing back together. We really didn't get to test it, so we just put it to work here.  Everything that I asked the car to do, it did, so they (TruSpeed Autosport) put together a great car. Tomorrow, hopefully I can improve in the brake zones. I am driving a different spec Porsche in NASA this weekend as well so I'm having to adjust when I switch back and forth and I know that's one area that I can improve on tomorrow.  Hopefully I can qualify on the pole, but I know everyone wants to do that!"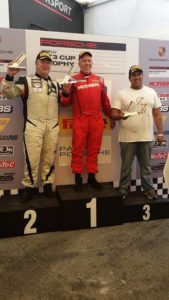 Jim Walsh, who scored the pole position for Race 5 in his Red Dog Racing entry, took home the runner-up position and Annand Sharma drove his Chazer Clothing Porsche to a third place podium finish. John Krieg started on the front row but sustained damage during the race and finished fourth.
The Platinum Masters division saw a thrilling battle for the race lead between TruSpeed Autosport's Ray Shahi and Joe Sposato, with the two setting laps within tenths of one another. The race ultimately came down to a final restart after a caution period, and Robert Rodriguez snuck through for a surprise win in the No. 69 P7 Racing Porsche.
"I started third in class and had a really good start and continued just driving my line," said Shahi of the opening run. "It was really great fun. I locked up going into Turn 2 after the restart and Bob (Rodriguez) went by, but I'm really happy with second place and we'll go for the win tomorrow!"
Rodriguez was making his return to Pirelli Cup GT3 Trophy USA action for the first time this year and made it a big one with the victory.
"I've been with the Pirelli GT3 Cup Trophy USA Series from the start but this is my first race with them this year and it was a great race," said Rodriguez. "I had a wonderful race with my Platinum Masters group. We all co-existed out there and had a fun race. I got by Ray (Shahi) on the restart going over the hill into Turn 2 and just kept it to the floor and said 'I'm going to out-brake him into Turn 2' so I went in to the turn deep!"
Sharing the Platinum Masters podium was Joe Sposato who took his No. 28 Allstar Fire Equipment/Scott Air Pak Porsche to third at the checkered flag.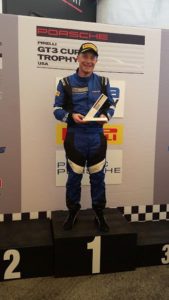 Making his Pirelli GT3 Cup Trophy USA debut at Mazda Raceway was David Donohue in the No. 10 Porsche of Colorado Springs machine. He opened the race from the pole position and led flag to flag to take the win.
"I drove hard early on and the car was very good," said Donohue. "The guys did a great job preparing the car. We had some issues yesterday. We were a little worried because it was Friday the 13th, and it's a partially green car, and the VIN ends with 666 so we had the deck stacked against us! It was a nice result.
"The Pirelli GT3 Cup Trophy USA is a wonderful series, I think there is huge potential here. With all of the competitors and the good cars with everybody kind of giving and taking out there and still racing door to door, the series has a wonderful future ahead of itself. With Porsche making these turnkey cars like this, it's kind of a no brainer. I would like to see even more people come out and compete!"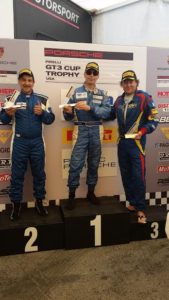 Once again paving the way to the Silver Masters victory was Steve Goldman in the No. 1 Seek Thermal Porsche. The result marked Goldman's third consecutive Silver Masters victory. Chris Vivolo finished runner-up for Competition Motorsport in the No. 44 Hampton Inn Porsche with Mike Sullivan bringing his No. 62 Pacific Porsche machine to the checkered flag third in line for an all Competition Motorsport podium.
Another day of race action is on deck Sunday at Mazda Raceway Laguna Seca with all five classes returning to competition with Race 6 set to start at 12:55 PM local time.