Los Angeles, Calif. – Competent Motorsport, organizer of the Pirelli GT3 Cup Trophy USA, is pleased to announce a new partnership with Pacific Porsche as the Los Angeles-area dealership has been named the "Official Porsche Dealership" of the Pirelli GT3 Cup Trophy USA.
Serving the South Bay since 1999, Pacific Porsche has a long record of innovation including having been the firstPorsche dealer in the United States to build an exclusive, ground up, Porsche designed facility.
Part of the LAcarGUY family of dealerships that Pirelli GT3 Cup USA driver Mike Sullivan oversees, Pacific Porsche is proud to be one of only two Premier Dealers in Metro Los Angeles and one of only 25 in the entire United States. The sales and service staff live and breathe the Porsche, with several members of the staff taking that passion to the track as racers.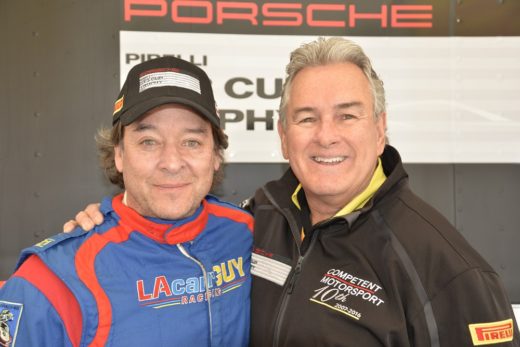 "We are excited to have Pacific Porsche join us as a series partner and we are looking forward to our drivers making the most of this relationship," said Competent Motorsport President Greg Franz. "Mike (Sullivan) has built a very strong organization, and his staff shares the passion for Porsche that we all have. Many of our racers also drive Porsches on the street, and this partnership will give them access to some very exclusive inventory as well as a great resource for service."
As part of the LAcarGUY family of dealerships, Pacific Porsche is heavily involved in the community, charity and fun local events, including Heal the Bay, Grades of Green, the Boys and Girls Club, Manhattan Beach Pumpkin Races and the Hermosa Beach concert series.
Mike Sullivan has actively taken his love of Porsche to the track for many years, and is looking forward to a productive season on and off the track in Pirelli GT3 Cup Trophy USA.
"I love racing in the Pirelli GT3 Cup USA championship, and I'm thrilled to align Pacific Porsche with Competent Motorsport as an official partner with the series," said Sullivan ahead of the Mazda Raceway Laguna Seca race weekend. "We want to be the number one choice for anyone looking for a new Porsche, as well as for those who have one already and need service and support. This will help us continue to grow our profile to do that, and I'm very much looking forward to this season."
Pirelli GT3 Cup Trophy USA is celebrating its 10th Anniversary season in 2016, and will stage Round 3 of the 2016 championship this weekend with a double-header at Mazda Raceway Laguna Seca. You can keep up with the series here, and get updates from Pacific Porsche here.
-Sunday Group Management-
2016 Pirelli Porsche GT3 Cup Trophy USA Schedule:

| | |
| --- | --- |
| The Thermal Club | April 8-10 |
| Mazda Raceway Laguna Seca | May 13-15 |
| Mazda Raceway Laguna Seca | June 3-5 |
| Sonoma Raceway | July 1-3 |
| Utah Motorsports Park | Aug 12-14 |
| Sonoma Raceway | September 9-11 |
| Circuit of the Americas | September 23-25 |
The 2016 Pirelli GT3 Cup Trophy USA championship is staged with support from series partners Porsche Motorsport North America, Pirelli Tires, BRM Chronographs, Discount Tire, Mothers, BBS, MoTec, Pagid, RSS, and Stand 21.
Timing and scoring information will be available here: https://racehero.io
Get additional information and real-time updates here:
https://twitter.com/pirellicupusa
https://www.facebook.com/CompetentMotorsport
http://www.competentmotorsport.com