Pirelli GT3 Cup Trophy USA stages Round 2 of 2016 Championship in Southern California desert
Thermal, Calif. – Even though it's been several months since David Calvert-Jones has been behind the wheel of a racecar, he shook the rust off in a very big way on Saturday to take a flag-to-flag victory at the Thermal Club in Round 2 of the Pirelli GT3 Cup Trophy USA.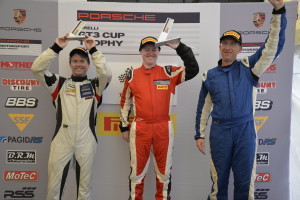 "I'd never really raced with any of these (Pirelli GT3 Cup USA) guys before, so I didn't know what to expect," said Calvert-Jones following the podium ceremonies. "I really appreciate everything the Competition Motorsports guys have done for me this weekend, it's great to be back with them. Today, I just focused on staying consistent. He (Robert Todd, second place) caught me in a few places and then I stretched it a few times so it was back and forth. I worked to save the tires and it paid off. I've never raced here at Thermal before so I was learning from the youngsters! It's a very cool place."
Driving for Competition Motorsports, the affable Australian converted his front row start into a winning run but not without some strong competition from his fellow Pirelli GT3 Cup competitors.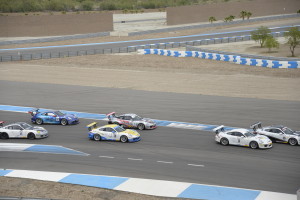 BR Racing's Robert Todd, who won both races in the previous round at Circuit of the Americas, started from the fifth position after a huge effort from his team to repair his car following a practice incident. Todd moved his No. 52 Porsche up to third through just the first corner and then made his way up to second by the second lap and to stage an ongoing challenge for the lead with Calvert-Jones through the first half of the race.
"That was a hard-fought race, one of the toughest I've ever had," said Todd. "We had a tough day today. We had an incident this morning and had to put the car back together. We broke a front control arm, a tie rod and a thrust arm. The team did a great job and got us out for qualifying, and we got the pole. But then we had the penalty for the incident in practice which put me fifth for the start of the race. The start was pretty hairy, but it showed that you have to be patient and make your way through. Some of the guys made some mistakes and I was able to capitalize. But CJ (David Calvert-Jones) had a really good car. I'm looking forward to tomorrow – hopefully we can repeat the pole and finish first instead of second! We had a lot of help out there today, from Snap-On, Race Tech Seats, everyone who has supported me."
Desiré Wilson, who took multiple class victories in Pirelli GT3 Cup Trophy USA action last year, rounded out the Diamond class podium.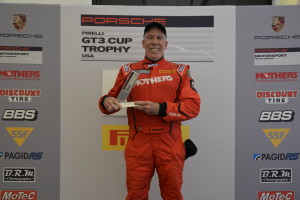 TruSpeed's Tom Haacker delivered his second victory of the year with another win in the Platinum category, despite an issue with the ECU on his No. 45 Porsche.
"We kept getting an ECU diagnostic light coming up and I had to push it three times a lap, so that made for a concentration breaker. It's an older car, but it keeps on answering when I call on it! It was a good race and I was able to mix it up with the 991's, but they had more tire in the end and were better on the turns in the last few laps. We'll get the ECU situation fixed and hopefully I'll be ahead of those two guys tomorrow."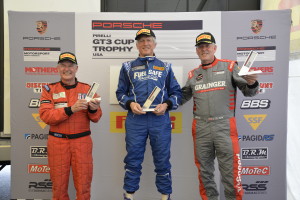 Meanwhile in the Platinum Masters division, a tight race developed as TruSpeed Autosport teammates Larry Schnur and Jim Slavik went head to head for the race lead. The two swapped positions throughout the race as Schnur and Slavik, who has a vast amount of experience at the Thermal Club, battled for top honors. In the final laps, it was Schnur that came out on top with Slavik right on his bumper. Joseph Sposato completed the Platinum Masters podium with his run to third.
"I didn't get a qualifying time because I went off on the first hot lap when I got wide on a curve during the qualifying run," said Schnur. "It did some damage to the radiator and I had to start from the back of the field for the race while Jim (Slavik) started from the front. It was just a matter of dealing with traffic and trying to track him down. We had a great race, passing each other three times. I only got by him when he ran wide and I took advantage of it. It's good when it's your teammate: you know he's going to be fair and clean. He knows this track like the back of his hand and it's an honor to be in this race with him."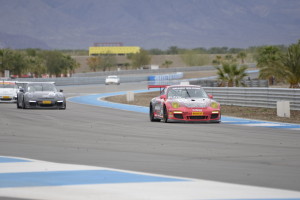 "Larry (Schnur) was tough, he was on me the whole time," echoed Slavik. "We had some traffic to deal with, we both made mistakes but he made less than I did. This is my home track and I love racing here! It's the only track I can stay up with Larry. Hopefully tomorrow will be an even better battle."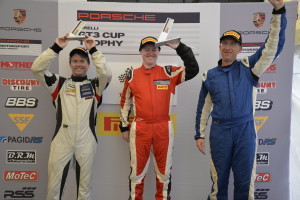 In the Silver class, championship leader Sean McAllister took the victory. In just his third-ever car race, McAllister, 19, started from the pole position at the 3.1-mile scenic track located in the shadow of Martinez Mountain near Palm Springs. But the win didn't come easily.
McAllister dropped to third behind fellow racers Keith Jensen and Patrice Gautier following the only restart of the race. But the young racer impressively collected himself and put his head down as he chased back down the leaders. In a matter of laps, he passed both Jensen and Gautier, returned to the Silver class lead and never looked back.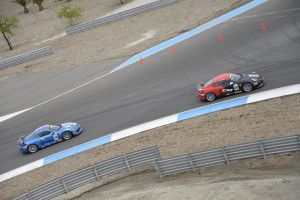 "I fell back to third coming back from the double yellow – I didn't get the alert for the return to green fast enough and they (Jensen and Gautier) both got on the throttle faster," said McAllister of the sole restart early in the race. "Later, Keith (Jensen) braked early for the corner – I was already mid-steering, so I hit the brakes, slid out and had to go through the dirt. After that, I just had to keep after it. I just kept doing what I knew I could do and kept putting down solid times."
In the Silver Masters class, it was Steve Goldman who led flag-to-flag in the race that saw just one caution period.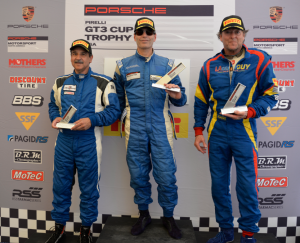 "It was a really good race," said Goldman. "I had a good lead against most of the Masters drivers but I couldn't quite get to the young kids, they were too fast for me. I've tested here at The Thermal Club, but I don't know the track all that well. I hope I'll be a little quicker tomorrow!"
The Pirelli GT3 Cup Trophy USA will return to the Thermal Club for Race 2 on Sunday with the green flag set to fly at 2:00 PM PST.
Live timing and scoring can be followed at: http://www.competentmotorsport.com/live-timing/