Haacker (Platinum), Schnur (Platinum Masters), Jensen (Silver), and Goldman (Silver Masters) also take victories in Pirelli GT3 Cup USA Trophy Race 11 at Utah Motorsports Campus
Toeele, Utah (12 August 2016) – Dino Crescentini took his fourth Pirelli GT3 Cup Trophy USA victory of the season with a flag to flag run up front at Utah Motorsports Campus on Saturday in the No. 34. Crescentini Racing Porsche 911.
Scoring a podium result in her final weekend of racing was Air Power Racing's Desire Wilson in second place, with Pirelli GT3 Cup Trophy USA championship points leader Robert Todd taking third in his No. 52 BR Racing Porsche 911.
The 45-minute contest was the first of the double-header race weekend, part of the big Pirelli event at UMC which will also include the World Challenge races.
Crescentini captured the win going away, but Todd got close on a late race restart, coming alongside and nearly taking the lead in Turn 1.
"Robert came right up next to me on the restart and I thought I had lost it there," said Crescentini. "But somehow I stayed in front. I took advantage of that and really got on the throttle. Luckily, my guys were really diligent about checking the temperature of the tires throughout the weekend to see where they needed to be and in this car, that's everything. When we came in after the race, the tires were at the perfect temperature. To finish like that, you have to guess, and they just nailed it. Once I knew I had a good car under me, it just took that set of brain space off the shelf, and I could just focus on driving my line and driving clean."
Wilson, with the weekend decision to make Sunday's Pirelli GT3 Cup Trophy USA the final event of her illustrious career, was happy to take home second place on a track designed by husband Alan Wilson.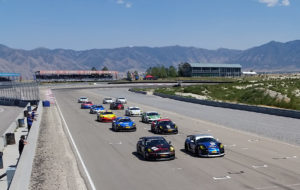 "I had a really good car but I didn't put it down in qualifying," said Wilson. "This field is so competitive, very fast and very close so when I qualified seventh, I thought 'this is going to be really hard, I'll be happy with fifth.' I had a good start and that helped me get past a couple of cars, then Robert started getting into trouble and managed to get by. I know the track well and you just have to manage the time and the tires. But I have no second thoughts. The best thing a driver can do is walk away when things are going well; the worst thing is to think "if only…" If tomorrow doesn't work out, I've got today to remember, in the second-to-last race of my life. I'm just very grateful to have had an amazing career."
Tom Haacker, who along with his TruSpeed teammate Jim Slavik and driver coach Kelly Collins won a NASA enduro at UMC last weekend, continued his run of strong results with another victory in the Platinum class.
"I stayed pretty much out of trouble," said Haacker." There were really no incidents for me. It was really a matter of staying focused and keeping my eyes up for the stuff that was happening. The tires do go away a lot faster on a hot day like this and our lap times reflect that. I felt super good in qualifying, the Pirelli tires were awesome but as it got hotter, grip went down. The car really hung together, though we're having some shift issues. We'll have to see how it does tomorrow, but today's today and it was a good day!"
Platinum Masters saw Larry Schur add to his tally of victories in the No. 32 TruSpeed entry, taking the victory over Ray Shahi in second and Jim Slavik in third.
"We really got bunched up at the start and Ray was able to get around me," said Schnur. "I followed him the first couple of laps until the yellow came out and on the restart, we were three wide going into Turn 1. Ray was awfully deep because he was trying to hold someone off on his outside, so I made a move on the inside when he came back across. There was some light contact and he was spun out and I continued. It was hot out there but we managed it well. I'm a cyclist, so I do everything I can to stay in shape – at my age, I have to! I like long races like this because I feel as though my conditioning comes to the fore."
The Silver class, comprised of Porsche Cayman Clubsport GT4 Cup cars, staged a thrilling battle as all three leaders simultaneously experienced the same off-track excursion in close proximity, but all three managed to turn to the track and come home with unscathed, if dusty machines.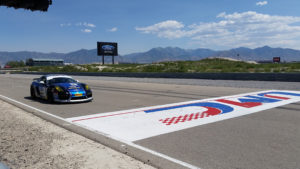 Emerging from the dust cloud to take the victory was Keith Jenson, who scored his second Pirelli Cup Silver Class victory of the year with the Nolasport-prepared No. 51 Porsche Cayman Clubsport GT4. Silver Class championship leader Kevin Woods brought the No. 94 Santa Cruz-liveried Cayman home in second for BR Racing, while Sean McAlister finished third for Competition Motorsports.
"A GT3 car went off in between Turn 3 and 4 and no one could see anything," said Jensen. "My coach told me that the track was clear past the cloud and I guessed where the track was – and I guessed wrong. I drove straight off the track and everyone drove off the track right behind me because they couldn't see either! We four-wheeled it for a good 200 feet, got back on the track and continued. Once I got through all that, the race was on. It got a little slippery out there toward the end, but it was a great race."
Competition Motorsports' Steve Goldman led the Silver Masters class wire-to-wire for his ninth victory of the season.
"Managing traffic was key today," said Goldman. "The track was good until guys started going off; then it was really covered with marbles and dirt. So many cars – especially the 991s – went off the track and came back on with us. You just have to be courteous and let them by. I had to avoid a couple of incidents, but I drove a clean race, stayed out of trouble and tried to stay with the Silver guys. It was fun!"
Operated by Competent Motorsport, 2016 marks the 10th anniversary season for Pirelli GT3 Cup Trophy USA. The series has three classes (Diamond, Platinum, and Silver) as drivers compete for five championships (Diamond, Platinum, Platinum Masters, Silver, and Silver Masters). The multi-class championship features the renowned Porsche 911 as well as the Porsche Cayman Clubsport GT4, with all the competitors racing on Pirelli competition tires.
Race 12 of the Pirelli GT3 Cup Trophy USA will take the green flag Sunday at 2:45 p.m. MDT.
Live timing and scoring can be followed at: https://racehero.io/events/pirelli-gt3-cup-2016