Haacker (Platinum), Rodriguez (Platinum Masters), Jensen (Silver), and Goldman (Silver Masters) also take victories in Race 12 at Utah Motorsports Campus

Tooele, Utah (14 August 2016) – Dino Crescentini secured a sweep of the weekend's two races with his fifth Pirelli GT3 Cup Trophy USA victory of the season Sunday in hot and sunny conditions at Utah Motorsports Campus.
The 45-minute, 24-lap, caution-free contest was the second of the double-header race weekend, part of the big Pirelli race weekend at UMC which included the World Challenge event. Temperatures peaked at 95 degrees F at the 2:45 PM MDT race start.
Crescentini took his No. 34 Crescentini Racing Porsche 911 into the lead going into Turn 1, getting ahead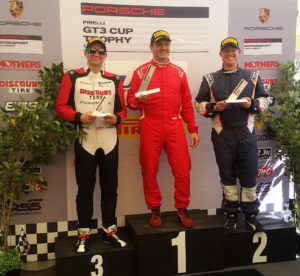 of pole sitter and championship leader Robert Todd driving the No. 52 BR Racing Porsche. He extended his lead throughout the race, finishing ahead of Todd and Competition Motorsports' Michael Zuiebeck. Air Power Racing's Desire Wilson, in her final competitive event, finished fifth.
"One of the things we all want to do here is keep it as clean as possible," said Crescentini. "Robert (Todd) and I decided to fall into line at the start and race after the first couple of corners. I didn't see him after the green so I went into Turn 1. I saw that he fell in behind me and I kept going from there. The car was perfect again and we hit the tire temperature we wanted exactly. With all the variations we've had – practicing in the morning, qualifying in the late morning, racing in the late afternoon – we're chasing the good car handling paradigm and the guys nailed it. The car was as good at the end as it was in the beginning. This is all I want to do – I'm having the time of my life."
"They threw the green a little earlier than expected, so Dino (Crescentini) actually had a lead going down the front straight," said Todd. "When you go down the front straight here with a car-length lead, there's not really a competition going into Turn 1 so I slotted in behind him. He and I wanted to get away from the field, which we did, but I got held up by traffic quite a bit and he was able to increase his lead. I am very proud of the entire BR Racing team; they gave us a great car. We've been consistent all year and it's just myself and Michael Zuiebeck in the championship, so all I have to do now is stay in front of him."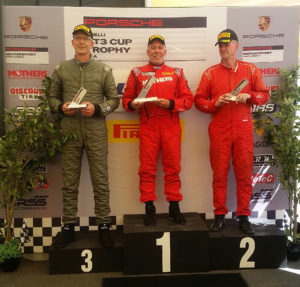 Platinum Class championship leader Tom Haacker, driving the No. 45 Mothers Porsche GT3, scored a relatively uncontested ninth victory of the season.
"I don't know what my crew chief, Raji Olvera, does to put the car together," said Haacker. "He does a magic spell or something. He's great on the car, it responds every time I ask. It was greasy today but it was better racing today, since there was less debris on the track. We're having some shifting issues, but it didn't hurt us in the race and it's something we can deal with after this race. I won't be at Sonoma but I'm looking forward to the race weekend in Austin."
Robert Rodriguez scored his third Platinum Masters victory of the season behind the wheel of the No. 69 Werks2/P7 Racing Porsche, in a close contest with Truspeed Autosport teammates Larry Schur and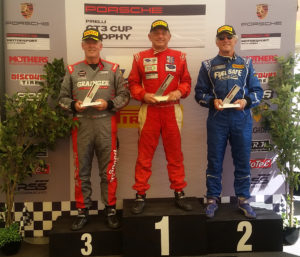 Grainger-sponsored Jim Slavik.
"I started fourth so to get the win is great," said Rodriguez. "I passed Larry (Schnur) into Turn 1 under late braking – I tried to do that yesterday and was not successful! I got by Ray (Shahi) in Turn 1 as well, then carried through the race. I got hit from behind in Turn 4 late in the race and I started having fuel pickup problems and shaking in the front of the car after that, but I got in just ahead of Larry. I love this track, it's a fabulous track and a wonderful facility. I'm really looking forward to all the wonderful things they're going to do to it!"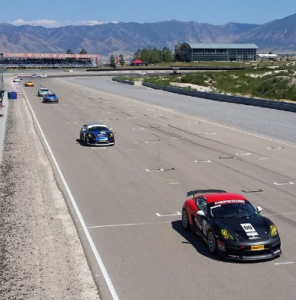 The Silver class, comprised of Porsche Cayman Clubsport GT4 Cup cars, enjoyed a vigorous scrap throughout the race, with pole sitter, BR Racing's Kevin Woods, battling Keith Jensen in the Nolasport-prepared No. 51 Porsche Cayman, who got around Competition Motorsports' Sean McAlister early in the race. The three cars spent 18 laps nose to tail, until Woods' No. 94 Santa Cruz-liveried Cayman was felled by a flat left rear tire. Jensen brought his No. 51 Porsche Cayman home in first ahead of McAlister and Competition Motorsport's Carl Tofflemire.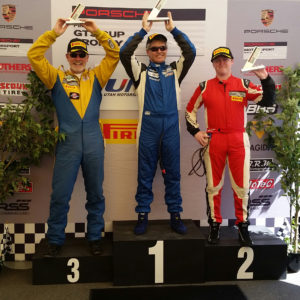 "It was a great race," said Jensen. "Kevin (Woods) and Sean (McAlister) both ran a great race. I was lucky to get ahead of Sean and did my best to catch Kevin for at least 15 laps. I was heartbroken for him, to see him get the flat tire. That was a bummer."
Competition Motorsports' Steve Goldman led the Silver Masters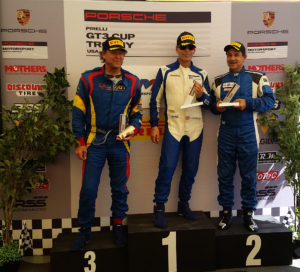 class wire-to-wire for his ninth victory of the season in the No. 1 Porsche Cayman ClubSport GT4.
"I hung in with the Silver class guys for most of the race, so I was very pleased," said Goldman. "I could have hung with them the whole race but toward the end, I started getting alarms with the car overheating so I had to back off and short shift. The track held up well, though!"
Pirelli GT3 Trophy USA President Greg Franz was pleased with the weekend's races at UMC and confirmed the series' interest in conducting additional events at the Salt Lake City-area track.
"Despite the hot weather and a longer track than we normally run, it was a good weekend," said Franz. "The change to Utah Motorsports Campus should bring significant improvements, so we are looking forward to being back here twice next year. Feedback from the drivers has been great, they've really enjoyed it and that's all we want. There are so many races within each class – you can't just look at the front. There is some fantastic racing through the field and we're looking forward to Sonoma and Austin."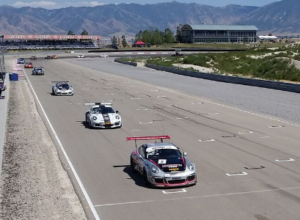 Operated by Competent Motorsport, 2016 marks the 10th anniversary season for Pirelli GT3 Cup Trophy USA. The series has three classes (Diamond, Platinum, and Silver) as drivers compete for five championships (Diamond, Platinum, Platinum Masters, Silver, and Silver Masters). The multi-class championship features the renowned Porsche 911 as well as the Porsche Cayman Clubsport GT4, with all the competitors racing on Pirelli competition tires.
The penultimate race weekend of the 2016 Pirelli GT3 Cup Trophy USA championship takes place September 9 – 11 at Sonoma Raceway, with the finale two weeks later at Circuit of the Americas in Austin, Texas.
Race 12 Results can be found here: https://racehero.io/events/pirelli-gt3-cup-2016/results/1073742114