Sonoma, Calif. – As the Pirelli GT3 Cup Trophy USA Championship enters the final swing of its 10th anniversary race season with two rounds yet to run, the series returns to Sonoma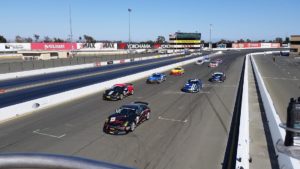 Raceway for its second double-header event at the track this year. The event marks Race 13 and Race 14 of the 16-race championship.
With five different classes competing on the track at one time, there will be race action all around the highly appreciated natural terrain road course as the Porsche racers return to the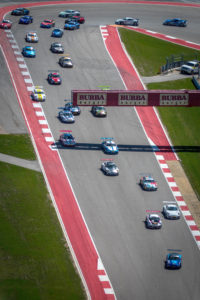 picturesque northern California circuit. At 2.5-miles long, Sonoma Raceway plays host to everything from sports cars, NASCAR Sprint Cup, IndyCar, and superbikes, and features 12 corners with elevation changes that make finding that perfect lap all the more challenging.
This weekend, Pirelli GT3 Cup Trophy USA shares the track with NASA, and the Porsche teams will see plenty of track time with three practice sessions on Friday followed by two race days complete with a morning practice, qualifying, and a 45-minute race.
Despite not racing the previous event at Sonoma Raceway, BR Racing's Robert Todd continues to lead the Diamond class championship ahead of Dino Crescentini, who scored back-to-back

victories in the previous Pirelli GT3 Cup Trophy USA event at Utah Motorsports Campus. Holding steady in third is Michael Zuieback who pilots the No. 2 Discount Tire Porsche for Competition Motorsports.
"I have been in the seat testing very hard for Sonoma as recent as this past weekend," said Todd, whose BR Racing team calls nearby Los Gatos, California home. "With our team we have the luxury of having multiple customers racing at Sonoma so being able to share information with our teammates is something we try to do as it allows us then to not feel like we are chasing our tails or the tails of the field. I really think we have a great starting point to the weekend and we are very excited about this event as it is a local event for us and our supporters."
In the Platinum category, it's been Tom Haacker at the front of the field all season long. In 12 races, Haacker has been on the podium in all but one – with nine wins to his credit. But the Platinum podium will be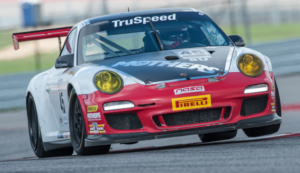 missing his familiar face this weekend as Haacker is unable to compete due to prior commitments.
"There should be some competitive racing in the Platinum class this weekend," said Haacker of the Pirelli GT3 Cup Trophy USA visit to Sonoma. "Will Lin will be back to the series. Alex Kirby and John Krieg will be tough and Will should be right up there with them. I'm bummed that my prior engagements will keep me from running with them. I would predict that it should be the best racing in the series this weekend and I would expect these guys will come in ahead of several 991s. I drove a 997.1 at Sears (Sonoma Raceway) back in 2010. That was a lot of fun. I remember holding off Will Lin for a great portion of the race. He was driving his red 997.2, the same car he will run this weekend."
The Platinum Masters class has seen some exciting action between three TruSpeed Autosport teammates. Larry Schnur leads the championship standings into the penultimate weekend of the 2016 championship, with Ray Shahi and Jim Slavik second and third, respectively.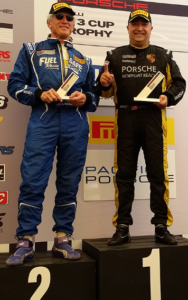 Schnur, whose history at Sonoma Raceway dates back to 2001 when he first participated in the Jim Russell school, is looking for redemption this weekend after disappointing results in the previous Sonoma outing.
"The first car I raced at Sonoma was the Formula Russell," offered Schnur, who claimed a victory and a runner-up finish in the previous event at Utah Motorsports Campus. "After 10 years of racing motorcycles, and my final big get off, I enrolled at the Russell School in 2001 and learned and raced with them for the next 10 years. Our last visit to Sears (Sonoma Raceway) was very frustrating. In both races I had comfortable second places wrapped up but went for hail marys on the last lap, neither of which paid off. I definitely think our strong performance at Utah Motorsports Campus will give me the momentum to achieve a good result at Sonoma."
Perhaps the most spirited battles of the year have occurred in the Silver class division which features the all-new Porsche Cayman GT4 Clubsport machines. It's been a back and forth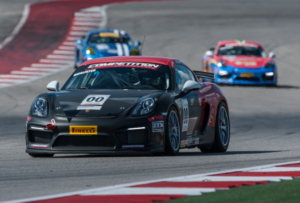 battle atop the championship standings between BR Racing's Kevin Woods and Competition Motorsports' Sean McAlister who is in his first-year of racing cars.
Heading into this weekend's double-header, Woods holds the point over McAlister.
"I think we still have a home advantage, but of course it will be even tougher this time," said Woods of the return to Sonoma. "The competition level is extremely high in the Silver class and it can be anyone's day, or weekend. We will do what we always do which is make the car as good as we can, be consistent, and strive for no mistakes."
In the Silver Masters category, it's been Steve Goldman who has dominated, winning all but one race so far this year in the masters division.
The weekend kicks off with a practice day on Friday followed by the two race days on Saturday and Sunday.
Timing and scoring can be followed at: http://www.competentmotorsport.com/live-timing/