Alex Kirby (Platinum), Larry Schnur (Platinum Masters), Sean McAlister (Silver), Steve Goldman (Silver Masters) also winners in Race 13
Sonoma, Calif. – When the Pirelli GT3 Cup Trophy USA returned to Sonoma Raceway on Saturday for Race 13 of the 2016 championship, the five-class field produced some clean and thrilling race action around the 2.5-mile road course nestled in scenic Northern California.
The 35-minute event was slowed by just one full course caution as the race ran at a furious pace much of the way.


Leading the charge was Robert Todd in the No. 52 BR Racing Porsche, but it wasn't clear sailing for the California-based driver as he faced some tough competition from Flying Lizard Motorsports' Mike Hedlund and Competition Motorsports' Mark Nelson.
It was Hedlund with the jump when the green flag flew, but when the field was slowed by a full course caution early in the going, the Flying Lizard driver got caught out on the restart.
"On the restart I was just following the orders from the driver's meeting so I wanted to make sure I went exactly the speed of the safety car," said Hedlund, who returned to Pirelli GT3 Cup Trophy USA competition for the first time in several years. "The restarts I'm used to doing haven't been that slow, but I was trying to get an advantage so I tried to do it in first gear and as soon as I went to power I just hit the rev limiter. So then the car behind (Robert Todd) got a little run on me and I didn't want to push him in the wall or anything so I just gave him some room and he got around. Then we had a good little battle, but then I made a mistake entering the Carousel. I just had a little lock up in the front and I didn't want to risk going into the back of him because we were battling pretty closely so I tried to go wide but ended up dropping wheels off on the outside of the turn and it spun me and I parked and had to wait for everyone to go by. But the car felt really good, and actually it was fun getting to race everyone."
With Hedlund having lost some track position, the battle came down to Todd and Competition Motorsports' Mark Nelson. In fact, Nelson began catching the No. 52 leading Porsche machine, but a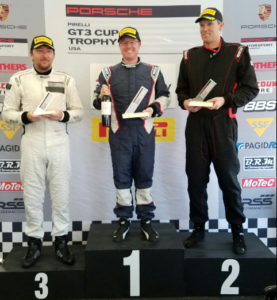 quick off and back on in the final laps saw him running third with Michael Zuieback having inherited the second position. But when Zuieback spun in Turn 10, Nelson found himself back in the second position with the finishing order ultimately Todd, Nelson, and Hedlund at the checkered flag.
Hedlund made a remarkable comeback to set the fastest lap of the race late in the going.
"It was a great, hard fought race," said Todd, who took the victory with a 17-second gap over the field. "All of us only had very minimal time to get our tires up to temperature and racing this late in the day is not something that should be taken lightly. The track conditions were very different from when we practiced and even when we qualified this morning, it is much hotter now. So it was very much like an ice skating rink out there in the beginning. But it was fun. Mike (Hedlund) got a good start and got me going into Turn 1 and I was electing for the inside of Turn 2 as pole position, but that didn't work out, but that's okay. We hung really tight together and ended up pulling a gap, Mark (Nelson) was trailing us, but not too far behind. Then I just needed to continue to push Mike (Hedlund) and eventually what came to us was a restart. I was able to get a great restart on Mike (Hedlund) and ended up getting the inside line on him into Turn 1 and then holding it all the way into Turn 2. Then I was able to set a pace to where I was comfortable with driving and let other people be inconsistent and to me it was all about consistency. The Pirelli Tires were great, the setup was amazing on the car. Our engineer Jim Bell did an awesome job and I just want to thank BR Racing for putting together such an awesome car, EvoGen, Santa Cruz bikes and all of our sponsors that help us out."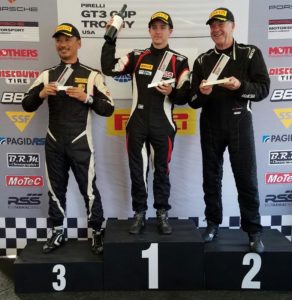 In the Platinum category, John Trefethen delivered a promising run in his No. 99 Porsche, leading most of the race, but when he ran into some slower traffic on the final lap, Alex Kirby took advantage and ultimately the race win.
"The car felt good throughout the whole race," said Kirby following his victory celebrations. "Toward the end, the tires kind of started to fall off a bit. But then I got lucky and John (Trefethen) caught some traffic and I was able to capitalize on it and on the last lap I just went into Turn 7 and he ended up spinning and I took full advantage of it and took it home to the finish."
Larry Schnur started from the Platinum Masters class pole in his No. 32 FuelSafe Porsche prepared by TruSpeed Autosport and when the green flag flew, he never looked back. Pacing the Platinum Masters class throughout the race, he took the victory with a 13-second winning margin.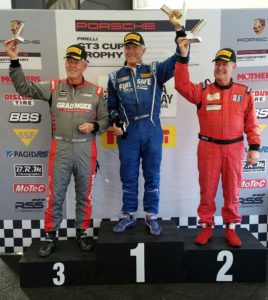 "This was a great day!" exclaimed Schnur. "I qualified well, I qualified P1 for my class and I got a great start and just basically had a great race. I was dicing with the guys from the Diamond and Platinum classes and I just got a really good run and really never had to look back. I had a good car under me today and everything worked out. I had my spotter telling me I was clear so I wasn't really worried about anything from behind, at that point it was just a matter of preserving the car."
As the Silver class championship battle comes down to the wire between BR Racing's Kevin Woods and Competition Motorsports' Sean McAlister, it was McAlister in the No. 00 Porsche who emerged with the race win on Saturday. Starting on the outside of the first row, McAlister took advantage when the race went green and leapt into the first position. Extending the gap, he made it look easy as the second, third and fourth place cars of TRG's Steve Miller, BR Racing's Kevin Woods, and NOLA Motorsports' Keith Jensen all battled among one another.
"On the start I just kind of did what I always do, as soon as I saw the green I just hammered it and was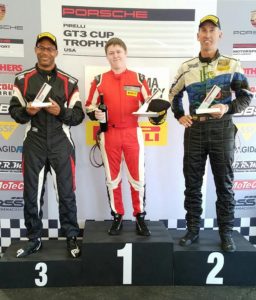 able to develop a good lead pretty early on, so that was good," said McAlister. "I think the battle going on behind me probably helped me out quite a bit because it slowed them down and allowed me to create a gap. Today definitely helps me in the points and the hunt for the championship, this helps me catch up to Kevin (Woods, Silver class championship leader). He is up there quite a ways and I need every point I can get so today was a good day."
It was nearly a photo finish at the checkered flag as Woods made a move on Miller in the final corner, but it was Miller who prevailed for second place as Woods took third.
It was once again Steve Goldman who took home the Silver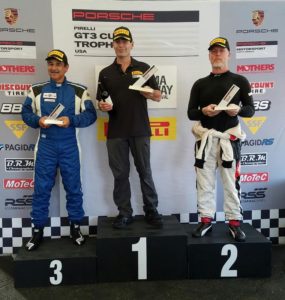 Masters class victory for Competition Motorsports in Race 13. Flying Lizard's Thomas Mayerhoffer and Competition Motorsports' Chris Vivolo rounded out the Silver Masters class podium.
The Pirelli GT3 Cup Tropy USA series will return to Sonoma Raceway on Sunday for Race 14. The green flag is set to fly at 1:55 PM PST.
Live timing and scoring can be followed at: https://racehero.io/events/nasa-norcal-sonoma-raceway-sept-10-11