Austin, Texas – As the 10th anniversary season of the Pirelli GT3 Cup Trophy USA comes to a close, a large field of Porsche machines will take to Circuit of the Americas (COTA) for a double-header season-finale event this weekend. The championship, which is operated by Competent Motorsport, opened the 2016 campaign at the Texas track in March to kick off what has been the most successful Pirelli GT3 Cup Trophy USA season to date.
The Pirelli GT3 Cup Trophy USA competitors are eager for the return to the iconic circuit that will also play host to Formula 1's United States Grand Prix next month. At 3.4-miles long with 20 twists and turns, it's one of the most challenging tracks on the calendar.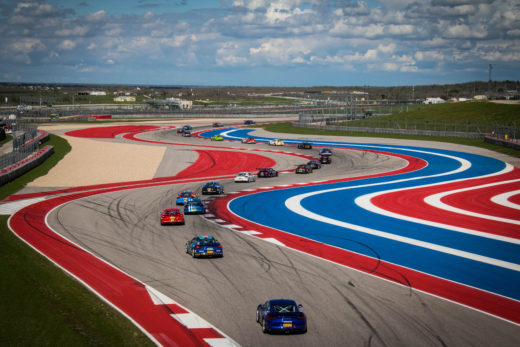 Five drivers will earn Pirelli GT3 Cup Trophy USA championships this weekend, as the Diamond, Platinum, Platinum Masters, Silver, and Silver Masters categories are all set for a final championship tally following sixteen races in the all-Porsche championship.
In the top-level Diamond category, BR Racing's Robert Todd has been atop the standings for much of the year. But Todd will have to deliver another positive weekend with three other Diamond class racers eligible for the title honors. Michael Zuieback of Competition Motorsports, Pat Laughlin of Kelly-Moss Road and Race, and Mike McAlister of Competition Motorsports are all mathematically eligible to take the Diamond championship crown.
"We are very excited about COTA," said Todd. "We started the season off with two wins there and we look to finish the season with that record if possible. COTA is a great track that we are well prepared for, the only new addition to our plans is the weather. It appears as though it will be raining for this set of races and that is definitely something that will play a factor into the race and the starts. Our goal is to come away with the car we brought and to run clean and consistent races. Regarding the championship, it has already been clinched for us, and we are very excited. The boys worked so hard this year to accomplish so much in such a short period of time and I could not be prouder of my whole team. I want to personally thank BRracing, Santa Cruz bikes, Jim Bell of Bell Motorsports, our crew chief Ken Brightwell, team principle Bruce Todd, and all the guys that busted their butts and worked the long hours to put our car on the podium for EVERY race."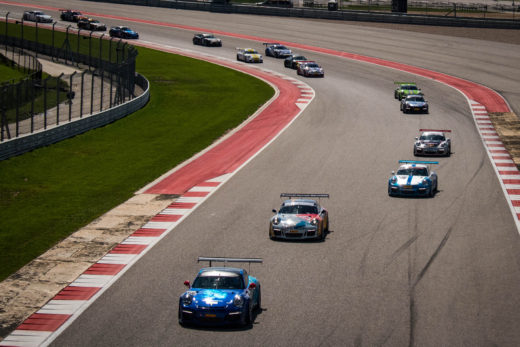 In Platinum, Tom Haacker has dominated all year long. But prior commitments prevented Haacker from competing in the previous event at Sonoma and as the season winds down at COTA, Haacker will defend against Aasco Motorsports' John Krieg who also has a shot at the championship.
"This being the final event of our season I am certain the other drivers have developed better speed and race craft with all the seat time," said Haacker. "I'd love to close out the season with a sweep. However, the Platinum class has become a lot tighter in the latter part of the season. I think we may get our rain skills tested looking at the forecast. That could change the outcome at any time during the race. The TruSpeed guys (namely Raji Olvera) have given me a great car all year long. Raji has been with me for many years and we have a great working relationship. He's played a major part in my personal success this season. It doesn't hurt having Kelly Collins in your corner or in your ear on track. He's brought me a long way from my first races. My teammates and I work together to improve our overall performance, sharing data, set up, and on track knowledge with each other."
It's a three-way battle for championship honors in Platinum Masters between TruSpeed Autosport teammates Larry Schnur, Ray Shahi, and Jim Slavik. Schnur leads the way into the season-finale by 56 points.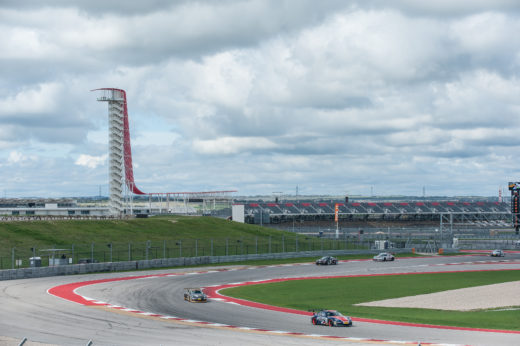 It's been an ongoing battle all year long in the Silver class between veteran racer Kevin Woods of BR Racing and rookie driver Sean McAlister of Competition Motorsports. The class features the all-new Porsche Cayman GT4 Clubsport and has seen some of the most competitive racing of the year. McAlister won both races at Sonoma two weeks ago and closed the gap to Woods, but it is Woods who currently leads with a 33-point advantage heading into this weekend's double-header.
Steve Goldman has a strong lead in the Silver Masters championship standings, but fellow Competition Motorsports teammates Chris Vivolo and Mike Sullivan are both still mathematically eligible.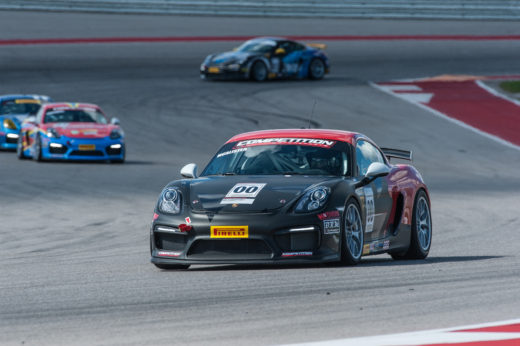 With championship points awarded for finishing order, pole position, and participation as well as some one-off entries expected for the season-finale COTA event, the championships could come right down to the wire.
"It has been a great season for our competitors and for the entire series," said Competent Motorsport President Greg Franz. "We have set new marks not only for how many competitors we've had with us this year, but we've also been able to raise the quality of the weekends for our drivers. The on track racing has been extremely competitive, and we are very much looking forward to another great weekend at COTA to close out the year."
The 2016 season has seen the introduction of the new Silver class, which features the Porsche Cayman Clubsport GT4 machine. The Diamond Class features the Porsche GT3 Cup car that is based on the seventh generation 911 (991), which was introduced in 2014. The Platinum Class utilizes the 997-generation based Porsche GT3 Cup machines from 2010-2013.
The COTA weekend kicks off on Friday with three rounds of practice followed by two race days on Saturday and Sunday.
Live timing and scoring can be followed at: http://www.competentmotorsport.com/live-timing/
WEEKEND SCHEDULE (central time zone)
FRIDAY
8:15 AM – 8:30 AM Drivers Meeting
9:00 AM – 9:40 AM Practice
11:10 AM – 11:50 AM Practice
1:50 PM – 2:30 PM Practice
SATURDAY
8:50 AM – 9:25 AM Practice
12:35 PM – 12:50 PM  GT3 Qualifying
12:55 PM – 1:10 PM GT4 Qualifying
2:30 PM – 2:45 PM Drivers Meeting
3:50 PM – 4:40 PM Race #15
4:55 PM Trophy Presentations
SUNDAY
9:00 AM – 9:35 AM Practice
11:10 AM – 11:25 AM GT3 Qualifying
11:30 AM – 11:45 AM GT4 Qualifying
12:30 PM – 12:45 PM Drivers Meeting
1:55 PM – 2:45 PM Race #16
2:50 PM Trophy Presentations