Tom Haacker (Platinum), Ray Shahi (Platinum Masters), Sean McAlister (Silver), and Steve Goldman (Silver Masters) also take victories in Pirelli GT3 Cup USA Trophy Race 15 at Circuit of the Americas
Austin, Texas – BR Racing's Robert Todd cemented his hold on the Diamond Class championship in a dominant, wire-to-wire victory in today's Race 15 of the Pirelli GT3 Cup Trophy USA at Circuit of the Americas, in a race that saw a 69-minute start delay due to area thunderstorms. Behind Todd, numerous on-track battles made the 14-lap event an exciting one, with close competition throughout the field up until a Lap 12 incident caused the race to end under a full course caution.
With thunderstorms – and the accompanying lightning – hitting the Austin, Texas area, track officials delayed on-track action until the weather system passed. The field took the green flag on a slightly damp and cold track, with Todd keeping his No. 52 Porsche 911 GT3 Cup car in the lead as the field bunched behind him. Holding a steady pace and managing traffic, Todd built a 21-second margin. But as the GT3 leaders began to lap the GT4 cars, positions began to shuffle behind him. Mark Nelson, Russell Ward and Alessandro Chiocchetti, who started second, third and fourth, respectively, traded positions throughout the race until Chiocchetti tangled with a backmarker. His day ended in the Turn 11 runoff, with the yellow and checkered flags flying. Russell Ward and his father Bryce, driving for Kelly-Moss Road and Race, finished second and third – the first shared podium for the father-son duo.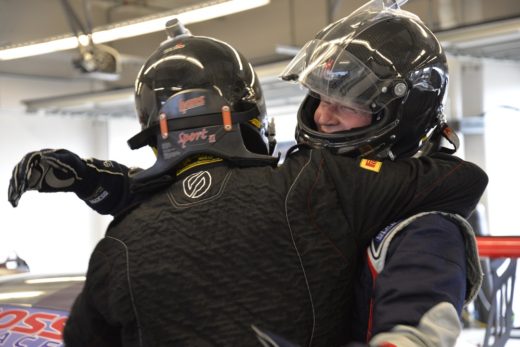 "That was probably the best car I've had all season," said Todd. "The team has worked so hard. All I had to do was get behind the steering wheel and go. The biggest concern we had after the weather delay was that we only had one lap to heat up the cars. I was concerned going into Turn 1, but the race really came to us. The GT4 guys were great when the leaders came through, willing to show a line when they didn't have to, and move over when they didn't have to. They ran a great race and it was fun to be a fly on the wall watching them!"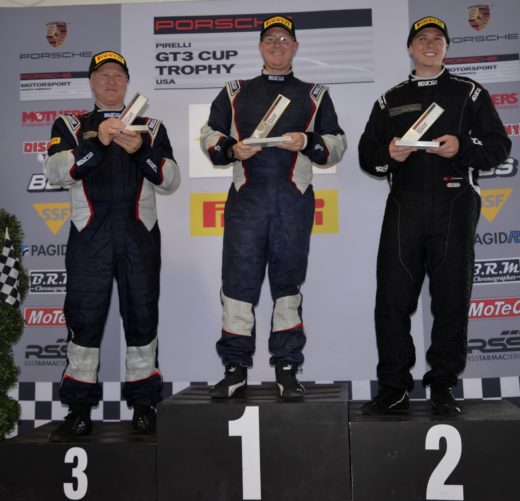 In the Platinum class, Tom Haacker once again kept his No. 45 Mother's/TruSpeed Porsche in the lead, taking his 10th win of the season and finishing fourth overall, ahead of Aasco Motorsports teammates John Krieg and Alex Kirby.
"The car was really good, but I've said that all year long," said Haacker. "The TruSpeed Autosport guys do a fantastic job with this car. We had a gearbox issue yesterday so we didn't get any running at all.  But we got that fixed and it was a really good run today. I was just in a good place to grab position. The car took a touch today heading into Turn 1 and it was the first time all season it got touched: it took its only hit of the season at the end! We'll see how it goes tomorrow, it looks like there could be some rain which could make things pretty interesting."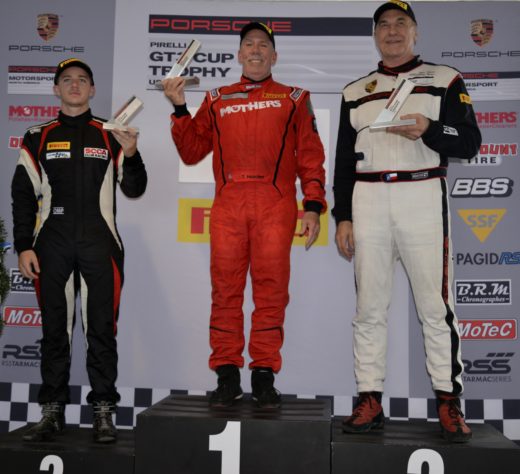 Ray Shahi of TruSpeed Autosport made a daring move at the green flag in the Platinum Masters Class, taking his No. 65 Sterling Collision/Newport Porsche entry from fourth to first up the hill to the storied Turn 1 at COTA.
"When the green came out, I had a great jump and a great start," said Shahi. "From there, I just kept my nose clean. We had a misfire issue earlier this weekend and I give my team all the credit for diagnosing that issue and getting the car prepared for the race. I just kept my nose clean and kept developing more of a gap. I was a little worried when the full course yellow came out at the end, but overall despite the issues with the car and old tires, a first place finish. It feels great. I'm going to do my best to do the same tomorrow!"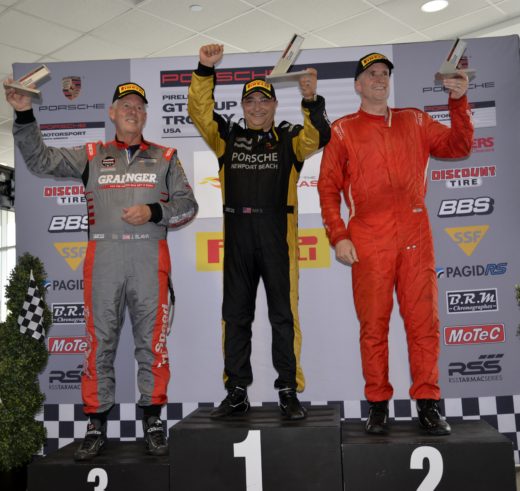 The Silver Class of the Porsche Cayman Clubsport GT4 machines saw the fight of the day, as NOLA Motorsports Keith Jensen and Competition Motorsports' Sean McAlister battled side-by-side through much of the race. The 19-year-old McAlister drew alongside the veteran Jensen on the back straight and got a run out of the hairpin, only to find himself tucked back behind going into Turn 13. With 12 minutes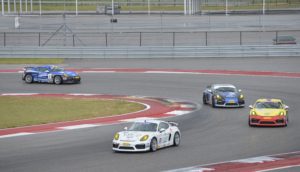 remaining, McAlister got a nose inside Jensen at the apex of Turn 20 and made the pass stick, for his fourth victory in his rookie season.
"It was a great battle with Keith," said McAlister. "I respect him a lot. We had a lot of moves to make and he got away from me a couple of times, which had me worried. But I stuck with it, got back up to him and made the pass stick when I had to. Earlier, I had a run on him but near the end of the straight, I shifted a little too early and it caused him to get back that momentum. I showed myself in his mirrors going into Turn 20 and managed to get in there. I have to thank my coaches: Ken, Tyler and Jeff. They've helped me a lot this season and I'm really happy with my progression. It was a lot of fun out there!"
"Sean (McAlister) and I are great friends and we like racing against each other," offered Jensen. "He drove a great race. He knew I had to look in my mirrors a lot, since this is an easy passing track. We traded positions a number of times before he actually got past me. It makes all the difference in the world when you can trust someone."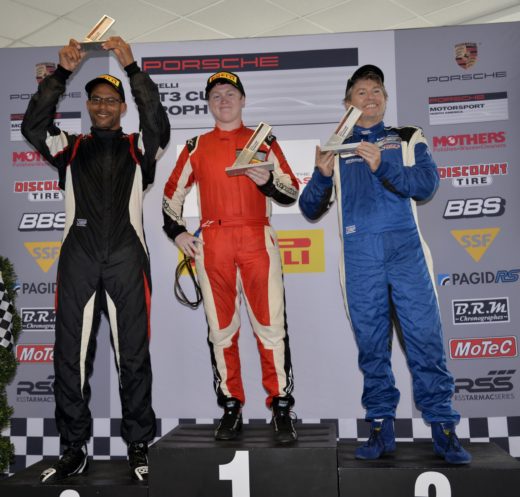 In Silver Masters, Competition Motorsports' Steve Goldman once again made it look easy, keeping his No. 1 Porsche Cayman GT4 Cup Car in the lead and taking the fight to his (younger) Silver Class competitors, on his way to his 13th race victory this season.
"The race was great," said Goldman. "The car was prepared flawlessly again by Bob (Faieta) and by my crew guy Kevin (Hefner), he did an awesome job. All I had to do was drive, everything was set up right. Unfortunately, I have to miss tomorrow's race for a business meeting, but I think I have a big enough gap in the championship standings that I'll be okay. The season was great, I'm looking forward to next year. Hopefully it'll be even better."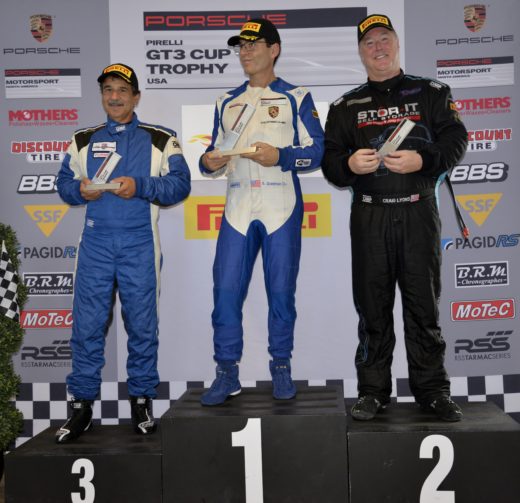 Competent Motorsport held a special 10th anniversary championship celebration of the Pirelli GT3 Cup Trophy USA Series at Circuit of the Americas Saturday night in which teams and drivers as well as series officials were recognized for their support of the organization.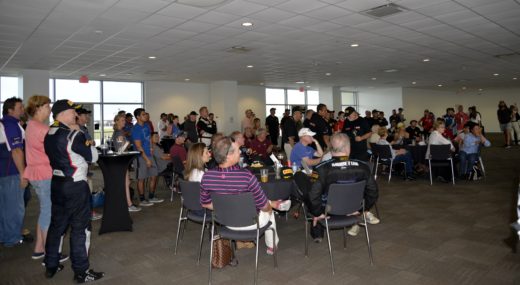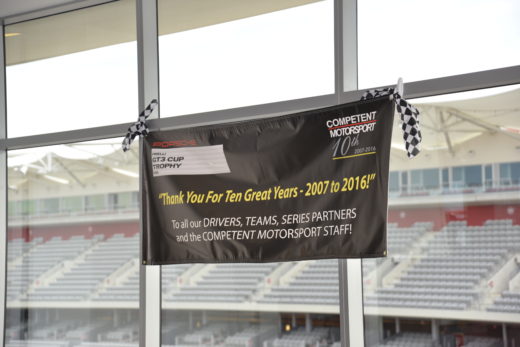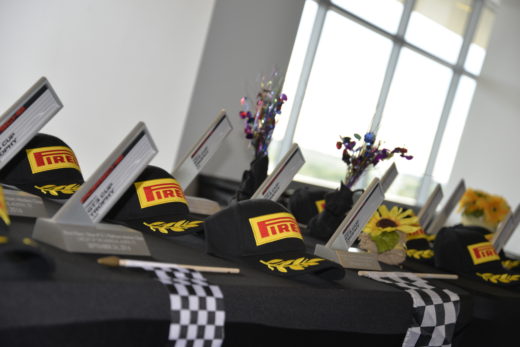 The Pirelli GT3 Cup Trophy USA will return to Circuit of Americas for the final race of the season on Sunday with the green flag set to fly at 1:55 PM CDT.
Live timing and scoring can be followed at: https://racehero.io/events/pirelli-gt3-cup-round-8-cota