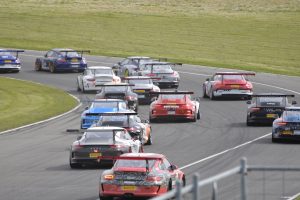 Willows, Calif. (15 April 2017) –  A young charger drove like a wily veteran to take a victory in the opening round of the 2017 Pirelli GT3 Cup Trophy USA championship on Saturday at Thunderhill Raceway Park. Rookie runner Max Root scored a victory in his first-ever series race start for his GT Teknik squad.
The race is the first round of the double-header event weekend at the three-mile northern California circuit, and ran under green flag conditions from start to finish as the 31-car field staged a fast and clean race to kick off the season.
Russell Ward led the field to the green flag and held the lead comfortably for nine laps before Root tracked him down and eventually made a move in traffic to take the point and lead the final laps to the checkered flag.
"I had to be very patient, and I was just watching to see where he was slower," said Root about Ward. "Just being consistent through my laps and seeing where I was quicker, I was able to catch him and then used the traffic to get by. Now, lets see what happens tomorrow if it rains!"
Root crossed the finish line ahead of former two-time series champion Loren Beggs, who scored a podium with the No. 08 911 Design Porsche GT3 Cup entry in his return to the series. Rounding out the Diamond podium was BR Racing's Jesse Menczer who started from the back of the pack but charged through the field before making a stirring last-lap pass of Russell Ward to score third place at the finish in his Disktech-liveried machine.

Competition Motorsports continued to show strength in Silver Class (Porsche Cayman GT4 machines) competition, as Steve Goldman returned to his winning ways with a Masters Class Victory and his teammate Sean McAllister went unchallenged at the lead through 14 laps to claim his Silver Class victory over Jeff Kearl.
Ray Shahi started on top of the Platinum (Porsche 911 997.2 version) class, and came home with the same advantage as the No. 65 Sterling Collision 911 earned another class victory for his TruSpeed Autosport squad. Shahi has a deep reservoir of experience, and picked his battles on Saturday to come home with the class victory.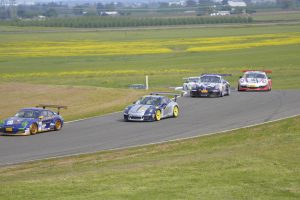 "I started among the Diamond class guys and I'm not racing those guys, so I wanted to make sure I kept my car clean through the first few turns, holding my line so I didn't get forced off the track," said Shahi. "I let those (Diamond Class) guys by and raced my race, trying to put a gap between me and Dave Lockwood. Overall, I was very pleased. It's a great way to start the season, picking up where I left off last year! It feels very good – and I hope it rains tomorrow!"
Also adding to the trophy count at TruSpeed was Tom Haacker, who scored a Diamond Masters victory in the No. 45 Mothers machine, making his first start as a Masters Class entrant.
"I love driving with the guys in this series and I'm happy to be out here," said Haacker. "We made the decision to go with the Masters class this morning so I guess I can take advantage of being 58 years old every once in a while! Michael (Zuieback) and I have raced side-by-side for years. I made a clean pass on him; I trusted what he was doing and he knew what I was doing. I also had a couple of good passes toward the end of the race to get into first place – I went over the top of Bryce Ward and there were some gutsy moves in there!"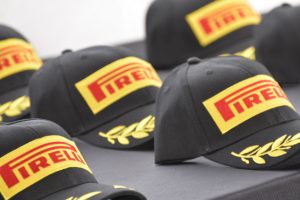 The opening race day was a positive first step forward for the 2017 season, as the Competent Motorsport-managed program continues to grow. With a larger staff and some key new appointments in the off-season including Steven Costello as Series Director and Randy Buck as Race Director, the 11th season of competition for the all-Porsche category promises to continue to enjoy positive momentum.
"It was great to kick our season off with a race like that—a lot of clean passing and some very good dicing all the way through the field," said Competent Motorsport President Greg Franz. "We have a very big field this weekend, and we've had some great feedback from our competitors about the changes we've integrated ahead of this season to make the weekends even better. So we are very happy to be back at the track and to be getting this season going again!"
The second race of the weekend will be held on Sunday, April 16. The weather could have some variables in store as the conditions could be very different for round two.
Follow updates at https://twitter.com/pirellicupusa and via live timing, found at http://www.competentmotorsport.com/index.php/live-timing/