Monterey, Calif. (29 July 2017) – The largest Pirelli GT3 Cup Trophy USA Series field of the year took the green flag at Mazda Raceway Laguna Seca on Saturday as 37 Porsche machines took to the 2.238-mile California circuit for Round 4 of the 2017 championship.
And it was a thrilling one as multiple races among each class took place throughout the 35-minute event which saw a Lap 1 caution period and a second and final caution late in the race that set up a 10-minute sprint to the finish.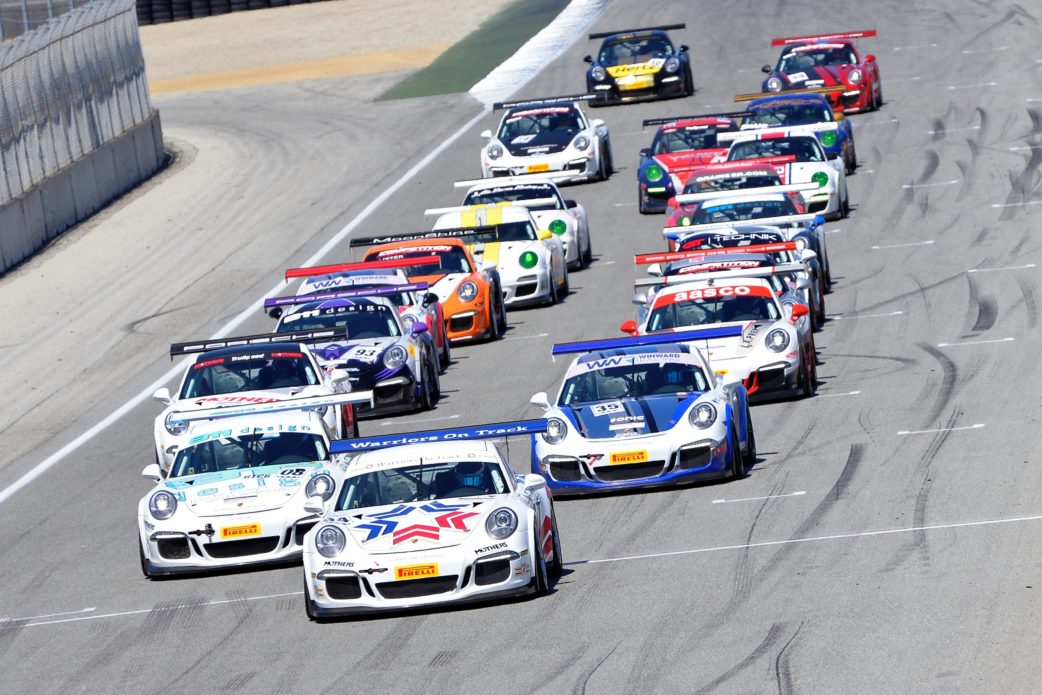 In the Diamond category, it was TruSpeed Autosport's Kevin Woods, who made his first Pirelli GT3 Cup Trophy USA appearance of the year after taking the Silver Class championship title last year, that came out on top with a huge victory for Warriors on Track in the No. 94 Porsche.
The partnership between Warriors on Track and TruSpeed Autosport is part of a venture to help Veterans become involved in motorsports (see story here).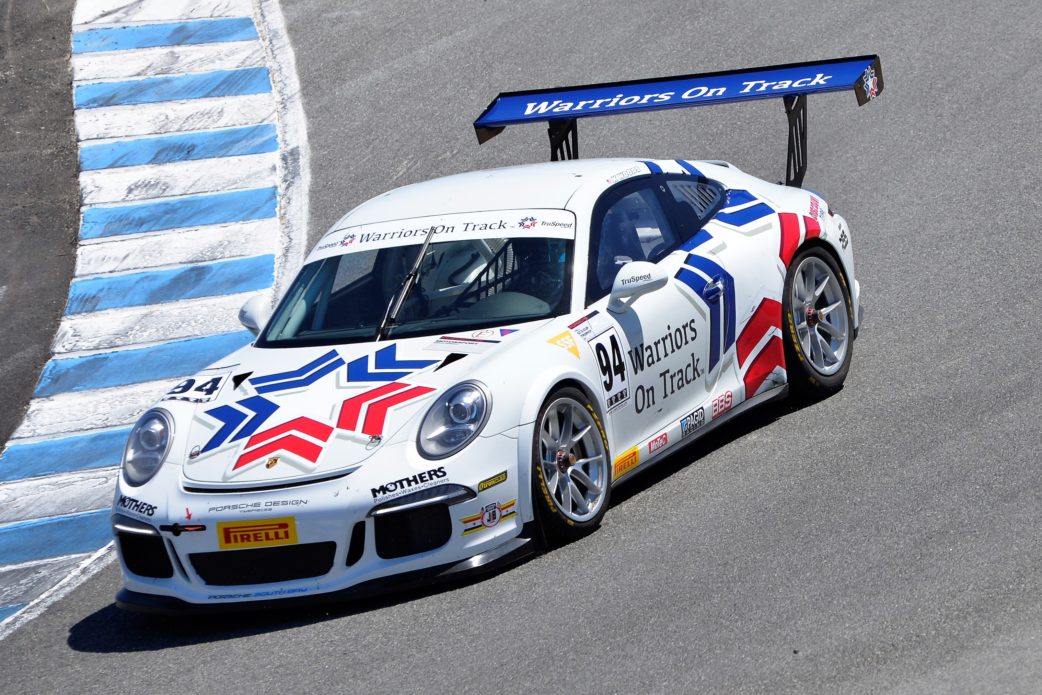 "When we started Warriors on Track less than a year ago we didn't think we would be this successful this quickly," said Warriors on Track Founder Tom Woods, who was on hand for the race celebrations. "I am absolutely ecstatic to see the car up front and get the win. Kevin (Woods) did a fabulous job so hopefully this will help open some doors."
Woods rebounded from an early weekend set back by starting on the pole and never looked back as he led flag-to-flag. But it wasn't clear sailing, as current Diamond championship leader Loren Beggs (No. 08 911 Design) ran second and right on the No. 94's rear bumper for much of the race.
"It was pretty tough out there but I have to thank the team, TruSpeed, for getting me up to speed today," said Woods. "Yesterday was tough, we only had three practice sessions and almost every session my car was practically undriveable. We found that we had a bad shock, so we replaced the shocks last night and the car ended up being great this morning. It's great to win the race for Warriors on Track and when I signed up to do the race I knew this was a great program. I feel like there is a lot of pressure with all of the publicity about it but it's great to have the Warriors on Track organization running on the side of my car."
Meanwhile, youngsters Russell Ward (No. 35 WinWard Racing) and Alex Kirby (No. 01 Aasco Motorsports) battled for the final spot on the podium. Ultimately, Ward took the third position and gave chase to the front runners as Beggs and Woods continued to lead the field. A small hiccup from Beggs saw Ward improve to second with the running order Woods, Ward, and Beggs at the checkered flag.
"The start was awesome and I didn't even realize Alex (Kirby) was coming up until we were side-by-side into Turn 1," said Russell Ward following the race. "I followed him for a couple of laps and then he (Alex) made a mistake coming out of Turn 3 and I took the opportunity to get by him. Then I was able to catch back up to (Loren) Beggs and Kevin (Woods) because they were battling each other. After the restart, the field was bunched back up and Beggs was coming. I just wanted to keep focused forward. He never got close enough that he could make a legitimate move. It was a very exciting race all the way until the end!"
Tom Haacker (No. 45 Mother's Polish) of TruSpeed Autosport took his second victory of the season as he led the way in the Diamond Masters division. He was followed closely behind by Diamond Masters championship leader Bryce Ward (No. 57 WinWard Racing), who has taken a podium finish in every race so far this year. Dave Elsner (No. 93 911 Design) rounded out the podium in third.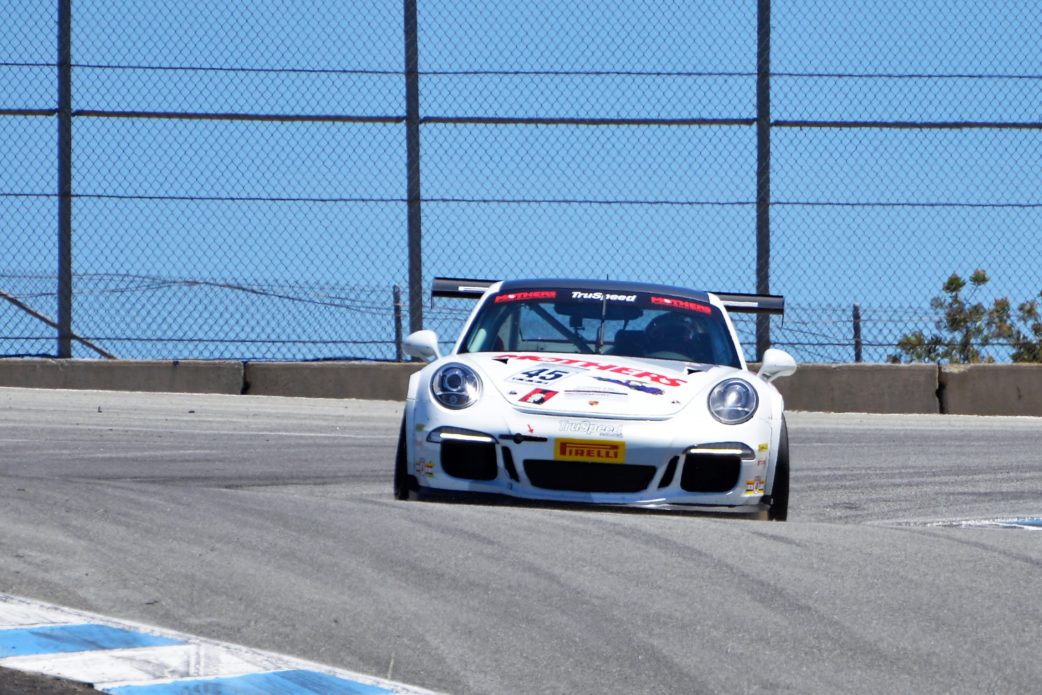 "First of all, congratulations to Kevin (Woods) who drove a great race up front – I was trying to pick up on their line when I was up close," said Haacker. "Bryce Ward and I were together right until the double yellow there at the end. I think Bryce and I are going to be locking horns for the rest of the year. But he is a great guy and he's a clean racer and we are having fun."
Ray Shahi (No. 65 TruSpeed Autosport) took his seventh straight victory of the season as he continues to hold the championship lead in the Platinum class. Having won every single event this year, Larry Schnur (No. 32 TruSpeed Autosport) and Ranson Webster (No. 12 Ranson Racing) looked to knock Shahi off of the top spot, but took second and third, respectively.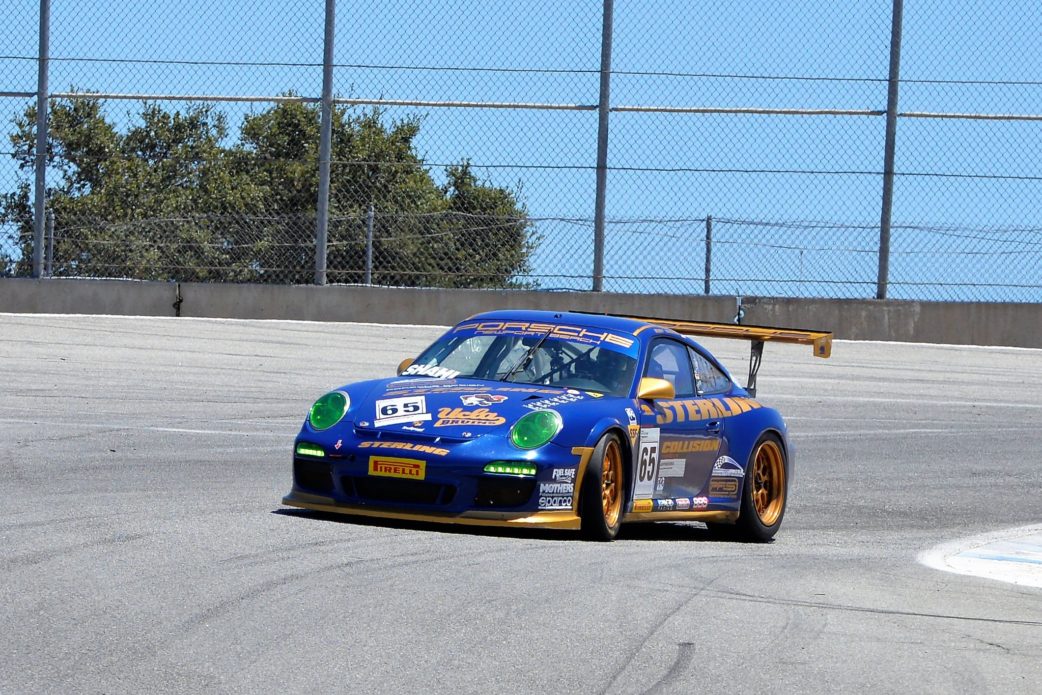 "I actually had a horrible qualifying session, starting sixth but we weren't separated by too much by time," offered Shahi. "I wanted to make sure I got a good start and for some reason the gap opened up and I took all five cars that I started behind right at the start. Unfortunately when the safety car came out, it bunched us all together and I lost my gap – but I was able to hold on to it in the end. It was a good race and overall I am very happy."
The competition was fierce in the Silver category as Sean McAlister (No. 00 Competition Motorsports) edged out current championship leader Jeff Kearl (No. 20 Rearden Racing) by just two hundredths of a second in qualifying to take the pole position earlier in the day. But, Kearl sought the top spot and the two cars swapped positions multiple times throughout the 20-lap event. Kearl took the victory in the end, followed by McAlister in second, and Carter Yeung (No. 7 GMG Racing) in third.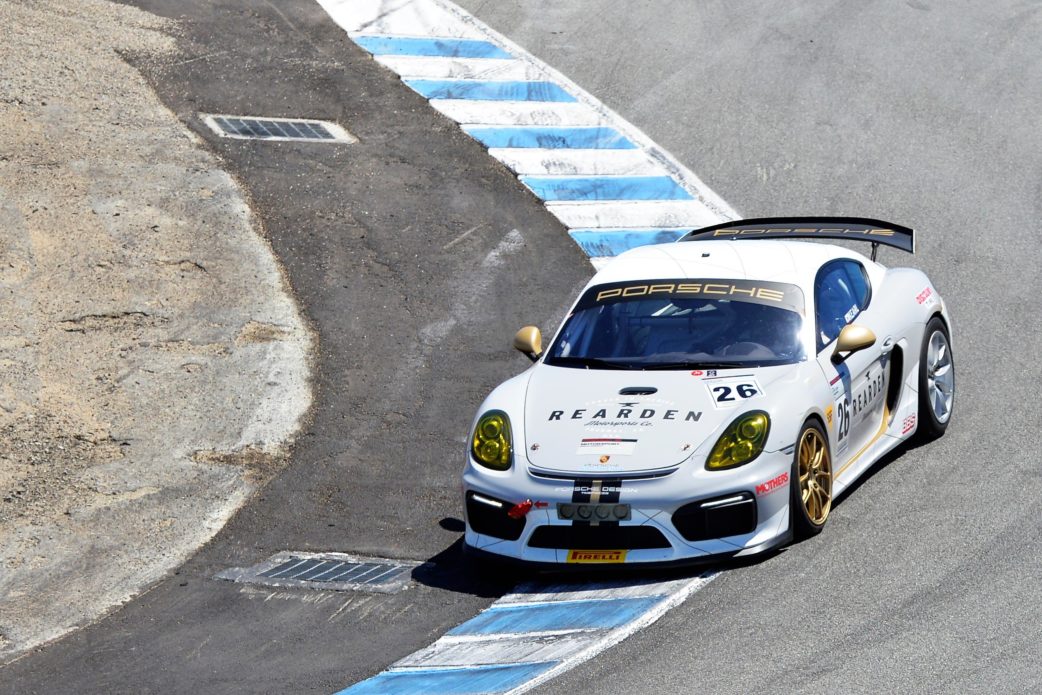 "It's never an easy race against Sean (McAlister), I feel like it's a coin flip sometimes," said Kearl. "Sometimes he is going to win, sometimes I am going to win. I think we were nearly identical in qualifying. It was a great race overall. We got side-by-side a couple of times and it was great racing."
Martin Brauns (No. 59 Flying Lizard) returned to the top step of the podium in Silver Masters, after winning earlier this year in the season-opener at Thunderhill. Mike Sullivan (No. 83 Competition Motorsports was second and Silver Masters championship leader Steve Goldman (No. 1 Competition Motorsports) was third.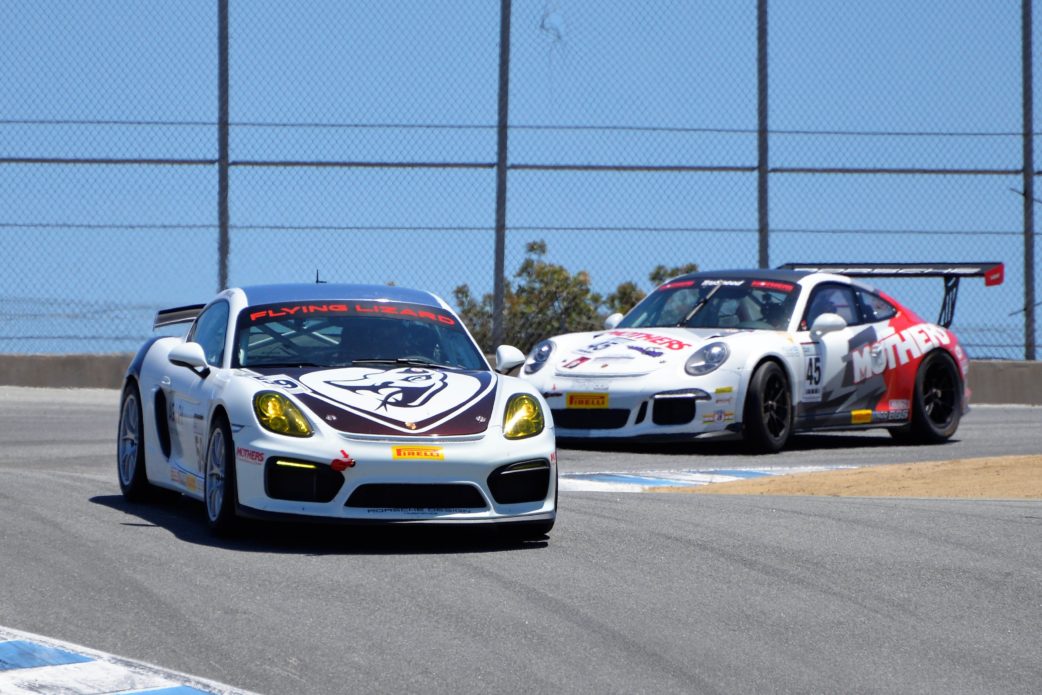 "It was a great race and great fun," said Brauns. "From where I sat it was clean racing. I absolutely love driving at this track and this car is really well-suited for Laguna Seca. The car just flows and it works perfectly. Tomorrow we are hoping for the same thing and some more good, clean racing."
Competent Motorsport President Greg Franz was pleased with the day's racing and is eager for a similar outing on Sunday.
"It was very exciting to see Warriors on Track win today and it's great that as a series we can support Veterans," said Franz. "The winner, Kevin Woods (No. 94 Warriors on Track Porsche GT3) was our 2016 Silver Champion and it's great to have him back out here racing with us. Today there were so many races within the race which adds to the excitement for our spectators and fans. We will be back at it tomorrow and we are all looking forward to it."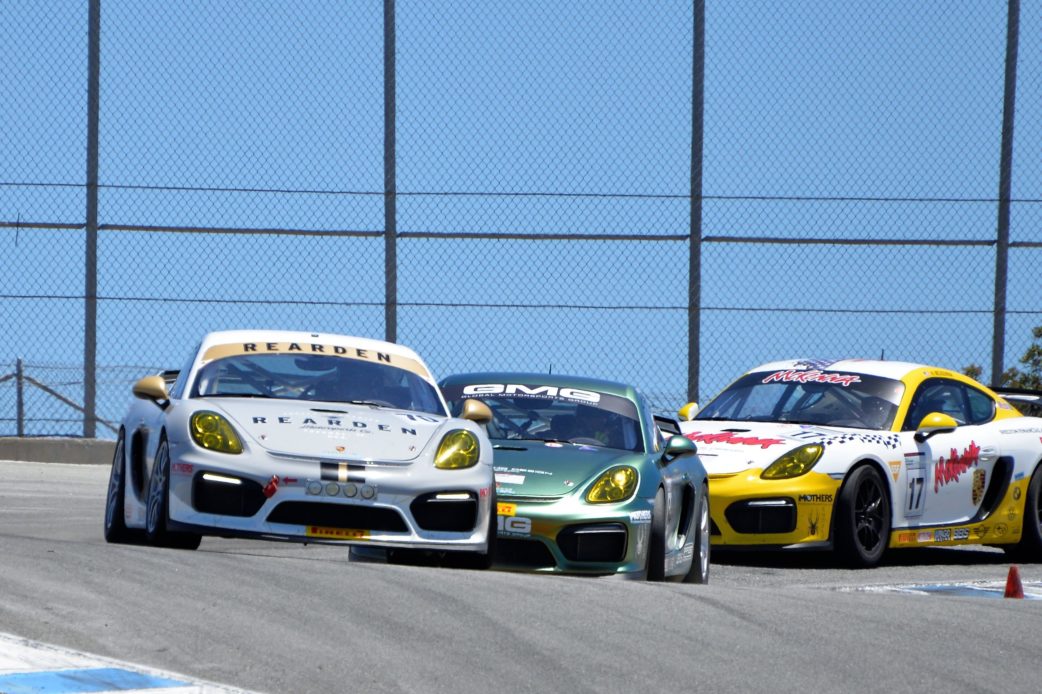 The Pirelli GT3 Cup Trophy USA series will be back in action at Mazda Raceway Laguna Seca on Sunday for Race 2 of the weekend.