Zuieback (Diamond Masters), Gardner (Platinum), Kearl (Silver), and Goldman (Silver Masters) also take victories in Pirelli GT3 Cup USA Trophy Race 13
Elkhart Lake, Wisc. – In an unseasonably warm Autumn afternoon at Road America, 911 Design's Loren Beggs charged up from a seventh-place starting position to take the overall victory and maintain his championship lead in Race 13 of the Pirelli GT3 Cup Trophy USA on Saturday.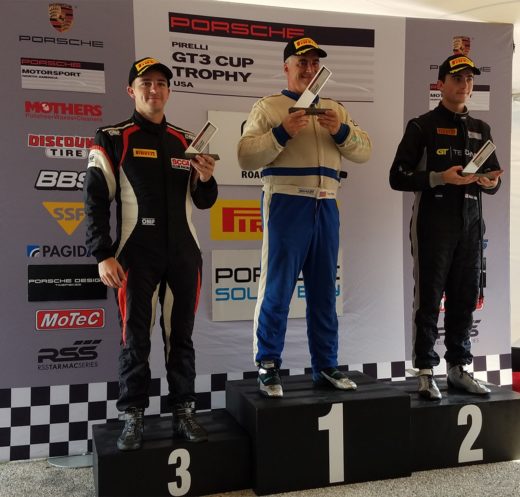 With temperatures hovering above the 90-degree mark, drivers worked hard to manage conditions that only added to the difficulty level at the iconic 4.048-mile road course.
Beggs, behind the wheel of the No. 08 Porsche 991 GT3 Cup Car, began working his way through the field as the leaders battled. The overall and Diamond Class (for Porsche 911 997.1 versions) lead changed hands three times over the race's 18 caution-free laps, with pole sitter Alex Kirby and college freshman Max Root running side-by-side at the drop of the green flag. Root battled back to the front after falling to fourth and took advantage of a spin by Kirby to take the lead. But Beggs would not be denied, ready to grab the top spot when Root ran just wide enough on Lap 14 to allow the wily veteran through for his fifth win of the season.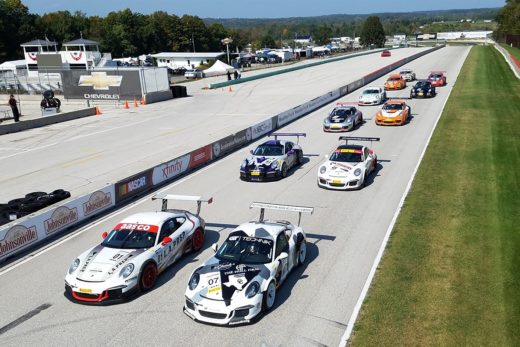 "It was definitely a patience game," said Beggs. "I talked to (series driver coach) Craig Stanton before the race about waiting for the right opportunity to make my moves. I made sure to pass a car every two to three laps to be in contention for the lead at the end. We were a bit faster than Max (Root) so I got close enough to make a few attempts and made the pass when he overshot Turn 1. This is my favorite track and in my opinion, the best in America. It's fun when you get it right and scary when you get it wrong. It demands respect. And after some difficulties over the last few weekends, this is great for the championship."
Diamond Masters saw another spirited battle, as the entire class ran in close quarters for much of the race. Michael Zuieback (No. 2 Discount Tire / Competition Motorsports) pressured pole sitter Dave Elsner (No. 93 911 Design) late in the race and was in position to take advantage when Elsner went off in Turn 8 on the penultimate lap, putting Zuieback and his No. 2 Porsche in the top spot for the third time this season.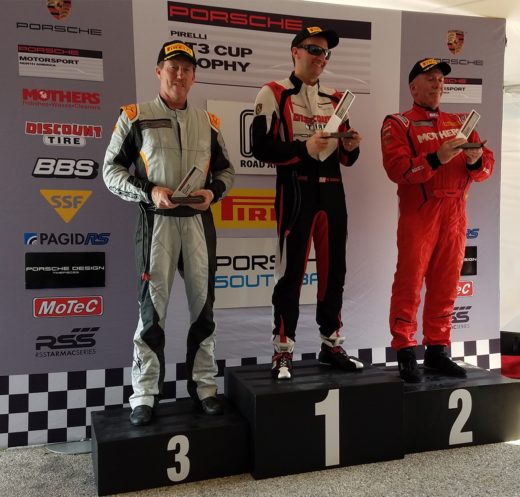 "There were five of us stacked up one after another," said Zuieback, who started third. "It was hot out there, and people were slipping and sliding around a bit so I just tried to keep the car underneath me. There was no letting up and it was great racing. Dave (Elsner) overshot Turn 5 a bit, went off and tapped my left rear coming back on track. I have to say, this track deserves all your attention. You're at full alert, especially in a close pack like that, but it's a ton of fun."
In the Platinum Class (for Porsche 911 997.2 versions), competitors saw the opportunity to make gains in the title chase with championship leader Ray Shahi absent this weekend. Robert Gardner (No. 33 Basin Fluids PCS Motorsports) took the green flag at the front of the class, but Larry Schnur (No. 32 TruSpeed Autosport), recovering from his own Friday incident which prompted a move to another car, made a pass for the lead in Turn 4 early in the race. Gardner pressured Schnur into an uncharacteristic mistake and roared through for his first series victory.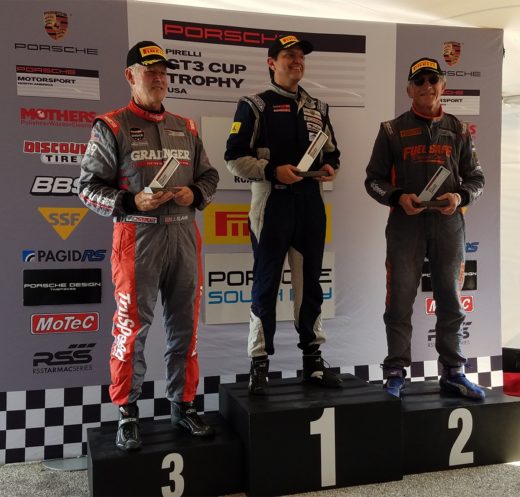 "I give Larry (Schnur) a ton of credit," said Gardner. "He was only in that car for two practices before the race and drove it like he'd been in it all season. We both got off to a good start and he made a great move going into Turn 4 under hard braking. The strategy was to let him go and let the race come back to us, and it did. I stayed on his bumper for a few laps, and you always feel the pressure in that situation. He overshot Turn 5 and I was able to get around. It was hot three weeks ago at Circuit of the Americas, so that was certainly good training for today!"
In Silver class competition for Porsche Cayman GT4 Cup Cars, championship leader Jeff Kearl (No. 26 Rearden Racing) and second place Sean McAlister (No. 00 Competition Motorsports) each incurred damage in separate Friday practice incidents that could not be repaired in time for the weekend's racing. Kearl jumped into his backup car and took the uncontested class victory while making sure not to impact the race battles around him.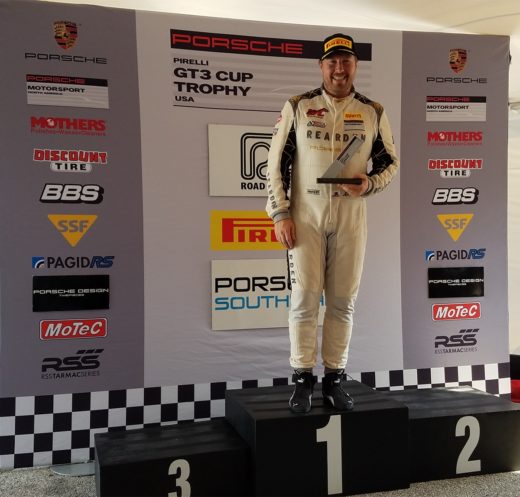 "I tested here earlier this year, so I knew what to expect," said Kearl. "Four of us that drive together went in on a spare car so if you leave your family and go away for a weekend, and end up making a mistake, it doesn't cost you the entire weekend. We made a mistake yesterday and paid for it but luckily, we had an option. It was important for the championship, but I wanted to make sure I let the guys around me race. This is an amazing track and I wish I'd been able to rub fenders with Sean (McAlister) around here."
Silver Masters saw title leader Steve Goldman put his No. 1 Competition Motorsports GT4 on pole and take his 10th race victory of the season, albeit with plenty of pressure from teammate Laura Ely (No. 9 Competition Motorsports), who finished second.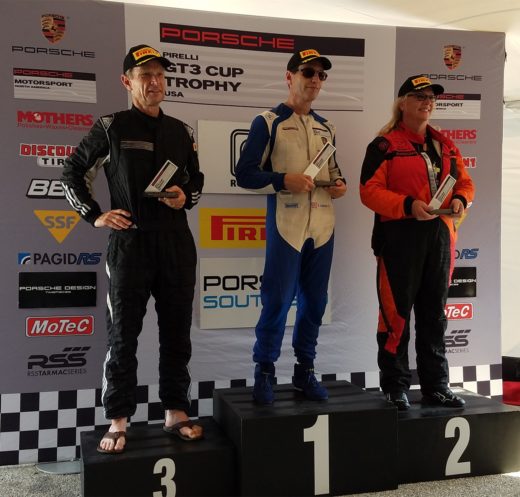 "Laura (Ely) and I were one-two and she gave me a really tough race," said Goldman. "She was coming fast so I'm going to have to improve my game to keep up with her. Road America is one of the most enjoyable tracks to run, but it's also one of the more dangerous so you have to balance the fun and be conservative in a few places."
The Pirelli GT3 Cup Trophy USA will return to Road America for Race 14 on Sunday with the green flag set to fly at 1:15 p.m. CDT.
Live timing and scoring can be followed at http://www.competentmotorsport.com/index.php/live-timing/