Dave Elsner (Diamond Masters), Jim Slavik (Platinum), Jeff Kearl (Silver), and Laura Ely (Silver Masters) also take victories in Pirelli GT3 Cup Trophy USA Race 14
Elkhart Lake, Wis. – 911 Design's Loren Beggs took the overall victory from pole today in a wild Round 14 of the Pirelli GT3 Cup Trophy USA at historic Road America to increase his championship lead in the Diamond category.
A significant portion of the race drama took place behind Beggs, as battles throughout the Diamond Masters, Platinum and Silver Masters classes saw side-by-side action for the entire 18-lap, caution-free event.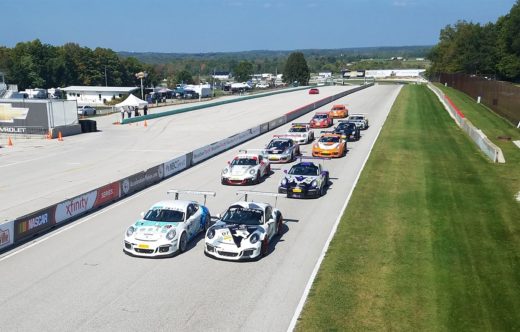 With temperatures again approaching 90 degrees, Beggs started his No. 08 911 Design Porsche 991 GT3 Cup Car from pole in the Diamond Class (for Porsche 911 997.1 versions) and immediately dealt with college freshman Max Root (No. 07 GT Technik Porsche) filling his rear-view mirror. But when Root suffered a mechanical issue on Lap 10, Beggs only needed to navigate slower traffic around Road America's 4.048-mile road course to take the victory, with Aasco Motorsports' Alex Kirby second and Root third.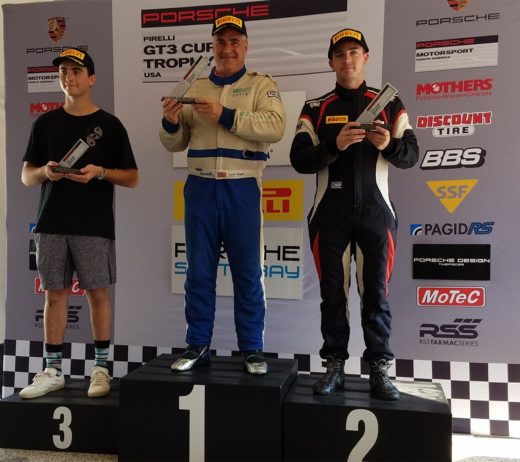 In the Diamond Masters class, Beggs' 911 Design teammate Dave Elsner started his No. 33 Porsche 911 GT3 Cup on pole and pulled away from his competitors, finishing first in class (for his first series win) and third overall. But behind Elsner, four cars fought for the final two podium spots, with Mike McAlister (Competition Motorsports), teammate Michael Zuieback, Will Lin (TruSpeed Autosport) and his teammate Tom Haacker continuously swapping positions. McAlister hung on during a late-race high-speed off coming out of Canada Corner to finish second, with Zuieback third.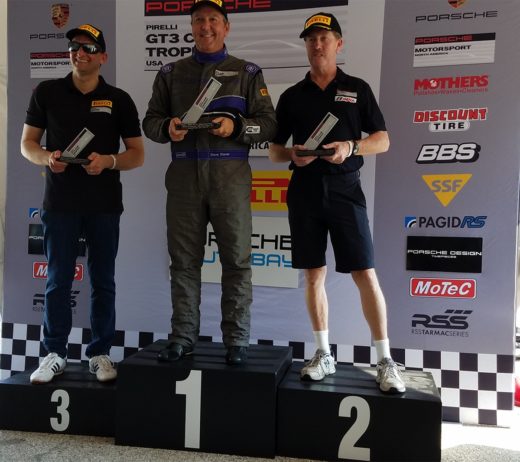 "It was great to hang with the Diamond guys!" said Elsner. "I feel like I've finally arrived. It was great to keep up with them and to have some redemption from yesterday. I was able to put it all together today – I listened to (Pirelli GT3 Cup USA Series Coach) Craig Stanton and was very precise the entire time and I was actually fighting with (Alex) Kirby for second overall. We each made a little bobble that let the other by, but that was one of the most enjoyable races I've done."
In the Platinum Class (for Porsche 911 GT3 Cup 997.2 versions), Jim Slavik (No. 89 Grainger TruSpeed Autosport) and Robert Gardner (Basin Fluids PCS Motorsports) contested a nose-to-tail battle for most of the race. Slavik started on pole but missed the apex in Canada Corner on Lap 3 and Gardner was able to get by, only to miss a shift and allow Slavik past coming out of the Carousel on Lap 13. Gardner got another run in Turn 1 as the pair went through the turn side-by-side, only to overshoot in Turn 14 on the final lap ­­­­to give Slavik his first victory of the season.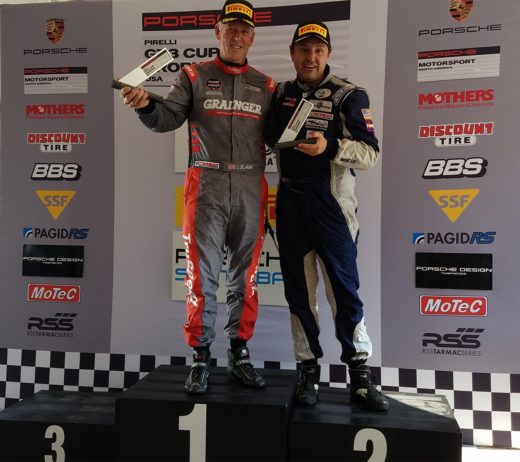 "Bob (Gardner) and I just kept trading the lead," said Slavik. "He did a great job and it was fun racing hard the entire race. It really requires all of your focus, to run that hard for that long. He went off in Turn 14 today but yesterday I got up behind him a bit too close and I went off in 14 and Bob ran away with it. It's about timing, how quickly you close the gap, and I timed it well today and got him before he spun. But every time we swapped places, the guy in front ended up making a mistake. This place just requires that much focus."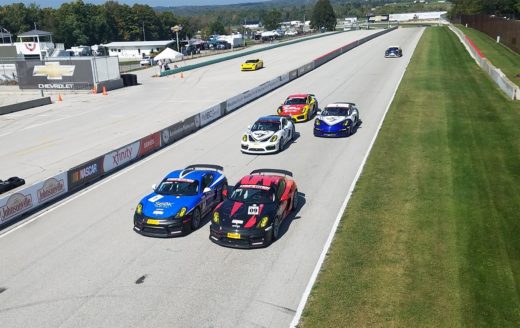 The Silver class for Porsche Cayman GT4 Cup Cars was again won uncontested by Jeff Kearl in the No. 26 Rearden Racing Porsche.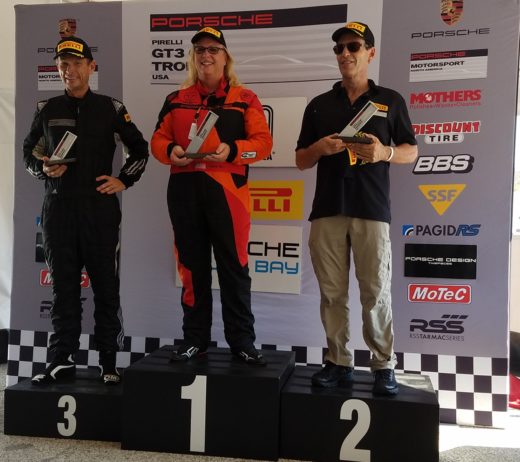 In the Silver Masters class, Steve Goldman and Competition Motorsports teammate Laura Ely engaged in a spirited fight for the pole in morning qualifying, with Goldman taking the top spot by the slimmest of margins. Ely, in only her fourth race in the series, knew she would have few chances to get around the veteran racer and took her best opportunity early, making the pass on Lap 3. Goldman stayed right on Ely's bumper for much of the race but could not get any closer for a second-place finish, with Flying Lizard Martin Brauns third.
"It was awesome!" said Ely. "It was a switch from yesterday, when I was running behind him (Goldman). My goal was to get the lead going through Turn 3, and I figured if I could do that, we'd have a good run. We were really close for a long time, with Martin (Brauns) back there as well, until the leaders caught us and I could get away. Steve (Goldman) is such a good driver and I've learned a lot from chasing him down."
Competent Motorsport President Greg Franz appreciated the chance to showcase the series at such a legendary road course.
"To come back to such an iconic track as Road America is such great opportunity for our teams and drivers, and for us as a series," said Franz. "We are going to be back in 2018! With the nice weather and the level of competition, it was a great weekend for everybody. We are all leaving this event a bit sad, though, as we only have one event left in 2017 but the momentum will carry forward to Laguna Seca. It will make for a fantastic final event of the season!"
The Pirelli GT3 Cup Trophy USA heads to Mazda Raceway Laguna Seca for the two-race season finale on October 12 – 14.