Ray Shahi (Platinum), Sean McAlister (Silver), and Carl Tofflemire (Silver Masters) also earn victories in Pirelli GT3 Cup Trophy USA Race 15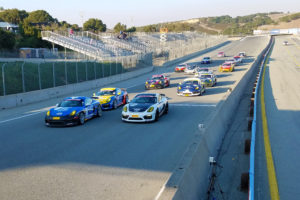 Monterey, Calif. – WinWard Racing's Russell Ward battled race-long pressure and the tension of two restarts to take the overall victory in Round 15 of the Pirelli GT3 Cup Trophy USA today at Mazda Raceway Laguna Seca on Friday, earning his first series victory.
Making the day that much more special was the chance to share a podium with his father, Bryce, who earned the victory in the Diamond Masters class.
Ward, who started his No. 35 WinWard Racing Porsche 911 GT3 Cup car from the pole position in the Diamond Class (for Porsche 911 997.1 versions), fought pressure from 911 Design's Loren Beggs, who in turn had to work hard to keep Aasco Motorsports Alex Kirby at bay for the entire 23-lap event. Two caution periods for one-car incidents made it that much more difficult, with no opportunity to get a gap on his competitors. Beggs had one eye forward and one eye backward as he dealt with the charging Kirby, who was trying to keep Bryce Ward and GT Technik's Max Root behind. The five-car train separated themselves from the field over the final five laps and as the checkered flag fell, Ward took the win ahead of Beggs and Kirby, with his father and Max Root just behind.
"It feels amazing," said Ward. "It feels as though it's been a long time coming. We've been working so hard, and this is dedicated to my crew. To win something for Nick and Josh and Grant and Damien, this is for them. Despite the two safety cars, I was able to get a good gap, and Loren and Alex were fighting between themselves so I was able to get away. Getting pole was half the battle: if you can get in front and stay in front with no mistakes, you're going to win it. It was a great day today."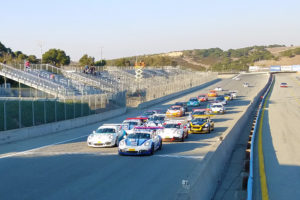 It was race victory number five for the elder Ward, who had his hands full with young Max Root, who was trying to reach his Diamond Class competitors. But Ward knew that the remainder of the Diamond Masters field was behind Root and it was in his best interest to keep his distance. In the end, TruSpeed Autosport's Will Lin and Competition Motorsports' Michael Zuieback were not able to bridge the gap to Ward.
"I wasn't having any of that!" said Ward, about the young Root. "I probably raced him harder than I should have, because he wasn't in my class, but I wanted to keep Michael (Zuieback) behind him. I glanced up at Russell  (Ward) when I could, but I could see that the battle between (Loren) Beggs and (Alex) Kirby was giving him some space. It was a great race, I really enjoyed it!"
In the Platinum Class (for Porsche 911 997.2 versions), it was race victory number 11 on the season for championship leader Ray Shahi in the No. 65 Sterling Collision/Newport Porsche TruSpeed Autosport machine. Shahi started on the class pole and distanced himself from his competitors, reaching in to the Diamond class for his on-track battles. Competition Motorsports' Jim Walsh came home in second, with TruSpeed Autosport's Jim Slavik third.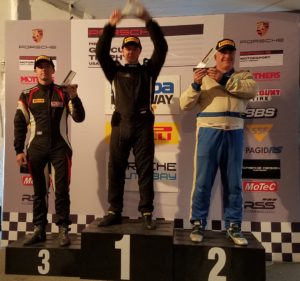 "It felt really good to be racing with the Diamond class!" said Shahi. "My car was amazing, the TruSpeed guys did an amazing job. We had to put the hammer down, which we did – twice! Despite the yellow flags, I don't think the other platinum guys had anything on us today. This was win number 11 and it felt really good. The track got very slippery as it cooled down, so the key was to put my head down and stay out of trouble."
In the Silver class for Porsche Cayman GT4 Cup Cars, it was a battle between the two title contenders who each had endured incidents in last month's event at Road America that required moving to a new car this weekend. In the end, it was Sean McAlister who brought his No. 00 Porsche Cayman GT4 home in front for Bob Faieta's Southern California-based Competition Motorsports. Championship leader Jeff Kearl finished second for Reardon Racing, with GMG Racing's Brett Meredith third.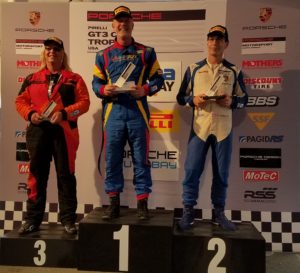 "It was great to get back in the car and get reacquainted," said McAlister. "I was worried at the beginning of the weekend that I would still be rattled from the crash at Road America, but as soon as got back in the car here, I was able to do what I do best. We all did what we needed to do and we came out clean."
In the Silver Masters class, Competition Motorsports teammates Steve Goldman and Carl Tofflemire started one-two and were in that position when they came upon a spinning car on Lap 1. The decision of who went in which direction decided the race, with Tofflemire coming out on top, Goldman second and teammate Laura Ely third. Tofflemire was quick to thank teammate Mike Sullivan for the chance to be at Laguna Seca this weekend.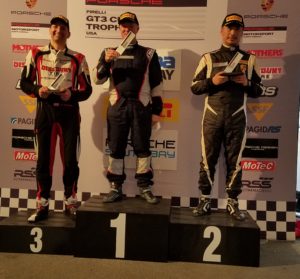 "I wouldn't be here without the generosity of Mike Sullivan and Porsche South Bay," said Tofflemire. "It's been a unique experience in the auto industry and I don't think there's any other place that you could find the synergy that we have between the dealership and the track. We got through the start cleanly, but a GT3 car spun in Turn 11 and came across track. I decided to go right and Steve (Goldman) decided to go left and the car tracked to the left and almost pinched Steve into the wall. Somehow, he got through but I inherited the lead at that point. The restarts were quite interesting of course. We were pretty far back so you had to mind the gap to the driver in front as well as who was coming up behind you. It was an amazing, exciting and fun experience to be able to stand on top again."
The Pirelli GT3 Cup Trophy USA will return to Mazda Raceway Laguna Seca for the season finale on Saturday, with the green flag set to fly at 3:00 p.m. PDT. Live timing and scoring can be followed at
http://www.competentmotorsport.com/index.php/live-timing/