Wild California Finale sees Preston Calvert (Diamond Masters), Jim Walsh (Platinum), Jeff Kearl (Silver), and Laura Ely (Silver Masters) also take victories in Pirelli GT3 Cup Trophy USA Race 16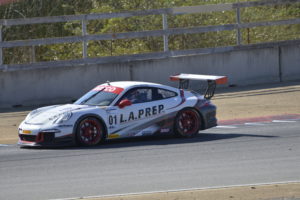 Monterey, Calif. – AASCO Motorsports' Alex Kirby (No. 01 991 GT3 Cup) took his second victory of the season in Saturday's Pirelli GT3 Cup Trophy USA season finale at Mazda Raceway Laguna Seca.
WinWard Racing's Russell Ward (No. 35 Porsche 991 GT3 Cup) crossed the line in first, but was penalized following the race after an opening lap tangle with Max Root (No. 07 GT Technik Porsche 991 GT3 Cup) in the first turn. The incident saw Root spin off track and collect Diamond Masters competitors Bryce Ward (No. 57 WinWard Racing Porsche 991 GT3 Cup) and Mike McAlister (No. 18 Competition Motorsports Porsche 991 GT3 Cup).
The field took the green after two caution laps and Russell Ward began to distance himself from his competitors until a late race caution bunched the field back together for the final two laps of action. Ward held off the charging Kirby and Diamond Masters competitor Preston Calvert (No. 99 Competition Motorsports Porsche 997 GT3 Cup) but a 30-second penalty for avoidable contact added after the race, saw Kirby take the overall and Diamond Cup class victory in the 21-lap event.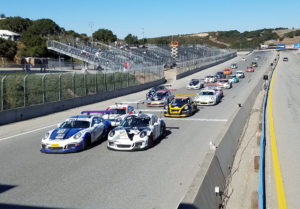 "Russell (Ward) and Max (Root) made contact in front of me," said Kirby. "Max spun, so I just waited for him to finish his rotation and picked my spot to go through. I was just aiming to get through cleanly. After that, it was just a matter of trying to catch Russell and make up as much ground as I could. The yellow helped, but Russell was just a bit faster today and I couldn't get a run. It's been an up and down season, with a lot of second-place finishes, so while I'd rather have earned the victory on the track, it's good to come away from the last event with the win."
In the Diamond Masters class, polesitter Calvert was determined to recover from yesterday's Lap 1 incident that ended his day early. He narrowly avoided the Turn 1 fracas that collected championship leader Bryce Ward, leaving Calvert to battle with Competition Motorsports' Michael Zuieback (No. 2 Discount Tire / Competition Motorsports Porsche 991 GT3 Cup) and TruSpeed Autosport's Will Lin (No. 8 Porsche 991 GT3 Cup). Calvert held the third position overall to take his third victory of the season.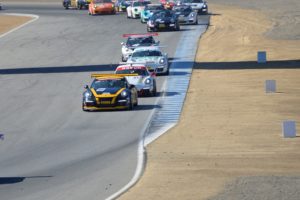 "I'm actually disappointed not to be higher in the overall order," said Calvert. "But I'm very happy to bring home the class win. You really had to keep your head up, as something significant was happening every couple of laps. I avoided the spinning car on Lap 1 by about an inch! It was a challenging race and a really fun drive. My car was so well prepared by the guys at Competition Motorsports that all I had to do was drive. I also appreciate all the help from (coach) Andrew Davis, who's taught me how to drive."
In the Platinum Class (for Porsche 911 997.2 versions), Jim Walsh – in his first weekend in the series this year – put his No. 96 Competition Motorsports Porsche on the pole position and took the win, but not without hard pressure from championship leader Ray Shahi (Sterling Collision/TruSpeed Autosport) and Shahi's teammate Larry Schnur in the No. 32 FuelSafe Porsche. The trio swapped the lead early before Walsh took command, but Shahi retook the lead coming back from the late-race caution. Walsh was able to get back by in Turn 11 for his first series win, as Shahi finished second and Schnur third.
"In Turn 1 I wanted to keep it clean," said Walsh. "There's no sense in doing anything silly. There was contact in front of me and I snuck through and made up a spot there. I kept my head down, didn't make any mistakes and had a good race. It was my first race in a year, but the car knows its way around the track. I just let the car do its thing and relaxed my hands and went where it went. It was fun!"
Only once in the 16-race season has the Silver class for Porsche Cayman GT4 Cup Cars not come down to a dual between Rearden Racing's Jeff Kearl and Competition Motorsports' Sean McAlister, and Race 16 was no different. McAlister, Friday's race winner, took the pole for Saturday's contest but could not hold off Kearl, who stormed past on Lap 13 for his 12th victory of the season. For the Pleasanton, California native, it was especially sweet to take the win surrounded by friends and family.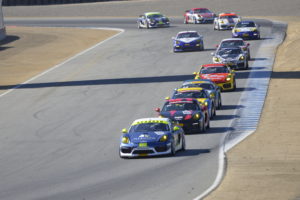 "It was super cool," said Kearl, who will team with McAlister in the California 8 Hour event on Sunday in a Porsche Cayman GT4. "I grew up near here and my parents live here so they were able to come to the race for the first time all year, along with my kids who flew up from Southern California with my nephew. It was cool to win in front of them. I snuck by Sean (McAlister) in Turn 11. He ended up putting a couple tires in the dirt, which slowed him down, probably because there wasn't enough track there when I moved all the way over, so I think he's a little bummed. Then it was just about keeping him behind me. But it wouldn't have been a great year without him. That made the year; having someone identical to you in speed and skill so you can battle them the whole year long."
In Silver Masters competition, it was a clash between master and student, as Competition Motorsports teammates Steve Goldman and Laura Ely battled for victory. Goldman took the pole position and was aiming for his 11th victory of the season, but Ely spoiled the plan, taking advantage of a rare mistake by Goldman to snag the lead. Ely kept her No. 09 Porsche Cayman GT4 Cup Car in front to take her second win of the season, with Goldman second (No. 1 Porsche Cayman GT4 Cup) and teammate Carl Tofflemire third in the No. 62 Porsche Cayman GT4 Cup for an all Competition Motorsports podium.
"I knew it would be tough," said Ely. "I tucked up behind him (Goldman) and he went just wide enough in Turn 6 and had to lift, which gave me just enough to get a run-up going into Turn 8 and I got by. I was able to hold a pretty good lead on him. For whatever reason, I seem to do better on the second race day! I had it in my mind that I wanted to do well today, and I did."
For Competent Motorsport's President Greg Franz, it was a fitting end to a 2017 season that has seen rising car counts and spectacular racing.
"This was one of the most incredible seasons that we've enjoyed," said Franz. "We've got great momentum going into 2018. We'll be announcing the majority of our schedule for next season soon, and we will be able to separate our Porsche GT4 race group from our GT3 race group, running separate races and separate championships, but we'll be running the exact same schedule. We're excited about that and the drivers and teams are excited as well. Our series grew this season as our teams and drivers just kept raising the bar. It's a real pleasure and privilege to participate."