Monterey, Calif. – Not only did the season-finale event of the 2017 Pirelli GT3 Cup Trophy USA at Mazda Raceway Laguna Seca provide some incredible competition, but it also yielded the final results of the year as five champions emerged from the double-header event – closing out an extraordinary 11th season for series organizers Competent Motorsport that included 16 races at six different venues.
Awarded the title of 2017 Champion are:
Diamond – Loren Beggs, 911 Design
Diamond Masters – Bryce Ward, Winward Racing
Platinum – Ray Shahi, TruSpeed Autosport
Silver – Jeff Kearl, Rearden Racing
Silver Masters – Steve Goldman, Competition Motorsports
The championship winners include drivers from five different teams of the Pirelli GT3 Cup Trophy USA paddock. Bryce Ward, Ray Shahi, and Jeff Kearl all earned their first Pirelli GT3 Cup Trophy USA championship titles, while Beggs and Goldman both add another to their racing resumes. Goldman won last year's Silver Masters championship and Beggs has won three championships from 2012-2014.
The Diamond category which features the Porsche GT3 Cup (991 from 2014-present) was a highly contested battle for top honors all year long. The class saw eight different winners in 16 races and Beggs led the way with six victories to his credit. He also stood on the podium 11 times during the season. GT Technik's Max Root and Aasco Motorsports' Alex Kirby each took home two wins during the year and earned second and third in the championship, respectively.
"Everyone at 911 Design really pitched in to make this (championship) happen," said Beggs. "If we didn't have them working together, we'd not even have the opportunity to go racing, let alone be able to do it successfully. It is very satisfying to win the championship. I purposely didn't enter the Masters class so that I would be racing against some very good, and very young drivers. Max (Root) and Alex (Kirby) had some very good events and did a great job. But I'm not a spring chicken so I have to admit that this was very satisfying! It all goes back to the team effort from 911 Design."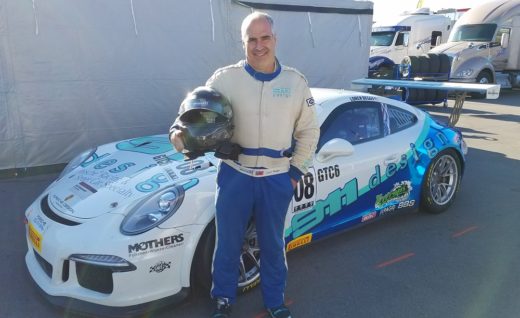 As the Pirelli GT3 Cup Trophy USA continued to see growth, bolstered by the addition of Series Director Steven Costello and Race Director Randy Buck, the 2017 championship was an exciting one.
"Everyone at Competent Motorsport did a great job this year," added Beggs. "This is by far the best officiated, fairest season I've experienced, hands down. It was also a great opportunity to work with Craig (Stanton, Pirelli GT3 Cup Trophy USA driver coach). He's a sharp guy and really knows his stuff."
In the Diamond Masters division, Bryce Ward of Texas came out with the top honors in a close battle with fellow championship contenders Michael Zuieback and Mike McAlister – both of Competition Motorsports. Despite having to miss two race events during the year – COTA and Road America – due to the flooding in Texas following Hurricane Harvey, Ward's four race wins and five podium finishes were enough to secure him the Diamond Masters championship title.
But Zuieback didn't make it easy on Ward as the Competition Motorsports driver put his No. 2 Discount Tire Porsche 991 GT3 Cup in Victory Lane three times in 2017 which saw him finish runner-up in the championship. McAlister, who took one race win during the season, rounded out the top-three in the point standings.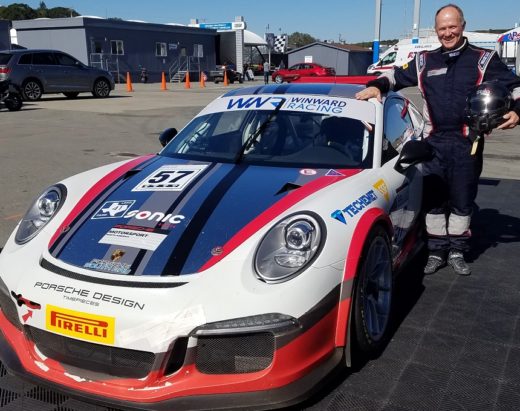 "Winning the Masters Championship is very special to me – a great driver and wise man Craig Stanton told me 'it is easy to win a race, it is incredibly difficult to win a championship' and he is absolutely right," said Ward. "Everything has to be perfect from the start of the season to the finish. I want to thank my sponsors Racing Radios, Sonic Tools and Techemet for their generosity and support during the season. To my car chief Josh (Auerbach), and my Winward teammates Grant (Barclay), Nick (Ruyle), and TJ, you made this possible. A special thanks to Russell (Ward), Shawn (Dougherty) and Damien (Faulkner) for all the coaching and advice that made me a better driver.
"The Winward Racing team was impacted by Hurricane Harvey and was unable to compete at COTA," continued Ward. "This made the last weekend very exciting as four people were in the hunt to win the championship. This could have all gone wrong for me in the second race as I had a spin in Turn 2 and damaged the rear wing. The Winward crew was unbelievable and had a new wing waiting for me as I pulled into pit lane and within 30 seconds I was out and racing again and scored sufficient points to close out and win the championship. This goes to show that racing really is a team sport and I am proud to be part of the Winward team."
The Diamond Masters class saw seven different winners in 2017.
Ray Shahi led the standings in the Platinum class (for the Porsche GT3 Cup 997 2010-2013 iteration) all year long and won the championship after scoring 11 victories and three additional podiums in 16 races. But his TruSpeed Autosport teammate Larry Schnur, who earned two victories and 10 podiums, was never far behind and completed the 2017 race season runner-up in the standings. Fellow TruSpeed Autosport driver Jim Slavik was third in the championship with a win at Road America and four podium finishes to his credit.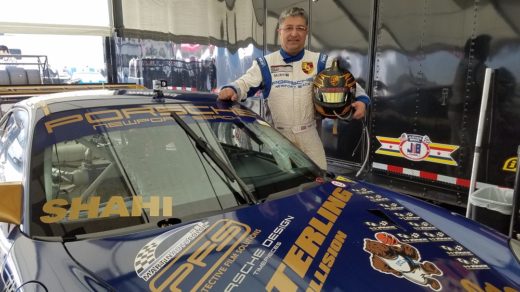 "Taking home the championship trophy this season means a lot for our entire crew and for me, at my age, it's certainly a personal accomplishment I'm proud of," said Shahi. "A championship was our goal from day one; we were focused, determined and ready to compete in every race. I think our record speaks to that mindset as our only two blemishes on the year were a second and third place finish with 11 victories. I can't thank my entire team enough as I could not have done it without everyone's hard work and dedication. The 11 victories could not have happened without some very important people. First, I'd like to thank the President of our company at Sterling Collision Center, Mr. Joseph Kazemi, his support throughout this entire season has meant so much. Bryce Miller provided great coaching, as a previous champion of the series his insight was so incredibly valuable. The shop foreman at Porsche Newport Beach, Mr. Nate Greer, performed as my crew chief and was instrumental in our car's readiness. His input from the start was so important, he really carefully and accurately listened to me. Nate trusted my judgment in regards to how the car was handling, and made the correct adjustments which made it easier for me to just focus on driving."
In the popular Silver category for the Porsche Cayman GT4 Clubsport, it came down to Rearden Racing's Jeff Kearl and Competition Motorsports' Sean McAlister for the championship title. In the end, Kearl prevailed over McAlister with 319 points.
In all but three races in 2017, it came down to a battle between Kearl and McAlister as the two went toe-to-toe for the victory in nearly every race. Kearl came away with 12 wins to McAlister's three wins – but McAlister was right there with him – scoring eight runner-up finishes.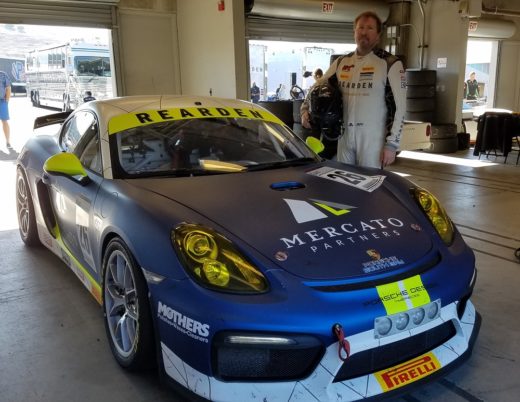 "I had done some coaching with Patrick Long during the offseason and he told me to set a goal to win the GT4 Trophy Cup championship," said Kearl. "Candidly, at that moment, thinking about winning a series was not something I had contemplated. In fact, in the first race of the season I was hoping to just finish in the top-five. After a transponder problem that made me start in last place for Race 1, I scored the pole position with a 1:49 flat at Thunderhill (a genuinely quick Clubsport lap time) and won Race 2 the next day. That gave me the confidence and cemented my championship aspirations. At that point I believed it was possible. Having Sean (McAlister) to compete with made me a bit anxious every race. We are so close in terms of overall speed. But having him there pushed us every race on car setup, focus, and showing up with my best effort every weekend. He has undoubtedly done more to make me a better racer than anyone else. Co-driving with him and winning the Laguna 8 Hour SRO race the day after the final Pirelli GT3 Cup Trophy USA race shows how racing against each other has made us both better racers."
Steve Goldman won his second straight Pirelli GT3 Cup Trophy USA championship title in the Silver Masters class driving for Competition Motorsports after taking 10 victories. Martin Brauns of Flying Lizard and Goldman's Competition Motorsports teammates Carl Tofflemire and Laura Ely all scored two wins each.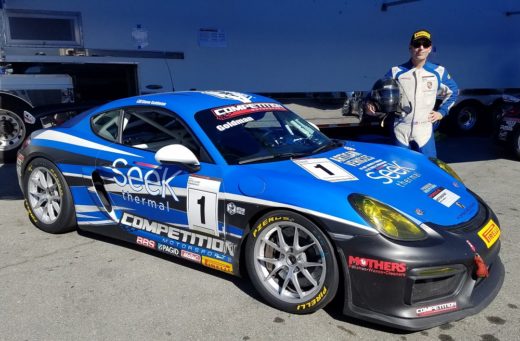 Despite only running a partial season, series-newcomer Ely placed fourth in the Silver Masters standings and will be one to watch in the 2018 Pirelli GT3 Cup Trophy USA season.
"It is hard to believe we have just completed our eleventh season in 2017," said Competent Motorsport President Greg Franz. "And finishing at this iconic race track of Mazda Raceway Laguna Seca is extra special for our drivers, teams, and the Competent Motorsport staff! It seems like yesterday we started this Series with our 10' x 20' EZ-UP tent for all of our activities. I am both happy and proud to be associated with our staff and all of our drivers and teams. We thank all of our series partners who have supported us over the years with their products and services and both Porsche Motorsport North America and Pirelli Tires who have brought the best racing platforms and tires to the Pirelli GT3 Cup Trophy USA racing series. Now we'll take very little time off and get ready for an even better 2018!"
2017 PIRELLI GT3 CUP TROPHY USA STANDINGS
Diamond
1. Loren Beggs 268 points
2. Max Root 221 points
3. Alex Kirby 197 points
Diamond Masters
1. Bryce Ward 225 points
2. Michael Zuieback 209 points
3. Mike McAlister 187 points
Platinum
1. Ray Shahi 302 points
2. Larry Schnur 226 points
3. Jim Slavik 167 points
Silver
1. Jeff Kearl 319 points
2. Sean McAlister 268 points
3. Hutton McKenna 108 points
Silver Masters
1. Steve Goldman 317 points
2. Martin Brauns 205 points
3. Carl Tofflemire 173 points