Woods (Diamond), Zuieback (Diamond Masters), McAlister (Platinum), Desimone (Gold), Bellomo (Silver), and Ely (Bronze) top the podium at Las Vegas
LAS VEGAS – TruSpeed Autosports' Kevin Woods and Competition Motorsports' Sean McAlister each took overall victories from pole in the split group Race Two of the Pirelli Trophy West USA series on the road course at Las Vegas Motor Speedway on Sunday as the series launched the 12th season of competition for the growing championship.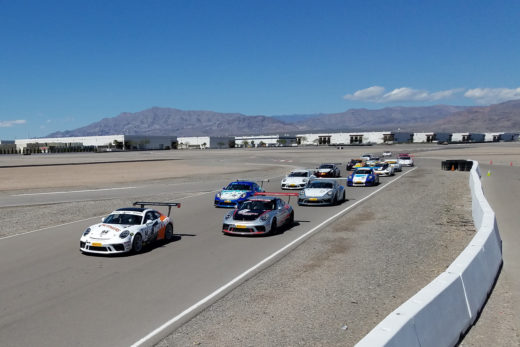 33 cars in six Porsche classes contested the first two races of the season: Diamond and Diamond Masters (2017-2018 991.2 GT3 Cup), Platinum (2015-16 991.1 GT3 Cup), Gold (2010-2013 997.2 GT3 Cup), Silver (Cayman Clubsport GT4 MR) and Bronze (2016 Cayman Clubsport GT4 Trophy) classes.
To generate the best races for the stand-alone event, series organizers chose to make the race split by generation, rather than iteration. For this event only, the Diamond Classes raced together, with Platinum, Gold, Silver and Bronze competing in a separate race. At subsequent events, classes will be split by 911 GT3 Cup Cars and Cayman Clubsport GT4 cars.
Both groups enjoyed 20-lap, 40-minute flag to flag races under bright, sunny skies that saw hard, clean, caution-free action. In Group 1, former series Champion Woods took his No. 94 Mothers Polish/TruSpeed Autosport 991.2 GT3 Cup Car to a 12-second advantage over 2017 series Champion Loren Beggs and David Donner. Woods needed every second of that advantage, as a mechanical problem stalled the car coming to the checkered flag, with Woods hanging on for a two-second win.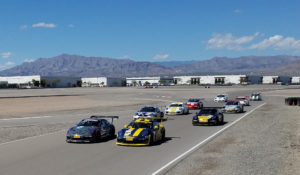 Beggs spent much of the first half of the race in a hard fight with Michael Zuieback, who started second in the No. 2 Competition Motorsports machine. Beggs made the inside move in Turn 1 and took the second overall position on Lap 14 as Saturday race winner Zuieback finished third overall and earned the Diamond Masters class victory ahead of teammate Mike McAlister.
"I got into a rhythm and just kept it going," said Woods. "Loren (Beggs) is a tough competitor and I could see him coming. I had to make sure my gap stayed the same and it did, because the team gave me a great car. I had a fuel pressure problem right at the end and was really lucky the final straight is downhill!"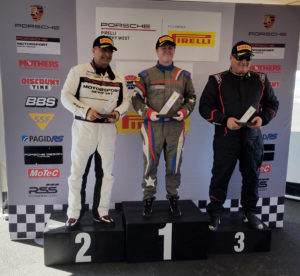 "This was unbelievable start to the season," said Zuieback of his double-podium weekend. "I'm very happy with it. Loren (Beggs)  is a great driver and I just happened to beat him in qualifying by the smallest of margins. I knew it would be a battle royale and I held him off for a while – and was feeling pretty good about it – until I made a couple of mistakes halfway through the race and he got a run on me. I tried to stay as close as I could, but it was fun!"
In the Group 2 race, Sean McAlister started his No. 00 Competition Motorsports 991.1 GT3 Cup Car from overall and Platinum class pole and parlayed that into an insurmountable lead over 2017 class champion Ray Shahi, with traffic being the only concern for the 21-year-old Californian. McAlister took the double victory in his first weekend in the Platinum class.
"I'm excited for this season, after this start," said McAlister. "When I'm going through traffic and I know I have a margin behind me, I can just clear my mind, let them race their race and get around them at a safe time. The track was much better today, with no wind and the lap times were very consistent. I'm looking forward to battling the 991.2s the rest of the season!"
Leon Desimone took his second Gold Class win of the weekend with a solid drive in the No. 7 997.2 GT3 Cup Car.
"It was quite a first corner!" said Desimone. "But then I started having problems with the car. I couldn't keep it in gear. But I was able to finish, and I had a good time! It was much cleaner on track with no wind and much faster."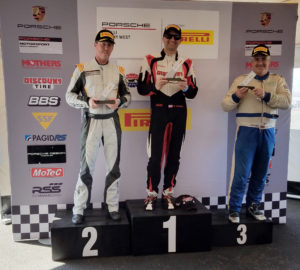 The Racer's Group teammates Chris Bellomo and Jim Rappaport enjoyed a spirited battle early in the race until a spin by Rappaport in Turn 4 gave clear sailing to Bellomo, driving the No. 67 TRG Cayman Clubsport GT4 MR.
"It was another good clean race," said Bellomo. "I wasn't able to race Jim that much, but it was another fun day. I'm happy with the support from the TRG team and I'm looking forward to the next race. I'm hoping as the season goes on that we'll be able to get a few more Caymans out there!"
Carl Tofflemire and Laura Ely picked up right where they left off in Race One, working their way past several Platinum Class cars to renew their Bronze Class nose-to-tail battle in clean air. Ely made the move around Tofflemire on Lap 16, putting her No. 09 Cayman Clubsport GT4 Trophy machine into the class lead, and held off the South Bay Porsche driver to the finish.
"That was an amazing race," said Ely. "Carl is so consistent, and I was trying as hard as I could just to keep up with him, hoping he would have a bobble. He had a little one in Turn 7 and I got up next to him and went through the sweeper with him – that probably wasn't the best place to pass, but it was the only chance I had! From there, I just held on for dear life. It was crazy fun!"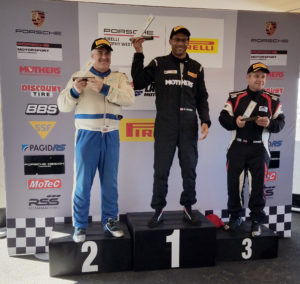 Competent Motorsport president Greg Franz was understandably thrilled with the season opener.
"We've never had a better quality first weekend in 12 years of the series," said Franz. "Not just the quality on track but working with the drivers and teams as well. Everyone is looking forward to the remainder of 2018. You really get the sense, from the staff to the drivers and teams, that this is a team effort, a family effort, and that's very genuine. We'll be at the Thermal Club in two weeks as a replacement for Road America – but we'll be back at Road America in August of next year."
The Pirelli Trophy West USA heads to the Thermal Club near Palm Springs, Calif. in two weeks time, April 6 – 8.