Beggs (Diamond), Zuieback (Diamond Masters), McAlister (Platinum), Rappaport (Silver), and Ely (Bronze) take overall victories in the second of two Pirelli Trophy West USA Races at The Thermal Club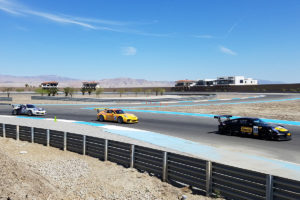 Thermal, Calif. – Sean McAlister and Laura Ely took overall victories in an exciting split-class Race 4 of the 2018 Pirelli Trophy West USA season on the road course at The Thermal Club near Palm Springs.
The 21-year-old McAlister, in only his third race in the Platinum Class for first-generation Porsche 991 GT3 Cup Cars, took the victory over the highly capable Porsche 991.2 GT3 Cup Cars, while Ely won the Cayman Clubsport GT4 race handily from pole position.
33 cars in five Porsche classes contested the two races this weekend: Diamond and Diamond Masters (2017-2018 991.2 GT3 Cup), Platinum (2015-16 991.1 GT3 Cup), Silver (Cayman Clubsport GT4 MR) and Bronze (2016 Cayman Clubsport GT4 Trophy) classes.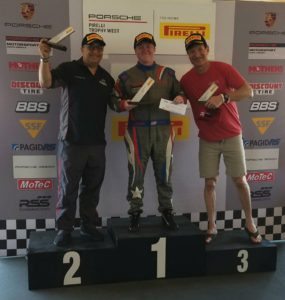 The classes were split into two races, with Diamond, Diamond Masters and Platinum classes in the first race and Silver and Bronze classes in the second around the four-mile, 24-turn GT Track, comprised of elements from the Desert, North Palm and South Palm Circuits.
For the second day in a row, temperatures hovered around the 95-degree mark, but with no wind today to relieve the drivers. 911 Design's Loren Beggs started on pole, with McAlister second in the No. 00 Competition Motorsports Porsche and Diamond Masters competitor Michael Zuieback third. Beggs got the jump as the green flag fell, but McAlister found himself back in fourth behind his teammates Zuieback and Preston Calvert.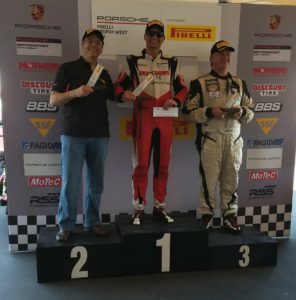 Fighting back through the first lap, McAlister made his way back to Beggs, who was experiencing brake issues. Beggs locked up the brakes in the hairpin on Lap 7 and McAlister made the pass and stayed out in front, taking the checkered flag on the 13-lap, 40-minute flag to flag caution-free race for his first overall victory in the series. Three classes were represented on the overall podium, with Beggs second (and in the Diamond class lead) and Zuieback third for the Diamond Masters victory.
"I was driving my head off," said McAlister. "(Michael) Zuieback got a great start and Preston (Calvert) came out of nowhere! I fought my way back by both of them but I could see that Loren (Beggs) was pulling away. He overcooked it on the last corner and I was able to get under him and out in front. He was never back on me the entire race, I was really consistent. My coach, Jeff Westphal, has helped me so much, my entire two-and-a-half years of driving. I love this car, and this is so much fun!"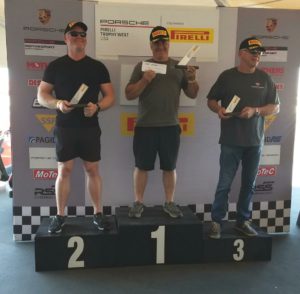 "At the beginning of the race, I pulled out what I thought was a reasonable gap," said Beggs. "But I had the brake setup a little bit off, which affected my braking points. I locked up the rear brakes and since this car is new to me, I had trouble changing the balance. I exited the hairpin in third and Sean (McAlister) got around me. But I'm happy with the day – we've had some problems getting adjusted to the new car but we're really getting our arms around it now."
"Second day in a row I got a good start," said Zuieback. "But Sean drove an unbelievable race, I'm so proud of him. He went after Loren (Beggs) and I tried to stay on his tail. I put my head down and tried to make a train between us and the guys behind. It was hot out there, but you have to focus and just not think about it, concentrating on who you're racing against."
In the GT4 race, Ely took the green flag from pole in the No. 09 Black Sheep Racing Cayman Clubsport GT4 Trophy Porsche and never looked back, increasing her lead to over three seconds.
Ely has now split the season's four races with Competition Motorsports' Carl Tofflemire, who recovered from an early race off course excursion in Turn 6 to finish third behind Ely and 911 Design's Alessandro Chiocchetti. Jim Rappaport, driving the No. 72 TRG Cayman Clubsport GT4 MR, was the sole Silver class entrant, as teammate Chris Bellomo sustained damage to his car during qualifying that could not be repaired before the race.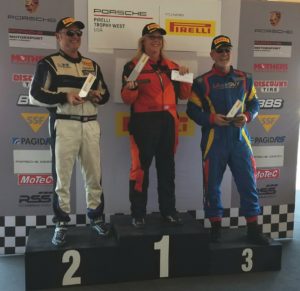 "I knew that if I started from pole, I could push hard and keep the position," said Ely. "I had enough gap to keep my pace and not make a mistake because it's so easy to bobble if you let up. I'm so proud of the team – we were behind the eight ball a bit because we had some issues Thursday and lost the test day. We were hustling to make that up and we did."
"It would have been better if my teammate had been in the race with me, rather than cheering from the sidelines," said Rappaport. "We're on the learning curve and we're getting there – we didn't damage the car and we finished the race, so that's a win for us."
Competent Motorsport's President Greg Franz was thrilled with the weekend's outcome, especially given the decision last month to move the event from Road America – which was hit with snow this weekend – to the warm and sunny Thermal Club near Palm Springs.
"It was a great amount of coordination between our staff and The Thermal Club to fit us in," said Franz. "They showed us great hospitality and it was another fantastic weekend. The GT configuration on this track really made for exciting racing for our drivers and spectators, and that was certainly reflected in the outcomes. Our overall winner was from the Platinum class and he beat all the second-generation cars— and that was some serious hustling! We're really looking forward to the event at Utah Motorsports Campus next month!"
The Pirelli Trophy West USA heads to Utah Motorsports Campus in Tooele, Utah for Round 3 of the season on May 4 – 6. Live timing and scoring can be followed at http://www.competentmotorsport.com/index.php/live-timing/