Calvert (Diamond Masters), McAlister (Platinum), Webster (Gold), Bellomo (Silver), and Ely (Bronze) also take victories in Pirelli Trophy West USA Race 11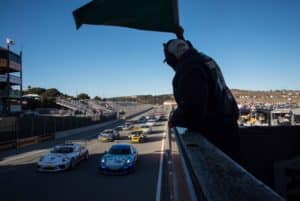 MONTEREY, Calif. – TruSpeed Autosport driver Kevin Woods took his ninth victory of the season in an exciting Race 11 of the Pirelli Trophy West USA series at WeatherTech Raceway Laguna Seca.
The series, which has staged primarily stand-alone race weekends this season, joined the premier American sports car series, the IMSA WeatherTech SportsCar Championship, for the Monterey weekend. The race combined the GT3 Class (featuring the Diamond Class for 2017-18 second-generation Porsche 991 GT3 Cup machines, the Platinum Class for 2014-2016 Porsche 991 GT3 Cup cars, and the Gold Class for 2010-2013 997.2 GT3 Cup Cars) and the GT4 Class (for the Silver Class Porsche Cayman ClubSport GT4 MR and Bronze Class Cayman GT4 Cup Trophy).
The racers enjoyed a 23-lap, 35-minute flag-to-flag race in the cool afternoon sunshine at the legendary Monterey road course. As the green flag fell, Kevin Woods put his No. 94 Mothers/TruSpeed Autosport into the lead on Lap 1 when pole sitter Loren Beggs ran wide in Turn 6. Beggs came back on track in eighth and began working his way back through the GT3 field. By Lap 11, Woods held a six-second lead over Competition Motorsports' Preston Calvert, with Platinum Class leader Sean McAlister in third. The 21-year-old McAlister made the pass on Calvert in Turn 4 on Lap 12 as the pair encountered traffic to take second position overall, with Beggs making the move into third on the next lap.
Woods, from Newark, California, was uncontested the rest of the way to take his ninth victory of the season in the Diamond Class, with Beggs and Mike Thurlow second and third in class. Calvert held on for third overall and the Diamond Masters class victory over Michael Zuieback and Will Tait, while McAlister took the Platinum Class victory over Mark Davidian and Dave Elsner.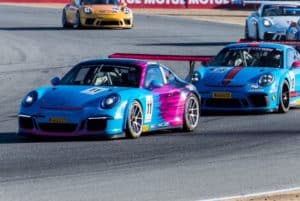 "Loren (Beggs) went a little wide in Turn 6 and it slowed him down," said Woods. "I just settled in from there. But this was the first time this year running with the GT4 cars, so I had to get used to that. I just tried to be clean and get around as quickly as I could. But that was extra, extra fun – I have a lot of family and friends here so to bring home the win was great."
TruSpeed Autosports' Will Lin made the move around Ross Jaffe on Lap 6 to take the Gold Class lead, with the top three runners in the class– Lin, Ross Jaffe and Ranson Webster – running nose to tail for much of the early going. But a mechanical issue sent Lin to the pit lane on Lap 17, handing the class lead to Webster in the No. 12 Chargerback Porsche, with Jaffe second.
"It was a great race," said Calvert. "I managed to stay with Kevin pretty well, but he got away from me and Sean and Loren caught up to me. Since they weren't in my class, I made the tactical decision to let them go when they got a good run on me. I was able to keep P1 in class and took the checkered with the win!"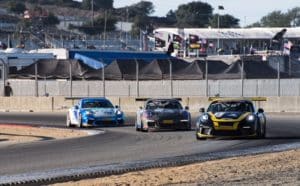 "That was great!" said McAlister. "That race challenged me the entire way. I wanted to get to Woods and run with Preston as much as possible. I took the opportunity when we got in with the GT4 cars to get around Preston – he had a poor exit and I got him on the inside. I had a pretty good lead on him and then I saw Loren in my rear-view mirror, and that messed with me a little bit. He got up so quickly that I figured I'd have to let him by, but I kept him back there."
"That was a lot of fun, at least until someone got into the back of me in Turn 3!" said Webster. "It took a while to recover from that. It's disappointing for Will, but I suppose a win is a win! I'm happy to have come back from the spin to take the win."
In the GT4 classes, Bronze Class championship leader Laura Ely (No. 09 Black Sheep Racing) had a great jump at the green flag, but Silver Class leader and GT4 pole sitter Chris Bellomo (No. 67 The Racer's Group) held off Ely as the pair went side-by-side through Turn 2. Ely was able to stay on the rear spoiler of Bellomo but could not get close enough to make a move. Ely and Bellomo, both Northern California natives, took their respective class victories. The race was even more special for Bellomo, with his family and TRG team owner (and the owner of Sonoma-based Adobe Road Winery) Kevin Buckler there to cheer him on.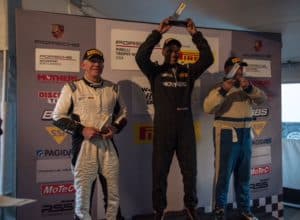 "There were so many motivating factors today," said Bellomo. "This is the first time my family has seen me race and that's so special. This is my coach's home track (veteran driver coach Robert Orcutt) and his experience here is so valuable. And the TRG team, Kevin and Debra and the crew, have done a great job. Laura got a great jump at the start and I knew we would go into Turn 2 side-by-side and I did the best I could managing the car on cold tires. I came out ahead and that was important. Robert and I have worked hard on video this season, so even if things don't go right at the start, I stick with it."
"I got a good jump and thought I could maintain the outside line in Turn 2, but Chris came up on me a bit," said Ely. "I had to give him space. From there, we just went nose-to-tail for the rest of the race. I made a few mistakes here and there, but I got P1 in class so that's great. Chris has improved so much this year, it was fun to race him. My Black Sheep crew did a great job – this is our home track and most of my experience is here, so it's fun."
The Pirelli Trophy West USA will return to WeatherTech Raceway Laguna Seca for Race 2 on Sunday with the green flag set to fly at 10:20 a.m. PDT. Live timing and scoring can be followed at http://www.competentmotorsport.com/index.php/live-timing/.