Zuieback (Diamond Masters), McAlister (Platinum), Jaffe (Gold), Bellomo (Silver), and Ely (Bronze) also take victories in the Pirelli Trophy West USA Race 12
Photos: Luke Meleski
MONTEREY, Calif. – Loren Beggs took his second overall Pirelli Trophy West USA victory of the season in an action-packed Race 12 at WeatherTech Raceway Laguna Seca.
Sunday's event capped off a weekend that saw the series compete as part of the big IMSA WeatherTech SportsCar Championship event weekend at the fabled Monterey facility. On a gorgeous Northern California morning, the fans came out in droves to see 35 minutes of hard, clean, Porsche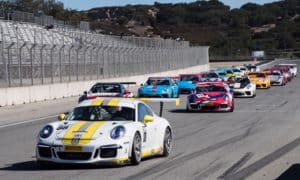 racing.
34 cars took the green flag in five classes: three GT3 classes (Diamond/ Diamond Masters for 2017-18 second-generation Porsche 991 GT3 Cup machines, Platinum Class for 2015-16 Porsche 991 GT3 Cup cars, and the Gold Class for 2010-2013 997.2 GT3 Cup Cars) and two GT4 classes (Silver Class Porsche Cayman ClubSport GT4 MR and Bronze Class Cayman GT4 Trophy).
Loren Beggs, driving the No. 08 911 Design Porsche, once again started on the GT3 pole, and immediately had his mirrors filled by Saturday's race winner (and championship leader) Kevin Woods.
The pair soon distanced themselves from the field, with Woods working as hard as he could to force the veteran Beggs into a mistake. Instead, it was Woods who went off in Turn 5 as he brought out a full course caution following contact with the tire barrier.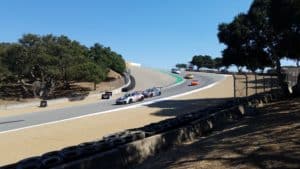 As the field returned to green two laps later, Beggs maintained his advantage over Competition Motorsports' Sean McAlister all the way to the finish line to claim his second win of the season. It was redemption for Beggs, who spun on the first lap of Saturday's race, though he came back through the field to finish second in class.
In Diamond Masters, Michael Zuieback led Preston Calvert to the green flag, just ahead of Jim Walsh, Doug Baron and Will Tait. Zuieback, driving the No. 2 Discount Tire/Competition Motorsports Porsche, kept the class train behind him, taking his sixth class win of the season and third overall. Ross Jaffe put his No. 91 TruSpeed Autosport Porsche onto the Gold Class pole and held off Saturday's race winner Ranson Webster for his first series win – in his first ever Porsche race.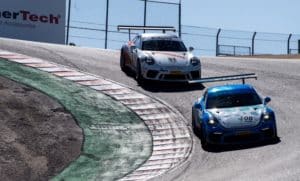 "After yesterday, this is serious redemption," said Beggs. "Yesterday was not my finest moment, so I am super excited to get this win. I knew we had a good car and if I focused on my race and putting the car where it needed to be, we had him. Everyone at 911 Design worked so hard to refine the setup from yesterday, and it was a perfect car today."
"That was a lot of fun," said Zuieback, leading the Diamond Masters class with six victories. "It's fun to race in front of all these fans! It's a wonderful way to head toward the end of the year. At the start of the season, I didn't imagine I'd be running for the championship so to have this opportunity, and to be racing this well, is great. I have a great coach in Michael Lewis and a great team in Competition Motorsports, they've put me in a great spot."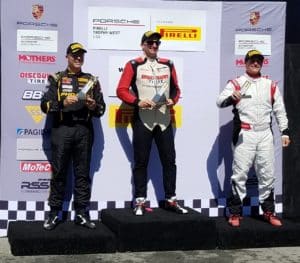 "We had a good start and I just stuck where I was in the early going," said McAlister, who has earned 11 of 12 Platinum Class victories this season. "It was a great race, even with the caution. It's great to race against guys who know you're out there and respect each other. It was a blast."
"I thought I'd try a bigger, faster race car," said Jaffe of his move from Lotus Cup to the Porsche series. "This has been a really fun weekend. The car is great, a very light-feeling race car. And this is a great group of people, I've had a wonderful time."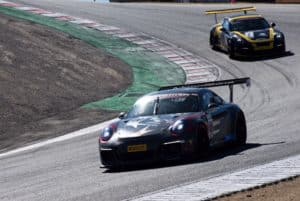 Black Sheep Racing's Laura Ely started on the GT4 pole, with Chris Bellomo (The Racer's Group) alongside. Bellomo edged ahead on outside at the green flag but couldn't hold the position around the outside in Turn 2. The pair once again battled nose-to-tail for the entire race, including a final lap that saw two lead changes and a drag race to the finish. Ely bested Bellomo for the overall and Bronze Class win, with Bellomo taking the Silver Class victory.
"I really wanted to qualify well and continue that performance," said Ely, from Half Moon Bay, Calif. "I got a good gap after the yellow, but he got close toward the end and actually passed me going into Turn 5 on the last lap. But I did an over-under, held my line through Turn 6 and up the hill. Then, there was a spin on the final corner, so we were jockeying for position right to the checkered flag. But the crowd has been amazing. It's great having fans come by the trailer, asking questions. It's been great exposure for the series and for Black Sheep Racing. People seem to like our story!"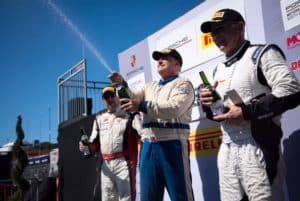 "This has been a pretty unique experience," said Bellomo. "Laura had a good gap on me before the yellow, but I managed that gap a little better when we went back to green. I was right on her bumper til the end, and I actually got ahead in Turn 5. It was pretty tight through the melee in Turn 11, but that was really fun. I'm so lucky to have a great coach (Robert Orcutt), a great team, and a family that's extremely supportive. This is as competitive as it gets but it's also really fun. I'm fortunate to be here."
Competent Motorsport's Greg Franz appreciated the support all weekend from IMSA, the racetrack, and the huge numbers of sports car fans who came out to see the racing action.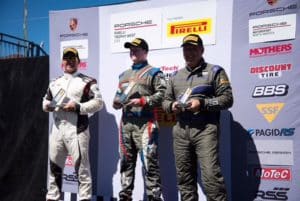 "We have had stand-alone events all season, so to come in and support a high-profile series like IMSA has been great," said Franz. "Along with WeatherTech Raceway Laguna Seca, they've been great hosts. Our teams and drivers have enjoyed the weekend, the fans have been great, and our guys put on a great show.It's such a festive feel! And now, we look forward to crowning our champions at the season finale next month at Utah Motorsports Campus."
"It was also, an honor to be invited to participate in a featured segment on the television show, Mobil 1 on The Grid. Four of our drivers were interviewed sharing their racing background and their experience participating in the Pirelli Trophy West USA series. The production will be aired in October 2018."

The Pirelli Trophy West USA season finale will take place at Utah Motorsports Campus October 19-21. Live timing and scoring for every session can be followed at: http://www.competentmotorsport.com/index.php/live-timing/