Zuieback (Diamond Masters), Davidian (Platinum), Shahi (Gold), Vess (Silver), and Nemschoff (Bronze) also take victories in Pirelli Trophy West USA Race 13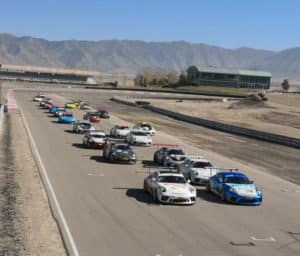 TOOELE, Utah (20 October 2018) – Loren Beggs took the overall victory in Race 13 of the Pirelli Trophy West USA series Saturday at Utah Motorsports Campus to keep his championship hopes alive ahead of Sunday's season finale race.
28 Porsche GT3 and GT4 Cup Cars in five classes contested the 19-lap, 35-minute event: Diamond and Diamond Masters (2017-2018 991.2 GT3 Cup), Platinum (2015-16 991.1 GT3 Cup), Gold (2010-2013 997.2 GT3 Cup), Silver (2016 Cayman Clubsport GT4 MR) and Bronze (2016 Cayman Clubsport GT4 Trophy).
Under clear blue desert skies and temperatures in the near-perfect 60-degree Fahrenheit range, all eyes were on the front of the field and the Diamond Class battle, as TruSpeed Autosport's Kevin Woods came into the weekend with a 23-point leader over 911 Design's Loren Beggs.
Beggs took every point possible, scoring the pole position, setting the quick race lap and putting distance between himself and Woods at the start, as Competition Motorsports' Steve Miller slotted into second position ahead of Woods at the start. Woods played the careful game, staying out of the fight for the lead as Miller clawed back late in the race to fill Beggs' mirrors. Coming to the white flag, Miller tried to make a move in Turn 6 and locked up his brakes, spinning out of the podium position. Woods moved into second with David Donner to third, but not close enough to make a move as Beggs took his third victory of the season.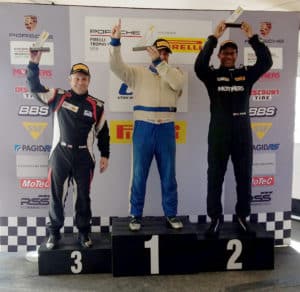 "Great outcome, great job by everyone at 911 Design," said Beggs. "We've got a really fast car. I made a little mistake mid-race and flat-spotted the tires, which let everyone catch back up to me. But I still kept it together and kept the car where it needed to be. But I needed a couple more cars between Kevin and I to really make strides in the championship."
Michael Zuieback put his No. 2 Competition Motorsports Porsche onto the Diamond Masters pole and refused to relinquish the position during the race, scoring his seventh victory of the season to secure the class championship. Will Tait finished second and Jim Walsh third.
"That was a ton of fun!" said Zuieback. "Will (Tait) was on me pretty tight but he made a mistake early on and fell off. It was good to hang with the front guys, that kept me going! But to take the championship – I would never have thought I'd have the opportunity to do this, to run for a championship. I'm over the moon. I can't thank my team, and my coach Michael Lewis, enough."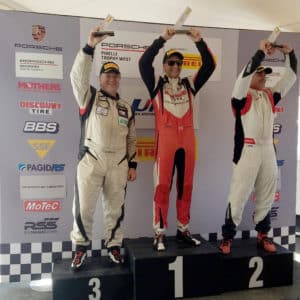 The Platinum Class championship had already been decided, with 21-year-old Sean McAlister securing the title with victories in 11 of 12 races – which may have taken some of the sting out of the youngster's first DNF of the season, as contact with a Diamond Class competitor in Turn 1 at the start put his Competition Motorsports Porsche out of the race.
TruSpeed Autosport's Alessandro Chiocchetti grabbed the early lead, only to have Black Sheep Racing's Mark Davidian make the pass on Lap 10 to grab his first series victory. John Kerr came home second with Chiocchetti third. Ray Shahi brought home the Gold Class victory for TruSpeed Autosport.
"I can't even explain how much fun that was," said Davidian. "It's great to get the win. I got a good run on Alessandro out of the final turn and got on the full throttle into Turn 1 and got a run on him. But it was really a perfect day. Andy and Kyle kept the car in perfect shape and Thomas (Merrill) my driver coach really helped me get it dialed in. It's a team effort – we're having so much fun. Smiles per hour!"
"The start was a little iffy, with a few guys locking up into Turn 1," said Shahi, "and I took advantage of that. But it was really fun to be in an older car and still be able to run with the new cars! It was a fun day."
Three cars contested the GT4 race-within-a-race, battling together for position with Race Technik's Paul Nemschoff taking the overall and Bronze Class win, and NOLA Sport's Mike Vess earning the Silver Class victory.
"It was a great time," said Nemschoff. "I'm the only one in the Bronze Class, so it was fun to be the overall GT4 winner! Everything ran like clockwork and it was drama-free, which makes it even more fun. The Race Technik guys did a great job prepping the car and Marc Miller, my coach, has been phenomenal. We've made great strides this year."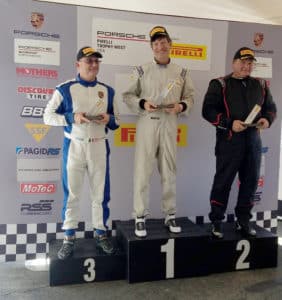 "It was busy out there!" said Vess. "I had a lot of traffic and that slowed me down, and I think Paul did a better job of getting through that than I did. But I'm happy with where we are with the car. NOLA Sport gave me a great car and it's really good to be here with the series and all these drivers!"
The Pirelli Trophy West USA will return to Utah Motorsports Campus for the season finale on Sunday, with the green flag set to fly at approximately 1:00 p.m. MST. Live timing and scoring can be followed at http://www.competentmotorsport.com/index.php/live-timing/