Michael Zuieback (Diamond Masters), Tom Tait (Platinum), Ray Shahi (Gold), David Harper (Silver), and Paul Nemschoff (Bronze) also take victories in Pirelli Trophy West USA Race 14
TOOELE, Utah (21 October 2018) – With a championship on the line, TruSpeed Autosport's Kevin Woods and 911 Design's Loren Beggs fought nose-to-tail through an action-packed Pirelli Trophy West USA season finale at Utah Motorsports Campus on Sunday with Woods taking the race victory to secure the 2018 championship title.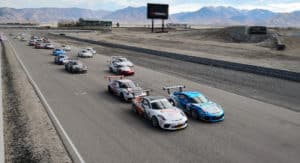 27 Porsche GT3 and GT4 Cup Cars in five classes contested the caution free, 19-lap, 40-minute flag-to-flag race: Diamond and Diamond Masters (2017-2018 991.2 GT3 Cup), Platinum (2015-16 991.1 GT3 Cup), Gold (2010-2013 997.2 GT3 Cup), Silver (2016 Cayman Clubsport GT4 MR) and Bronze (2016 Cayman Clubsport GT4 Trophy).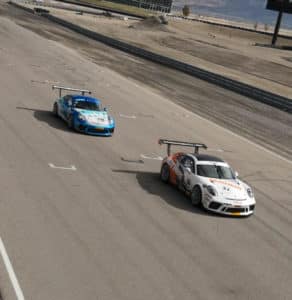 The overall and Diamond Class win once again came down to a battle between the top two in the title chase – Woods in the No. 94 Mothers Polish/TruSpeed Autosport Porsche and Beggs in the No. 08 911 Design entry. Starting alongside pole sitter Beggs, Woods held his ground on the outside going into Turn 1 at the green flag and when the pair exited Turn 3, Woods had the race lead.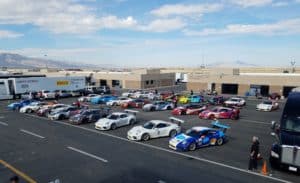 Beggs refused to give in, staying right on Woods' rear spoiler and hoping to force his fellow Californian into a mistake. But Woods was having nothing of it, maintaining his composure despite the bright blue Porsche filling his mirrors to take his 10th victory of the season and the Diamond Class championship title.
"That was the best race of the year," said Woods. "Big thank you to TruSpeed, they gave me a great car, especially after our big wreck at WeatherTech Raceway last month. And a big thank you to Ray Shahi's Sterling Collision for giving me an even faster car after they fixed it! It was an honor to beat Loren, he is so fast. It says a lot about the team and how well we've improved. He made it difficult, but it was a great chess match!"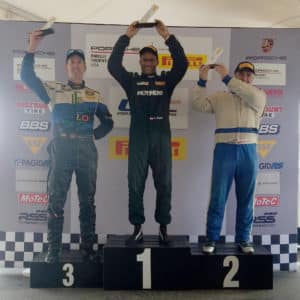 "That was a heck of a race," said Beggs. "Kevin did a great job. I think I had the faster car, but he got me at the start. I drove as hard as I could. He drove a fair race, and it's so nice to race someone who gives you room. It was an awesome race. This whole season has been so much fun, and Kevin is a worthy champion. Huge thanks to all of my team at 911 Design, it's been a great year."
Diamond Masters champion Michael Zuieback, driving the No. 2 for Bob Faieta's Southern California-based Competition Motorsports, scored his eighth class victory of the season, weathering race-long pressure from Race Technik's Will Tait and teammate Jim Walsh. An emotional Zuieback dedicated the victory to his late father.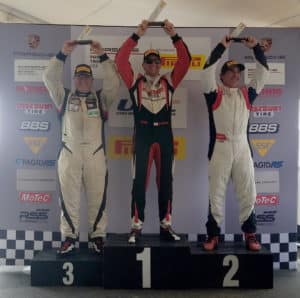 "I lost my mentor last January," said Zuieback. "Winning the championship has been a good counter-balance, and I know he's been helping me this season. It means even that much more. This season has been a dream come true, I never thought I'd have the chance to win a championship title. The team, especially my mechanic Jesse, gave me a great car every race, and Michael Lewis has been a great coach. He keeps getting me better and I know I'll need that even more next year!"
Platinum Class champion Sean McAlister hoped to erase the memory of his first DNF of the season on Saturday and end the season with his 12th victory in 14 races, but a left rear puncture ended those hopes. Instead, Tom Tait drove his No. 3 Race Technik Porsche to the class win ahead of Pinnacle Motorsports' Gary Ferrera and TruSpeed Autosport's Alessandro Chiocchetti. Ray Shahi brought home his No. 65 Sterling Collission/TruSpeed Autosport Porsche home as the sole Gold Class entry.
"It was a hard race," said Tait. "When I saw Sean had a flat tire, I knew that put us into the lead, but Alessandro and Gary were coming. We were able to stay out of trouble, which was key to bringing it home. But this season has been great – great group of guys, great people and a great organization to run with!"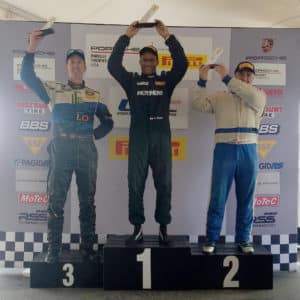 Once again, the three GT4 contenders engaged in a spirited battle, nose-to-tail for much of the early going until class leader Mike Vess, spun in Turn 11, barely missing David Harper, driving the No. 34 Makes and Models Porsche, who came away with the Silver Class win. Paul Nemschoff came home with the Bronze Class victory.
"I was close behind Mike through the Tooele Turn and he started spinning, so I backed off just a little," said Harper. "I had to go through the dirt and I barely missed him. This is my first race weekend with the series and we've had a blast."
Competent Motorsport President Greg Franz was thrilled with the season finale, and with anticipation already ramping up ahead of the 2019 season, is looking forward to what is next for the rapidly growing program.
"I don't think we could have had a better weekend," said Franz. "The temperatures have been cool, the sun has been out, and our teams and drivers put on an outstanding show this weekend. It was a great way to end 2018, I'm so appreciative to the teams, drivers, and crews who did such a great job. They're already talking about next season, and 2019 is not that far away. We can't wait!"