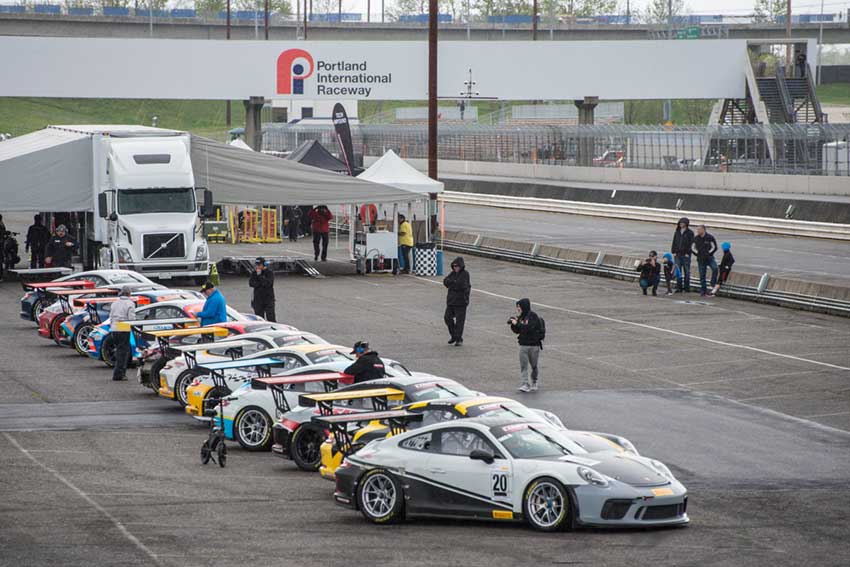 Portland, Oregon (14, April 2019) – Porsche Trophy West USA returned to Portland International Raceway today for Round 2, Race 4 of the 2019 season.
The drivers of Porsche Trophy West USA received a short break from the rain during morning testing and qualifying today, but were tested once again by the conditions that are expected when visiting Portland, Oregon. Yesterday's race was valuable practice for the drivers and was instrumental in their successes today.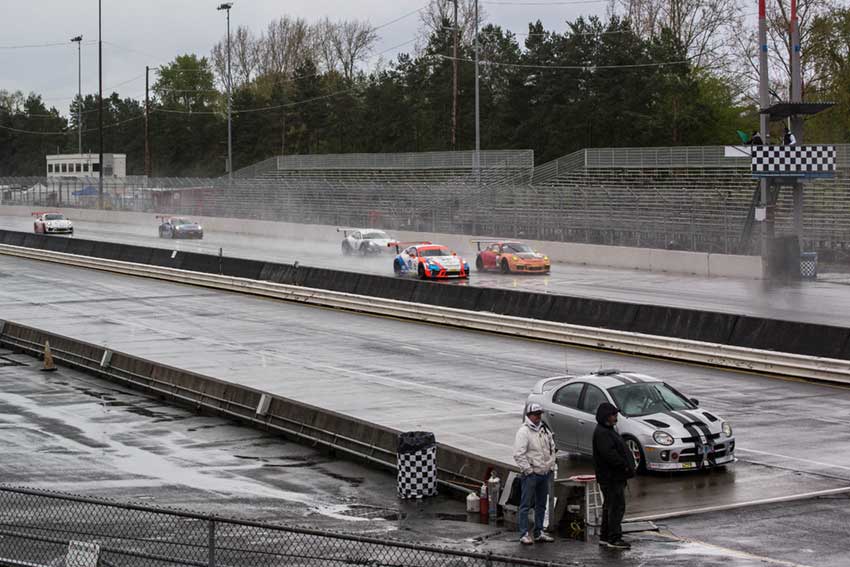 Fourteen Porsche GT3 and GT4 Cup cars in six classes competed today at Portland International Raceway: Bronze (Porsche Cayman Clubsport GT4 MR and Cayman Clubsport GT4 Trophy), Platinum and Platinum Masters (Porsche 991.2 GT3 Cup), Emerald (Porsche 991.2 GT3 Cup MR), Diamond (Porsche GT3R), and Gold (Porsche GT3 Cup 991.1).
Group 1 was first to pre-grid today, but after a day of no rain during testing and qualifying, the drivers were forced to switch to rain tires just before the scheduled start time. Phil Fogg Jr. started the race on pole position after the delay and began to distance himself from the field. Fogg Jr. pressed on in the early laps while yesterday's Platinum Class winner, Preston Calvert hunted for an opportunity to pass. Fogg Jr. was able to hold Calvert off until the fifth lap when he was ultimately passed. The competition was then between Calvert who maintained a lead on Hutton McKenna. McKenna attempted a bold pass through the chicane at the beginning of lap 14 but was held off by Calvert. It was later in lap 14 that McKenna was able to pass a briefly spun out Calvert. Despite his spin, Calvert clocked the two fastest laps of the race back to back at 1:34.361 and 1:33.736, and would finish third in the Platinum Class. McKenna would maintain his lead for the rest of the race and take first in the Platinum Class.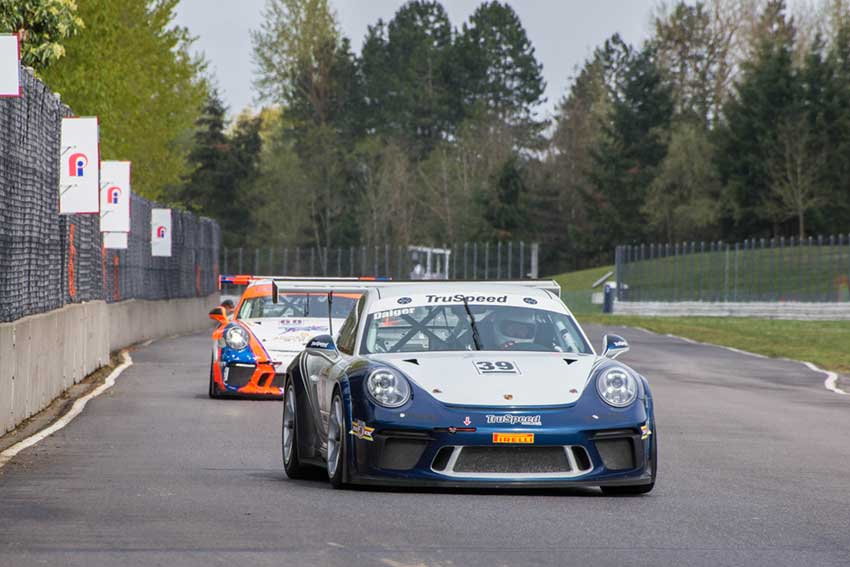 "Calvert was driving better than me at the beginning of the race," said McKenna. "I realized that I had an advantage in turn-one and I applied pressure, and then he went off at turn four. After that, it was just about exercising patience and not spinning."
After an exciting victory in Race 3, Jim Walsh had continued success in his number 99 car and qualified in pole position for his class. Walsh led his Platinum Masters classmates and began his run away from them early on. He quickly secured P3 overall and maintained his distance from the rest of the pack for most of the race until he passed Fogg Jr. to finish P2 overall and first in the Platinum Masters Class.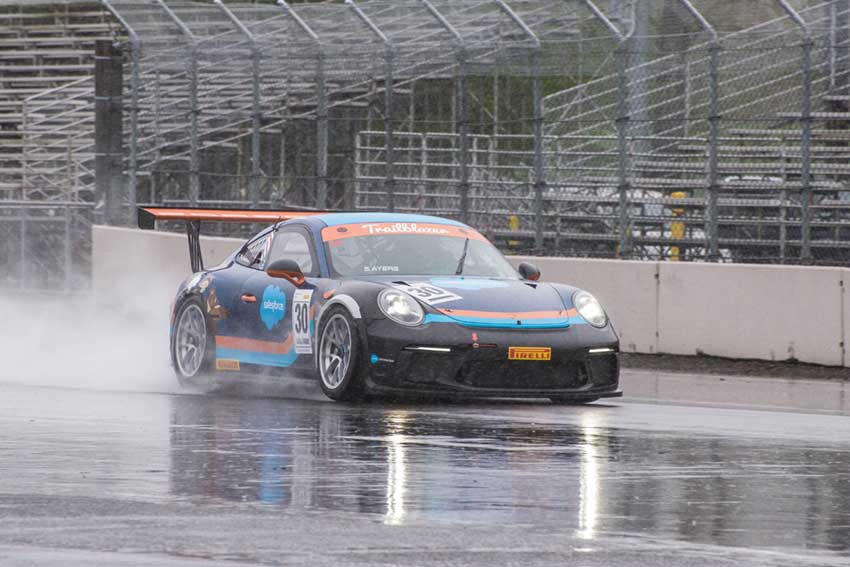 "I had a great car this weekend," said Walsh. "My team did a wonderful job, and there weren't any problems. It was a bit easier to get temperature into the tires today and was able to stay on track the whole time."
Laura Ely returned to the track today after retiring during qualifying before Race 3 yesterday. Ely qualified P7 overall and after a perfect race finished P5 overall and first in the Gold class.
"I lost a little confidence after hitting the wall yesterday," said Ely. "I went out during the first session to make sure the car felt okay. I had some good times in qualifying and finished P5. Our next round is at WeatherTech Raceway Laguna Seca which is my home track, so I'm going to get the car all fixed up and do my thing."
Group 2 had their chance to get tires on the pavement after watching Group 1 and were led at the start by Andy Wilzoch on pole position. Diamond Class driver Wilzoch hammered through the 12 turns and 1.9 miles of the racetrack in his 2017 Porsche GT3R.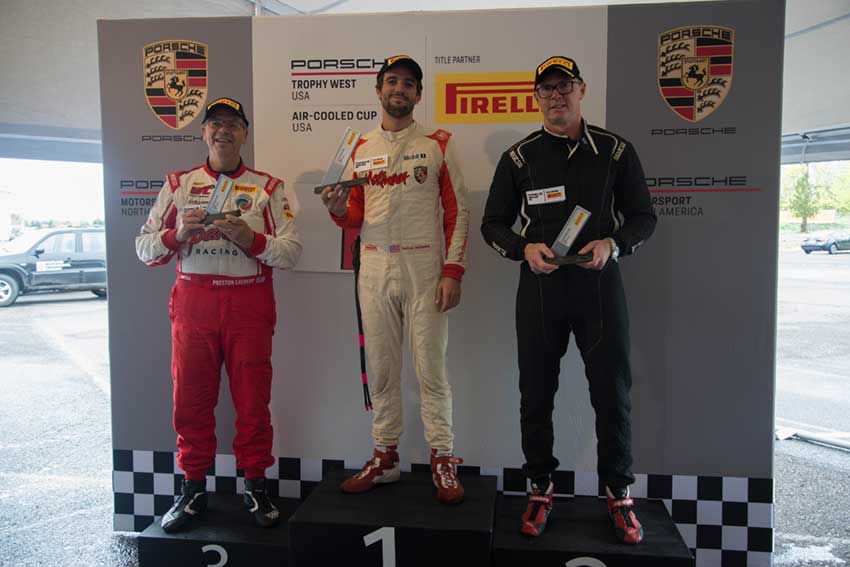 "I had a great weekend," said Wilzoch. "We had mixed conditions, so the car went through a lot of setups. It was a good practice weekend for me, and I had a lot of fun."
The field wasn't as large as the Group 1 race, allowing the Diamond, Emerald, and Bronze Class drivers to test themselves and compete against their results from Race 3. Bronze Class driver Erin Vogel felt that she had a much better handle on the weather.
"I think today I was a lot more confident despite the weather," said Vogel. "The way I was driving was cleaner, and I was a lot more comfortable even when it was wet out there."
Sunday's Race 4 capped off the wet weekend quite well. The final points following both races have painted a picture of what will certainly be a fantastic season. Competent Motorsport's President, Greg Franz was delighted by Race 3 and 4 this weekend and is looking forward to the next round at WeatherTech Raceway Laguna Seca.
"I'm very pleased that our drivers understood the conditions this weekend," said Franz. Some of them were able to develop skills that they didn't have when they showed up to Portland International Raceway on Friday. Our series is about driver development, and I believe that they all rose to the occasion and put themselves out there. I hope that they all left feeling as proud as I do."
Porsche Trophy West USA heads to WeatherTech Raceway Laguna Seca for Round 3, Race 5 and 6, May 17 – 19.