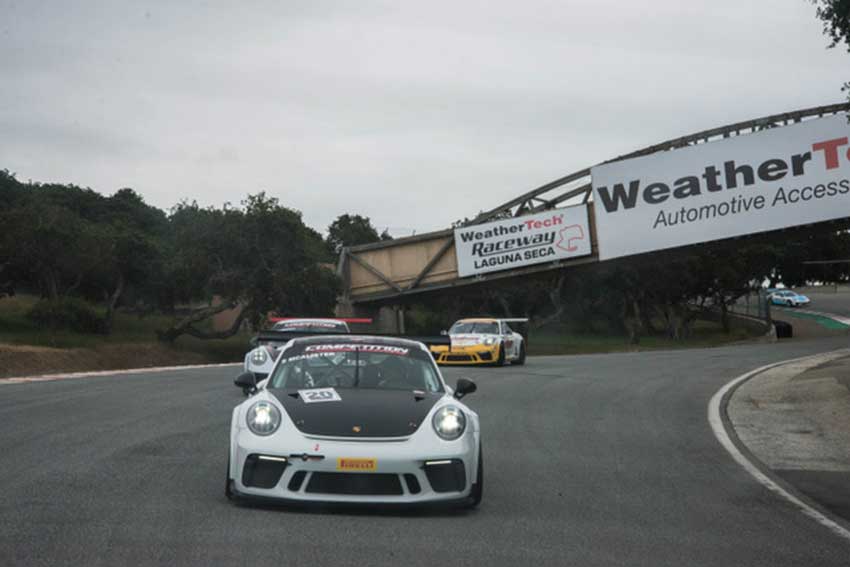 Salinas, California — Porsche Trophy West USA kicked off Round 3 at WeatherTech Raceway Laguna Seca. 
The drivers of Porsche Trophy West USA made their much-anticipated return to the world-renowned WeatherTech Raceway Laguna Seca today for race # 5 of the 2019 season. The excitement was powerful during Friday's testing as the large field of drivers looked forward to today's race.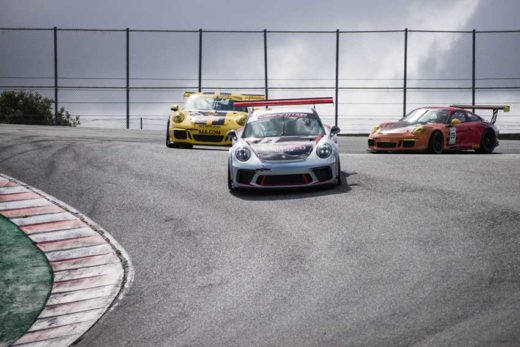 Thirty-Four Porsche GT3 and GT4 Cup cars in eight classes competed today at WeatherTech Raceway Laguna Seca: Platinum and Platinum Masters (Porsche 991.2 GT3 Cup), Gold (Porsche 991.1 GT3 Cup), Silver (Porsche 982 GT4 Cup), Bronze (Porsche 981 GT4 Cup), Diamond (Porsche GT3 R), Emerald (Porsche 991.2 GT3 Cup MR), and GT3 Cup (Porsche 997.2 GT3 Cup).
Group 2 was first onto the pavement today, and they eagerly followed the pace car around the track waiting for the green flag to fly. Andy Wilzoch led Group 2 past the green flag after an impressive performance in qualifying set him on pole position. The Bronze class followed close behind Wilzoch, and they were in close competition with one another. Erin Vogel led Chris Thompson and Jim Rappaport, who were chipping away at her lead throughout the first lap. Vogel pushed through The Corkscrew forcefully and distanced herself from the other Bronze class competitors. After a great race, Vogel continued her winning start to the 2019 season and crossed the finish line first in the Bronze class.
Martin Brauns drove a quick race at the front of the pack and was pleased to have his Porsche GT3 991.2 Cup MR car dialed in on such a technical racetrack. "We've made several changes to the car," said Brauns. "We're delighted with how the car is running now. It was great to be on the iconic WeatherTech Raceway Laguna Seca, a track that I know well. With this car, I've driven faster here than I have in any other car that I've owned. So far, it's been a great weekend."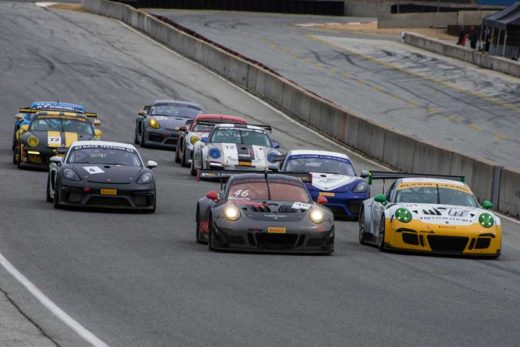 Ranson Webster and Martin Daszkal competed with one another in their Porsche 997.2 GT3 Cup cars. Webster maintained a strong half-second lead on Daszkal throughout the first five laps of the race, until the 6th lap when his lead grew to 2 seconds. Webster continued to develop his lead throughout the rest of the race and would finish first in the GT3 Cup class.
Paul Camusi and Paul Nemschoff in the Silver class held their "Battle of the Pauls" close behind Webster and Daszkal which unleashed a closer competition than the GT4's in the Bronze class with only a second separating the two. Despite the constant pressure close behind, Camusi led Nemschoff into the last laps of the race. Martin Brauns from the Emerald group passed Nemschoff in the 21st lap which strengthened Camusi's lead. Camusi finished first in the Silver class with the fastest lap time of 1:35.
Group 1 followed soon after Group 2 and was led at the start by Sean McAlister on pole position. McAlister quickly began his campaign for first place and pulled away fast from Michael Zuieback and Hutton McKenna. McAlister had a three-second lead on his pursuers through lap 2 while Zuieback was just a fraction of a second ahead of McKenna. McKenna put firm pressure on Zuieback through The Corkscrew in lap 3 and was able to make a pass on him after turn 11. Steve Miller made his way into the mix in lap 4 and placed a firm grasp on third place for the rest of the race. McKenna, who took first place in races 1,2, and 4 pushed as hard as he could to catch McAlister, but couldn't close the distance. McAlister finished first in the Platinum class with McKenna and Miller behind him in second and third place. McAlister, who is making a brief return to Porsche Trophy West USA, couldn't be happier with his results in race #5. "I love the atmosphere here," said McAlister. "All the drivers are great. I started with Porsche Trophy West USA, so it was awesome to come home to this series and get some practice in the Porsche 991.2 GT3 Cup car.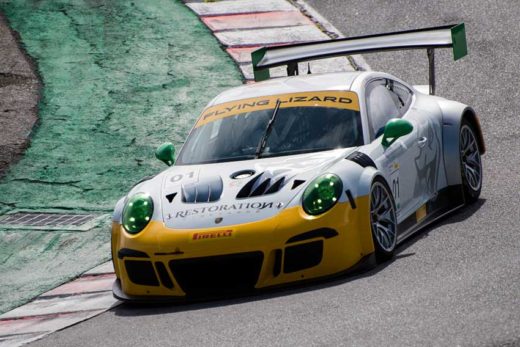 Jim Walsh in the Platinum Masters class was behind the Platinum class action and held his position close behind Zuieback. David Donner followed suit in second place and held on tight to the pace at the front of the pack. Rain clouds opened up overhead during the race, which led to surface flags on turns 5 and 8, but Walsh was able to overcome the adversity and take first place in the Platinum Masters class.
"I was worried about the weather," said Walsh. "It sprinkled a bit in the second half of the race, but the car felt great, so the most important thing for me was just maintaining my position after the start of the race. I was mainly concentrated on hitting my marks and not making mistakes. David Donner was behind me, and he will make a pass if there are any mistakes. It really just came down to maintaining my pace and staying in front."
Ray Shahi qualified in pole position and brought the Gold class past the green flag at the beginning of the race. Laura Ely, who was thoroughly excited to return to her home track after Round 2 at Portland International Raceway, proved the importance of having the home advantage. Ely worked hard to pressure Shahi and made a successful pass on him. Her expertise allowed her to develop a sizable lead on Shahi, but that didn't discourage him from giving her a run for her money. Shahi made up a fair amount of ground behind Ely, but his aggressive push to catch her lead to a brief spin at the end of lap 16. Despite the spin, Shahi was able to maintain a 20 second lead on Robert Hanley in third place. Ely finished first in the Bronze class with an eight-second gap between her and Shahi who finished in second place.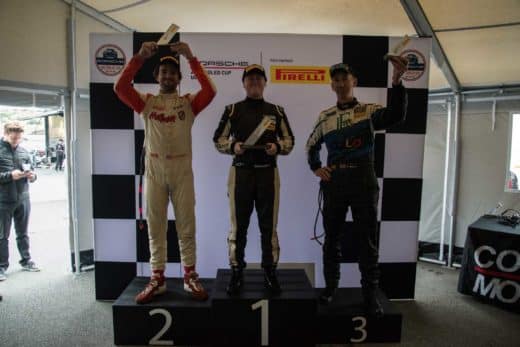 "Shahi lost a few positions at the start," said Ely. "Once we were clear of the start and got to racing, I was just going to try and keep up with him. He overshot turn 10 in the fourth lap, so that was how I got in front. At that point, I just wanted to maintain my lead and keep it smooth, so having a lot of experience here at WeatherTech Raceway Laguna Seca made a huge difference."
The series returning to WeatherTech Raceway Laguna Seca was an exciting event for everyone involved, especially Competent Motorsport's President, Greg Franz. "We're really happy with how smoothly everything ran today," said Franz. "We pushed the schedule forward so that our drivers could get out there on a dry track, but they drove a great race even after the rain had started. I'm really looking forward to tomorrow's race at this amazing venue."
Porsche Trophy West USA will return to WeatherTech Raceway Laguna Seca for Race 6 on Sunday. Follow all of the action on Instagram and Facebook at @porschetrophywestusa