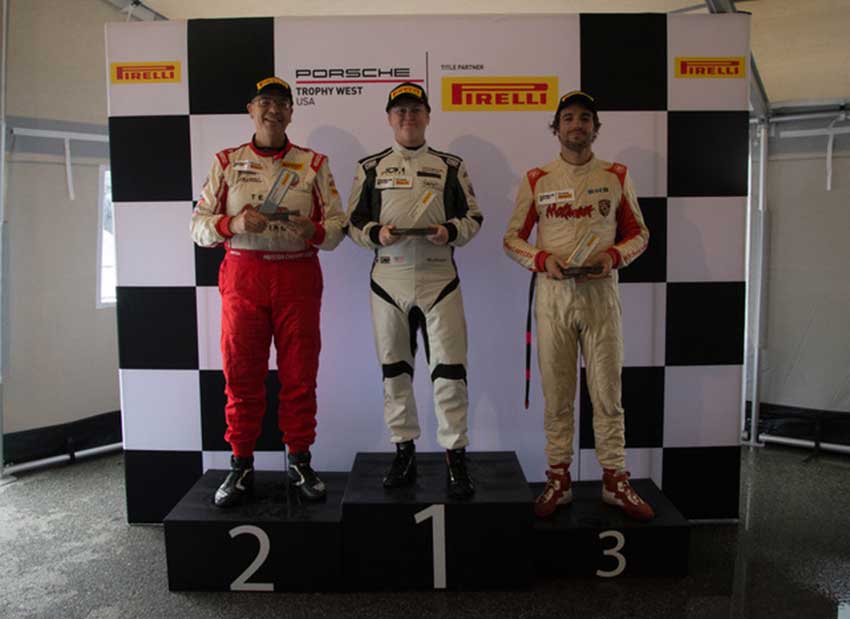 Salinas, California — Porsche Trophy West USA closes out the weekend at WeatherTech Raceway Laguna Seca. 
The drivers of Porsche Trophy West USA returned to The Corkscrew today for their last chance at capturing a Laguna Seca win in 2019. Despite the rain, the racing today was clean and precise, after a full day of testing on Friday and Race #5 on Saturday. The drivers clearly elevated their race craft this weekend and mastered the challenging racetrack.
Thirty-one Porsche GT3 and GT4 Cup cars in eight classes competed today at WeatherTech Raceway Laguna Seca: Platinum and Platinum Masters (Porsche 991.2 GT3 Cup), Gold (Porsche 991.1 GT3 Cup), Silver (Porsche 982 GT4 Cup), Bronze (Porsche 981 GT4 Cup), Diamond (Porsche GT3 R), Emerald (Porsche 991.2 GT3 Cup MR), and GT3 Cup (Porsche 997.2 GT3 Cup).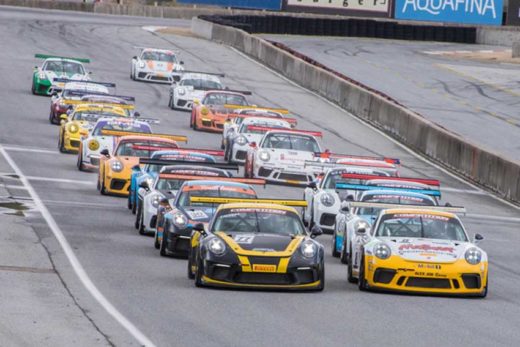 After a very dramatic morning of tire changes and torrential downpour during qualifying, Group 1 took to the track for race #5 of the 2019 season. Hutton McKenna began the Platinum class race on pole after a solid qualifying round in the morning. A slippery turn 3 led to confusion in lap 1 and race #3 winner, Preston Calvert drop five positions from P2 to P7 overall. Yesterday's champion, Sean McAlister qualified in P6 but immediately fought his way to the front of the pack to battle it out with McKenna. While McKenna and McAlister tested one another, Calvert was making up lost ground not far behind. Calvert managed to recover in an incredible fashion and finished the race in P2 overall. McAlister repeatedly pressured McKenna through The Corkscrew and around turn 11, and was finally able to force a mistake in lap 15.
"McKenna drove a phenomenal race and really drove me hard," said McAlister. "We went over under a couple of times and fought well. Eventually he spun out and I was able to pass him while he was in the gravel."
Jim Walsh of the Platinum Masters Class started today's race P3 overall and immediately put as much ground as possible between himself and the other Platinum Masters drivers. Walsh didn't face too much adversity until the last two laps of the race when he fell to P5 overall. The calculated and professional driving of Walsh was evident again today as he finished first in the Platinum Masters Class for a second day in a row.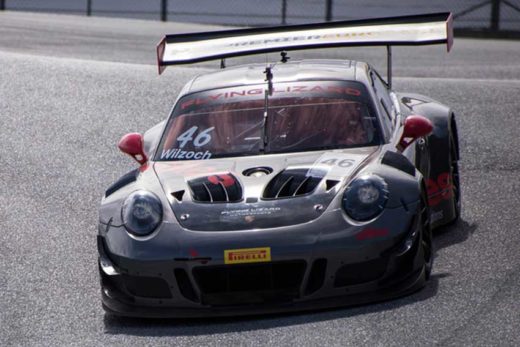 "I really tried to keep a consistent pace throughout the race," said Walsh. "I knew that I was well ahead in class but I could see the open class coming up behind me so I was pedaling hard. I wanted to see if I could get an overall podium finish today but it wasn't in the cards."
Gold Class driver Ray Shahi started today's race two positions ahead of yesterday's Gold Class winner, Laura Ely. Shahi immediately jumped on the opportunity to redeem himself after yesterday's race and steered clear of similar mistakes during the race.
"Yesterday I was in the lead but sadly I spun and had to forfeit first place to Laura Ely," said Shahi. "I didn't make the same mistakes that I did yesterday, so I just kept my head down and went after everyone. The TruSpeed team did a great job with my car today, so all I needed was a clean track ahead of me."
Group 2 put on an impressive performance of their own around the 2.238 miles of challenging turns and elevation changes. Andy Wilzoch led group 2 on pole position today after clocking a qualifying time of 1:38.661. His pace carried over from qualifying into the group 2 race and he clocked a fastest lap time of 1:30.912. Martin Brauns carried similar speed around the track in his Porsche 991.2 GT3 Cup MR. Martin Daszkal of the GT3 Cup class qualified two positions behind his counterpart, Ranson Webster. Daszkal drove a fantastic race on the technical track and was able to take the lead over Webster.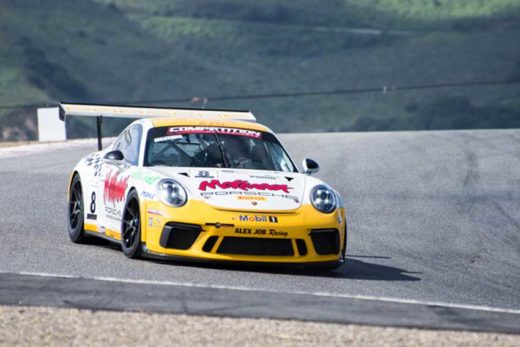 Silver Class driver Paul Nemschoff had no intention of letting the wet conditions rain on his parade this weekend. Nemschoff took full advantage of yesterday's practice sessions in the rain, so qualifying was a breeze for him. With full comfort in the rain, Nemschoff was able to focus on his driving and finish strong.
"My idea of the race was just to run consistently," said Nemschoff. "I knew that there was a bunch of traffic between me and the primary competitors, so I just got out there and got comfortable. There were a couple of tricky spots with water on the track, but the whole goal was to run consistently and I was happy with how it went."
This was a massive weekend for Competent Motorsport with Porsche Trophy West USA's return to WeatherTech Raceway Laguna Seca and the debut of a new series, Porsche Air-Cooled Cup USA. Porsche Trophy West USA continues the action with Round 4, Races 7 and 8 at Circuit of the Americas, May 31 – June 2. Follow all of the action on Instagram and Facebook at @porschetrophywestusa